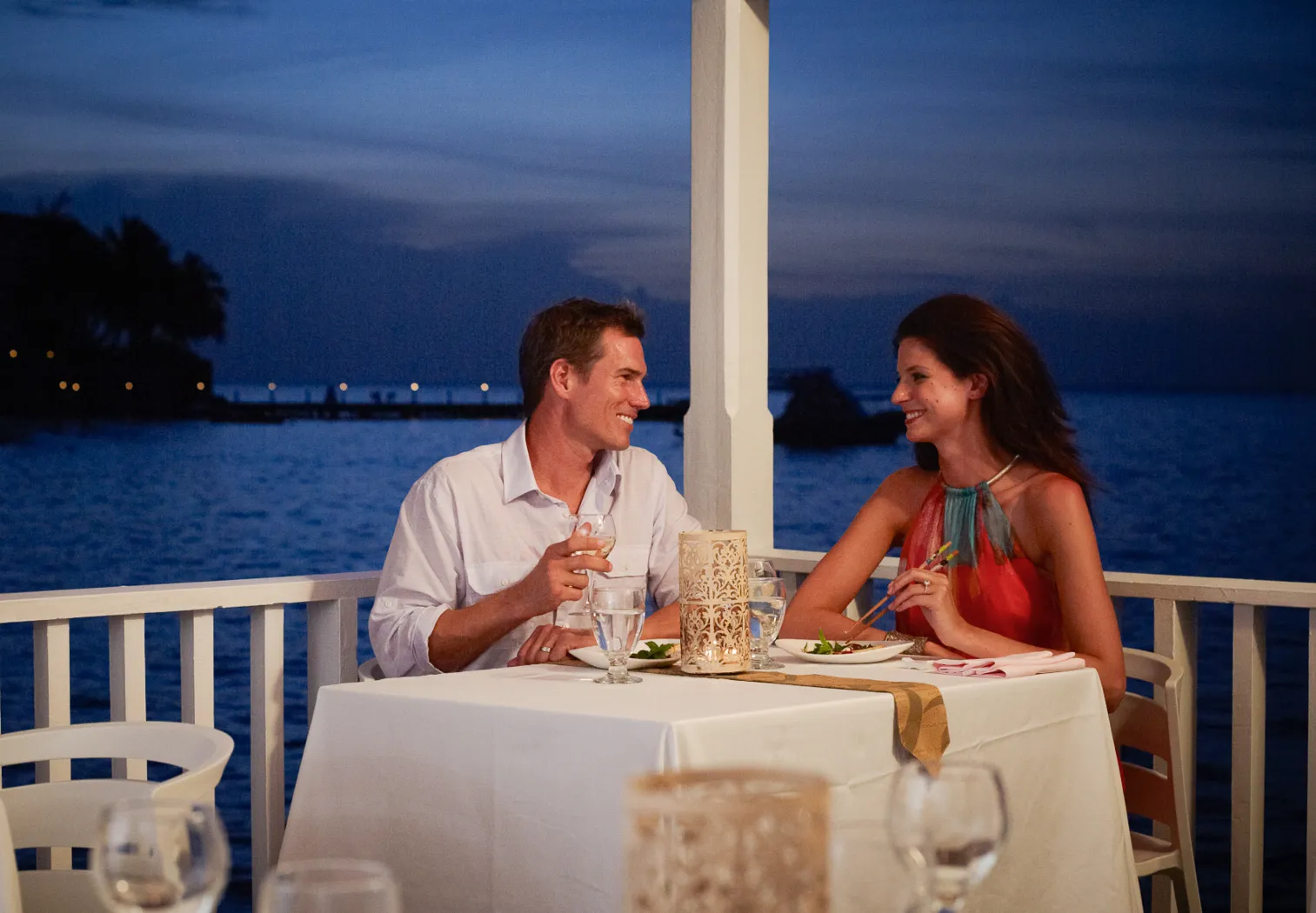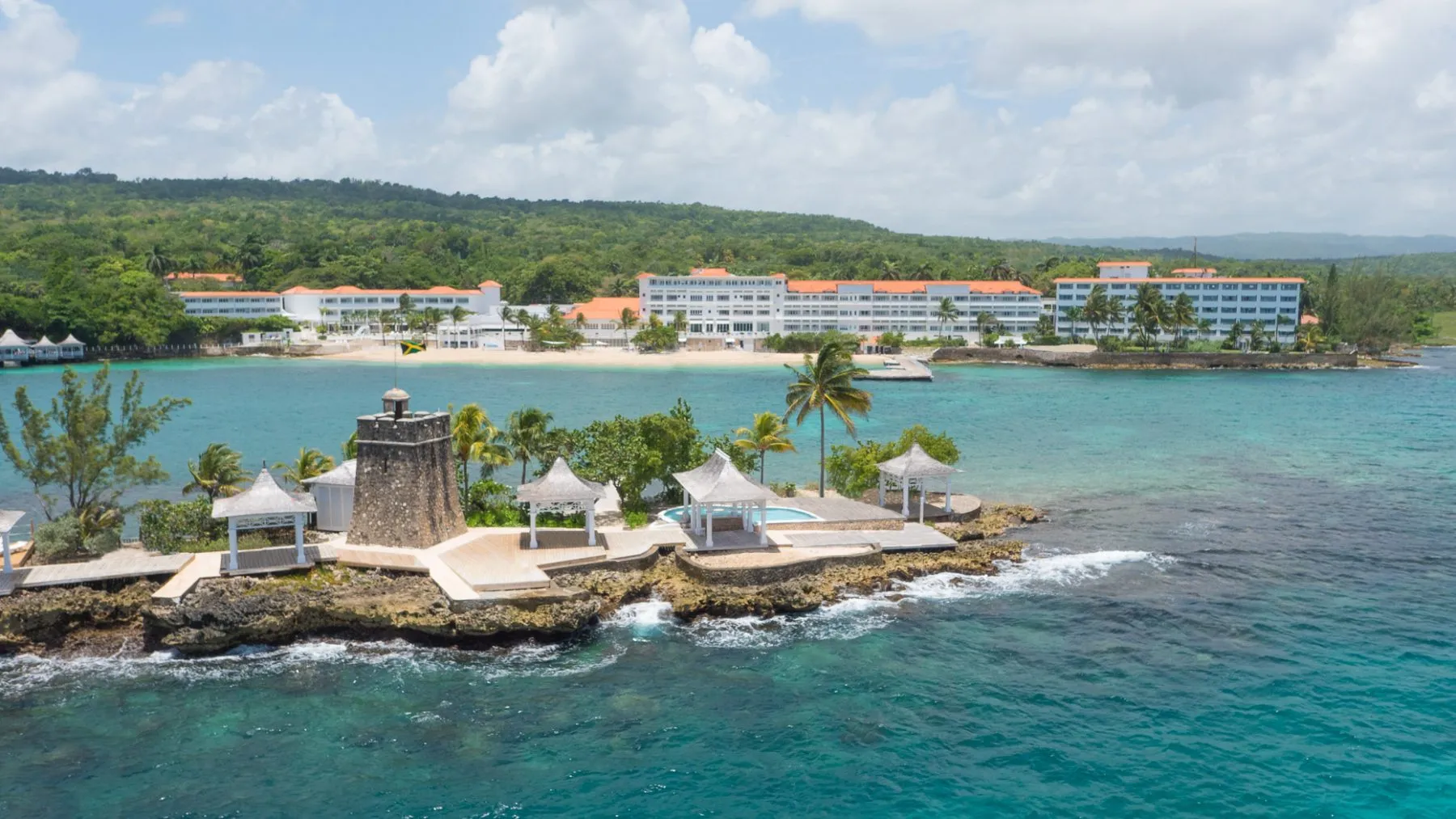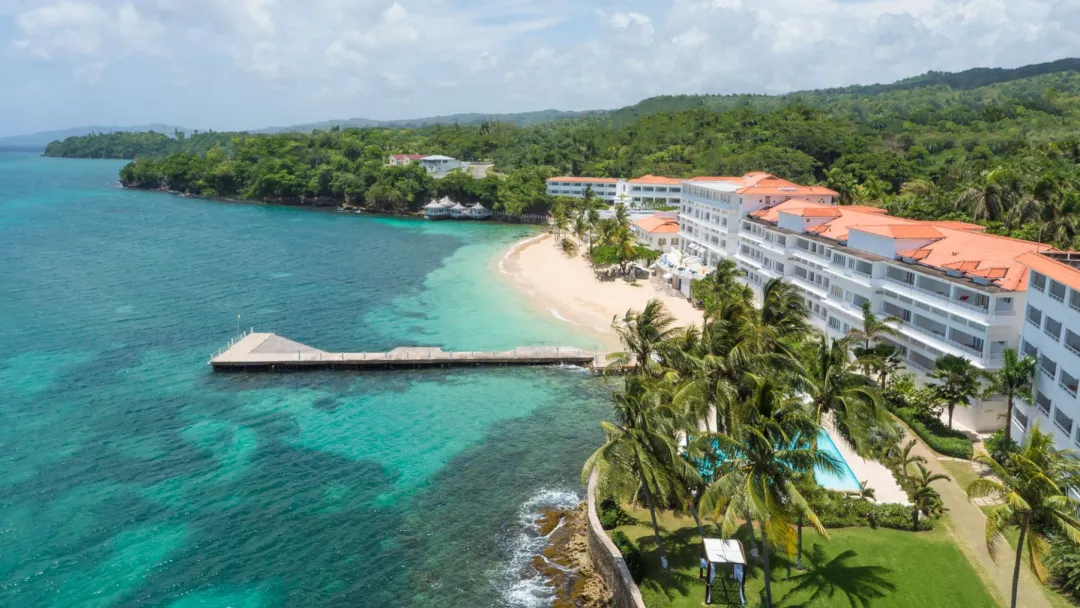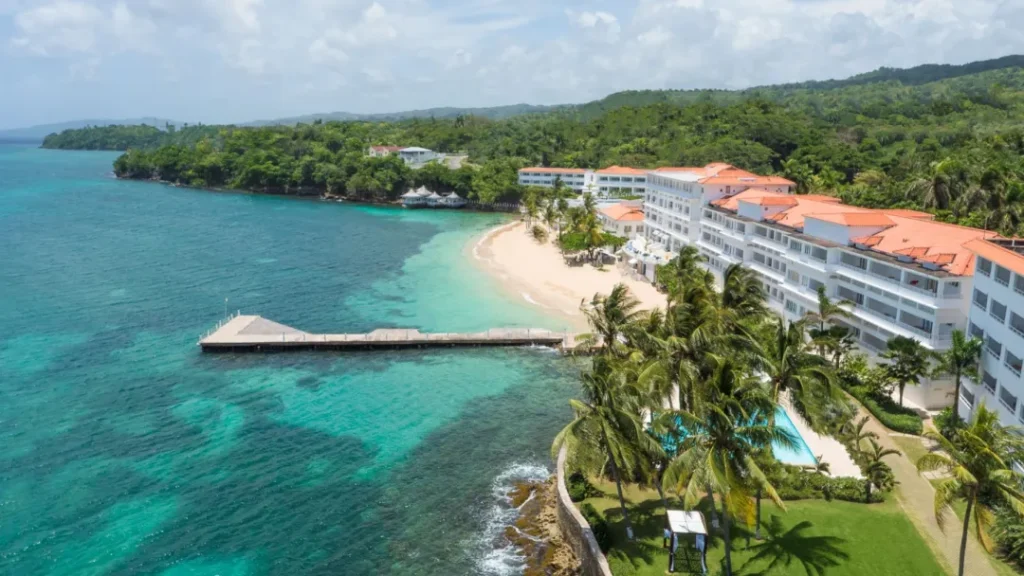 Couples Tower Isle, Ocho Rios Jamaica
MORE INTIMATE… They can't add hours to the day, but they can make every hour count with more of everything you love. From the island's finest farm-to-table cuisine to heart-pounding recreation to on-island treks to Jamaica's most renowned attractions. Because giving you more is what this all-inclusive hideaway is all about.
More about this resort
Couple's flagship resort, Couples Tower Isle is a sun-splashed playground with its own private island, a collection of newly refreshed guest rooms and suites, as well as eight exclusive Oasis Spa Villas where guests enjoy unlimited spa treatments.
EVERYTHING'S INCLUDED!(Superior dining, unmatched excursions, & unlimited golf, tennis and diving!) What does Couples love? Giving you a little more of everything you love! Because your getaway to Jamaica should include everything (except regrets)
Resort Highlights

Offering 19-acres of picturesque beachfront landscapes, this superior couples-only resort has perfected the art of delivering romance ideal for spa-lovers, diving-enthusiasts and honeymooners alike. Where scenes of natural beauty intermingle with exquisitely rooms and endless amenities, guests can enjoy au natural sunbathing on the resort's private island; unwind with a treatment at the dynamic spa; tie the knot as the sun sets below the Caribbean; sample award-winning gourmet cuisine at the selection of unique restaurants and take advantage of a dynamic activities water sports, glass bottom boat tours and a tennis center. With stylish guestrooms and suites designed for complete comfort, you'll encounter infinite reasons to fall in love with Ocho Rios, Jamaica.

Jamaica's original all-inclusive resort, Couples Tower Isle, captures the essence of Old Jamaica charm mixed with breath- taking beauty. The hotel itself stands impressive as its white exterior is beautifully contrasted by all of nature's gifts. The ambiance combines the allure of a 50's Hollywood hangout with a preserved feeling of lush tropical splendors. Distance from hotel to Sangster International Airport (MBJ), 60 miles (97 kms).
Resort Amenities

24-hour front desk
ATM/Cash machine†
Baggage hold
Bell staff/porter
Children not allowed
Concierge desk
Elevators
Exercise gym
Free airport shuttle
Free parking
Game room
Gift/News stand†
Golf, Offsite†
Housekeeping – daily
Internet services
Laundry/Valet service†
Lounges/bars†

Meal Plan Type: All Inclusive
Medical Services†
Pools
Restaurants
Room service†
Room service – limited hours†
Safe deposit box
Spa†
Tennis court
Tour/sightseeing desk
Wakeup service
Water sports†
Wedding site†

† Fees may apply
restaurants & bars

Dining at Tower Isle… From gourmet indoor dinners at Eight Rivers—evoking the days of old Jamaica—to delightful al fresco meals at the perennially chic Verandah, guests are sure to find the perfect meal to tempt their taste buds. Under the expert direction of Executive Chef Stefan Spath, every menu has been thoughtfully crafted using only the finest local produce, seafood and spices—to deliver a dining experience as delicious as it is authentic.

---

Patio Restaurant: Breakfast / Lunch / Dinner. Breakfast features and array of fresh fruits, freshly baked breads and pastries, and made to serve omelets. For lunch and dinner, enjoy Italian and Mediterranean cuisine.

---

Veggie Bar: Lunch. Delight with their fresh juice of the day, fruit smoothies, veggie dips and delectable healthy salads and sandwiches.

---

Pool Grill: All Day Dining. To satisfy your cravings any time of the day or night, the Pool Grill offers a variety of mouthwatering sandwiches, salads, jerk chicken, and Jamaican patties.

---

The Verandah: Dinner. Enjoy continental fare in a Caribbean chic space, overlooking the Caribbean Sea and Tower Isle.

---

Bayside: Dinner. Feast on Asian spring rolls, Pad Thai and banana leaf-steamed snapper by candlelight, overlooking the Caribbean Sea.

---

Eight Rivers: Dinner. Experience the authentic flavors of old Jamaica. Enjoy divine gourmet dining featuring continental cuisine with a distinctly Caribbean flair.

---

In-Suite Dining: Breakfast/Lunch/Dinner. Tired after a long day exploring Ocho Rios? Just want breakfast in bed? From fresh fruit plates to pan-fried snapper, in-suite dining is their pleasure.

---

Private Dinner: Fall in love again with a private dinner on the beautiful beach. Reserve your private dinner online, contact the Romance Concierge in advance, or visit the guest services desk upon arrival for reservations. Beach Private Dinner 6:30-8:30pm for $200 per couple

---

Beach Bar Flag Service: No need to get up to get your drinks! Guests can stick a flag provided by the property in the sand while lounging on the beach and have the bar staff bring over their order.

---

Swim-Up Pool Bar: Head over to the south edge of the property and take a seat at the swim-up pool bar, overlooking the beach. With a gorgeous view of Couples' lush private island, you'll really feel like you're in paradise while sipping a piña colada in the invigorating water. Hours: 10:00 am – 6:00 pm.

---

Au Naturel Island Bar: Hop on a boat and cruise over to the au naturel, private island. Enjoy a drink at the swim-up bar and bask in the sun. We offer more than the bare necessities at this fantastic, internal pool tavern. Hours: 10:00 am – 5:00 pm.

---

Main Bar at the Patio Restaurant: Enjoy the tropical breeze at the Main Bar and grab a cocktail before dinner or during showtimes. An eclectic, open area welcomes passers by to enjoy a drink and the chandelier above the bar provides a chic, island vibe for guests. Sample homemade Jamaican cocktails and enjoy an aerial view of the Private Island and beach. Continue the party late night with their in-house entertainer, DJ Smooch, every night (except Thursdays). Hours: 10:00 am – 1:00 am.

---

Piano Bar: Relive the vibrancy of this historic resort. Momentous black and white pictures of famous celebrities who have graced the hallways of Couples Tower Isle line the walls. Booths surround the room, facing a beautiful grand piano where you join other guests for a piano sing-a-along at 10pm on Sunday and 10:30pm Tuesday, Wednesday, Friday, and Saturday. Hours: 6:00 pm – 12:00 am.

---

Martini Hour on the Roof: Journey to the roof bar on top of Patios to experience special cocktail events. Couples staff create a lively mood with music and fun. Grab a drink and witness a gorgeous panoramic view of the coastline. Sundays and Wednesdays – 6:00 pm – 7:30 pm.

---

The Lounge: Let's stay out late! Located right on the beach, their high-energy nightclub draws a lively late-night crowd for music, mixed drinks and dancing. Monday – Saturday – 10:30 pm – 2:00 am.
Resort accommodations

Vintage-inspired pastels capture the retro design sensibility of the rooms at Couples Tower Isle. Each of the well-appointed accommodations—complete with plush king-size beds—open out onto private balconies and patios furnished with wide cushion seating and an outdoor table.

---

Deluxe Garden: Located exclusively in the Main Building, the spacious, interior-facing Deluxe Garden guest rooms feature views of beautifully landscaped tropical gardens or the mountains beyond. These rooms are located in close proximity to the lobby and Oasis Spa.

---

Deluxe Ocean: Featuring lovely ocean views, the Deluxe Ocean guest rooms are located in two beach-facing buildings overlooking the ocean. One building is in close proximity to the Fitness Center and Main Pool while the other is located directly in front of the pier.

---

Superior Ocean: Located on the resort's southern tip. Offering easy access to the spa and these spacious rooms are located on the quieter side of the resort and have partial ocean views.

---

Deluxe Ocean: Featuring lovely ocean views, the Deluxe Ocean guest rooms are located in two beach-facing buildings overlooking the ocean. One building is in close proximity to the Fitness Center and Main Pool while the other is located directly in front of the pier.

---

Premier Ocean: Offering spectacular views of the Caribbean Sea, the Premier Ocean guest rooms are located in two centrally located buildings and afford a direct view of Tower Isle overlooking the beach and pool.

---

Garden Junior Suite: Located on a higher floor of the Main Building, the spacious Garden Junior Suites with sitting areas offer stunning views of Jamaica's majestic mountain scenery. Bathrooms have freestanding showers and deep soaking tubs. Fully stocked mini-bars are replenished daily.

---

Ocean Junior Suite: Feature a sitting area and romantic, unobstructed views of the Caribbean Sea and Tower Isle. Located on higher floors in the Main Building, these spacious accommodations have full-stocked mini-bars that are replenished daily. [/su_spoiler]

---

One Bedroom Ocean Suite: Located on higher floors in the Main Building, the exclusive One Bedroom Ocean Suites have a separate living room with wet bar and wall-mounted flat-screen television, separate bedroom with flat-screen television and breathtaking views of the Caribbean Sea and Tower Isle. A fully-stocked mini-bar, replenished daily, and Jacuzzi bathtub or luxurious walk-in shower complete these premium accommodations.

---

Oasis Spa Villa: The brand-new Oasis Spa Villas are airy, ultra-private retreats located just steps from the award-winning Oasis Spa. Featuring a private sun terrace, personal plunge pool and sumptuous bedding, each luxurious, 493-square-foot villa offers the ultimate Caribbean spa experience. Guests enjoy private round-trip airport transfers, in-villa check-in, and a custom spa itinerary featuring unlimited spa services selected in consultation with the spa concierge.

---

Signature Oasis Spa Villa: Indulge in the Caribbean's premier spa experience in the new Signature Oasis Spa Villas. Airy and ultra-exclusive, each of these spacious, exquisitely decorated 639-square-foot villas offers private access to their award-winning Oasis Spa, as well as its own private sun terrace, personal plunge pool and separate living room. Guests enjoy private round-trip airport transfers, in-villa check-in, and a custom spa itinerary featuring unlimited spa services selected in consultation with their spa concierge.
resort activities

Aquasize Classes
Catamaran Cruise
Direct access to a beach
Daily activities
Dance Classes
Dunn's River Falls Excursion
Fitness center on-site
Basketball
Game room
Glass Bottom Boat Tours
Golf, unlimited (off site)
Hot tub
Hydro Bikes
Nightly activities
Jacuzzis
Dance Classes
Margaritaville Excursion
Massage Classes

Meditation Classes
Motorized Water Sports†: Water skiing & Scuba Diving
Non-Motorized Water Sports:
Snorkeling, windsurfing, sailing, water tricycles, and kayaking
Movie Nights
Pools
Shopping Tours†
Slot Machines†
Spa†
Spin Classes
Squash
Tennis courts
Volleyball
Wake Boarding
Yoga and Pilates

† Fees may apply
Wedding activities

At Couples Resorts, your most important celebrations unfold in the most idyllic settings in the world. Whether you're planning to say your "I Do's" on a private island, renew your vows in an intimate sunset ceremony on the beach or simply wish to enhance an already romantic occasion, we promise to make sure everything – from fresh flowers to flavorful island cuisine – is absolutely perfect. We'll handle every last romantic detail, leaving you free to enjoy the moment with your family and friends.

Contact us to learn more about wedding packages.
Please note:
RomanceJourneys.com makes every effort to keep the travel and resort information up to date on this website. However, resorts, wedding packages and laws do change. Because of that, we cannot guarantee that all information on particular resorts or destinations are completely accurate at the time of viewing. Before making wedding and/or travel decisions to a particular destination, it is highly recommended you speak with Shari (972-805-1773) or email Shari (shari@romancejourneys.com) before you book your travel.