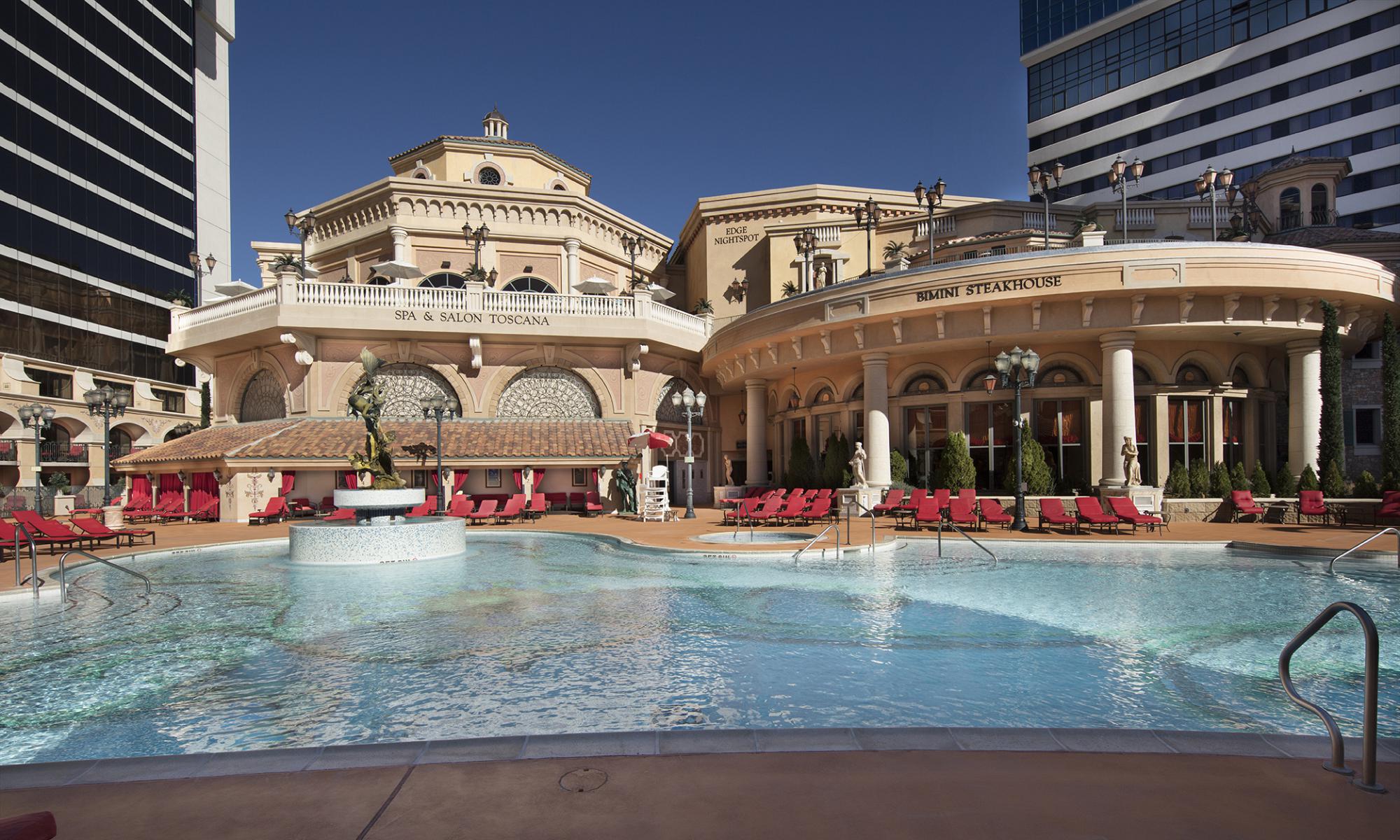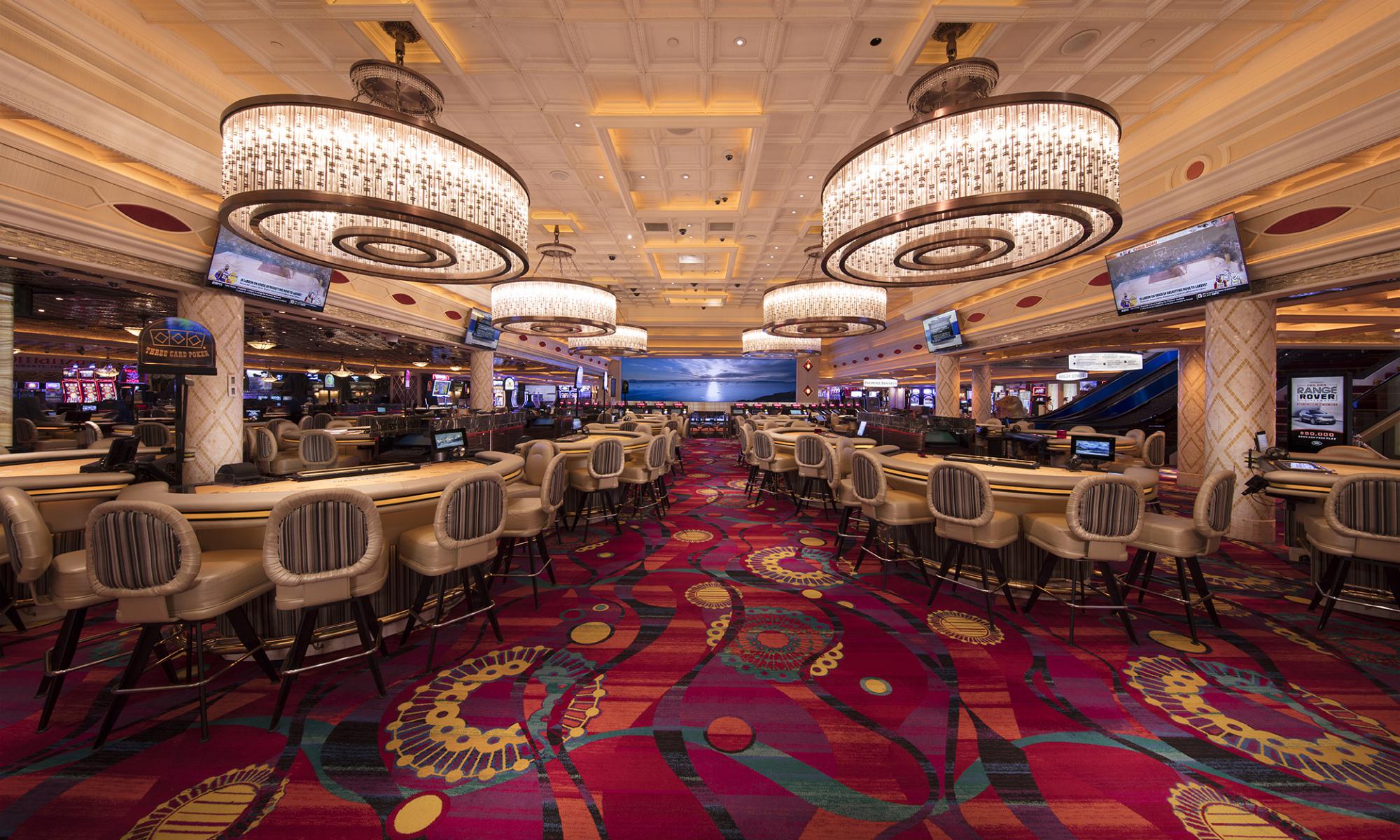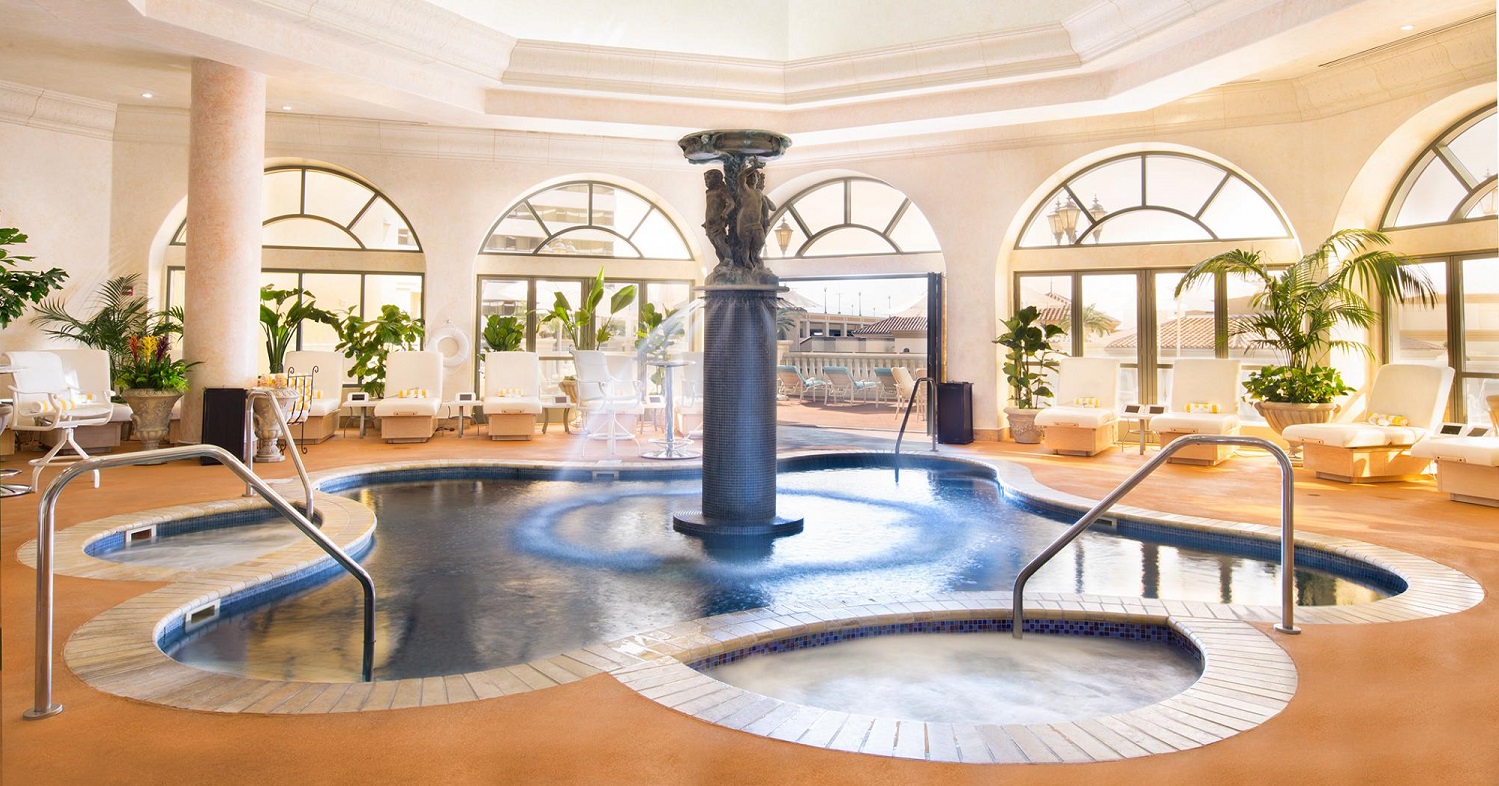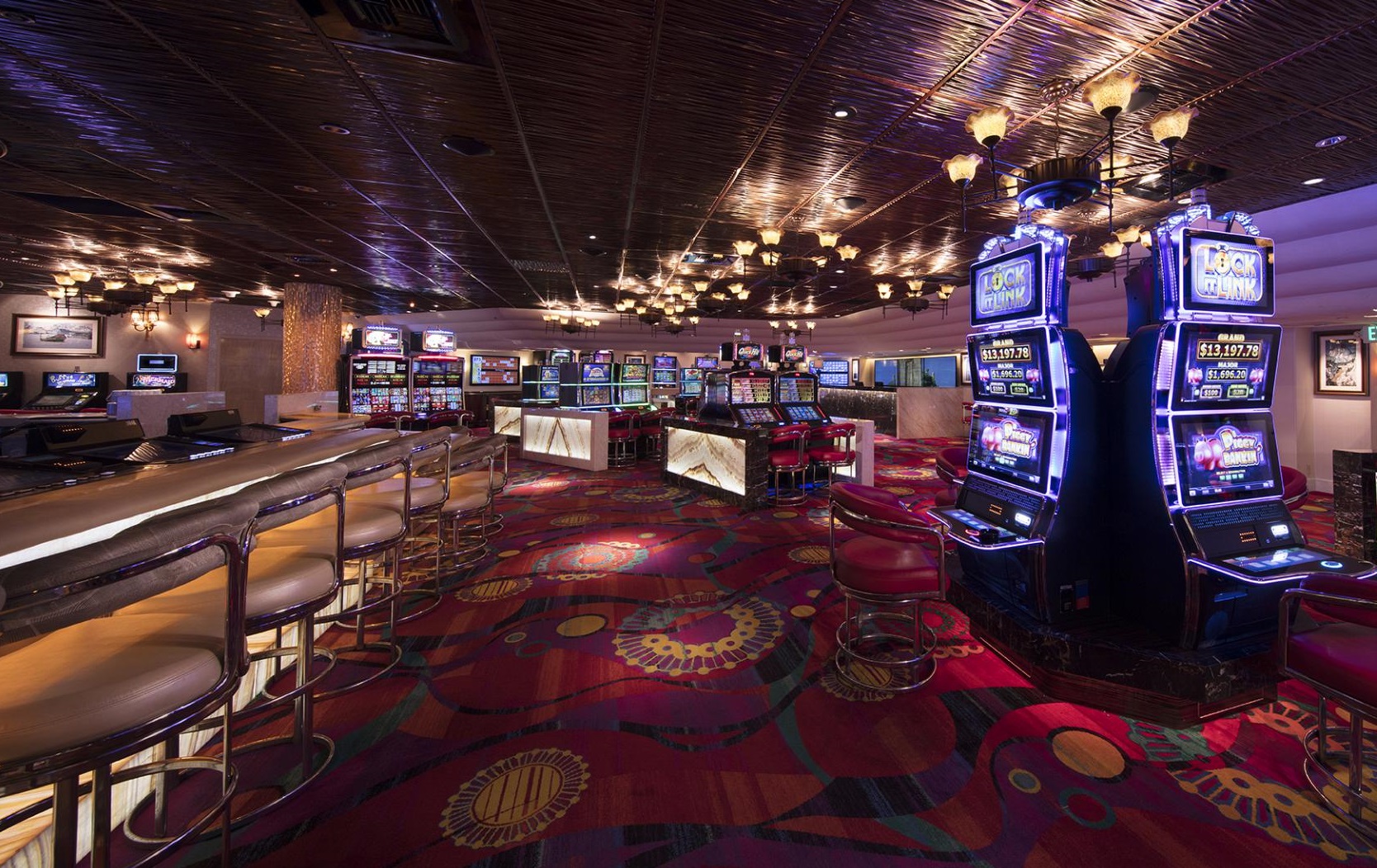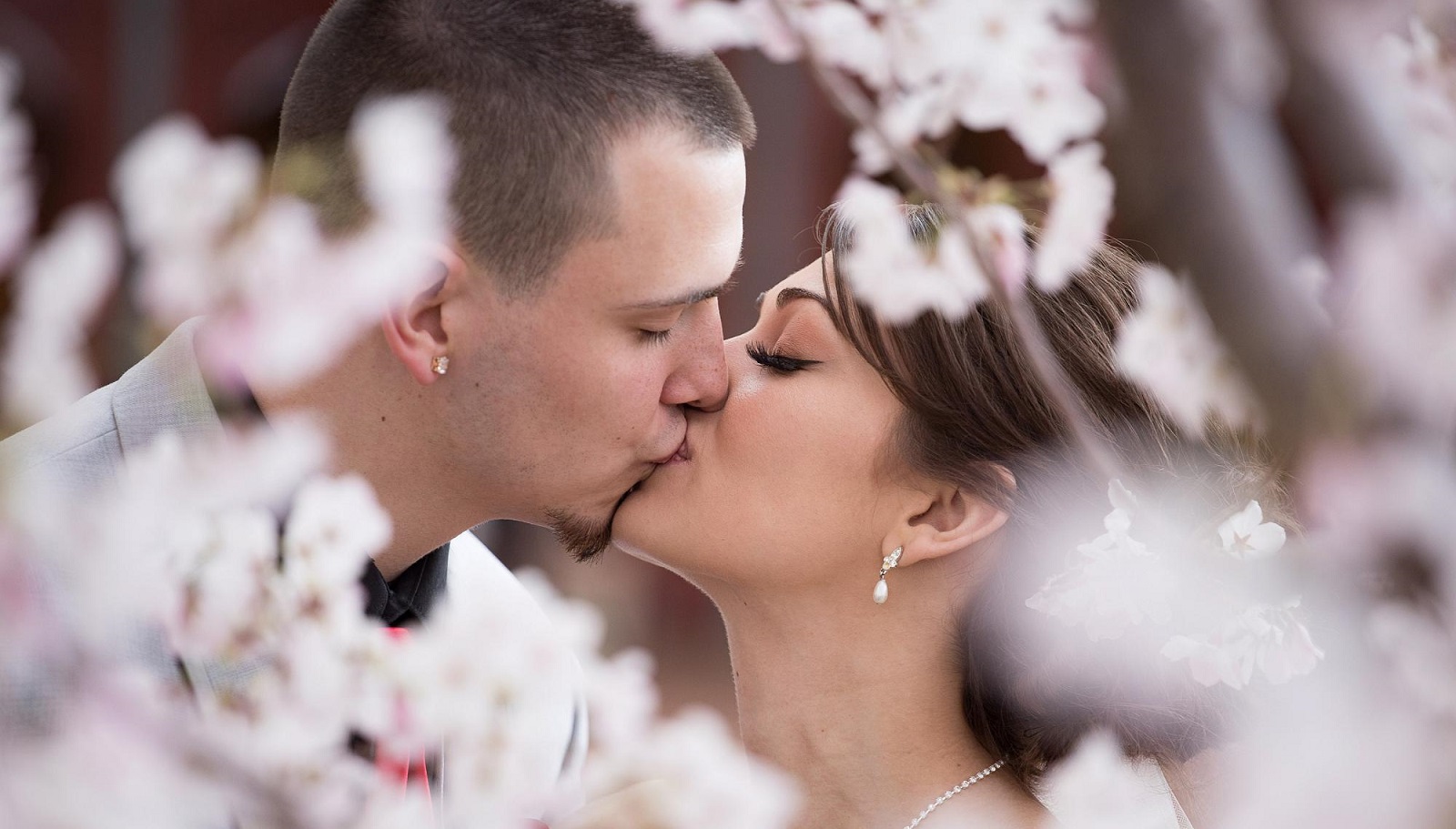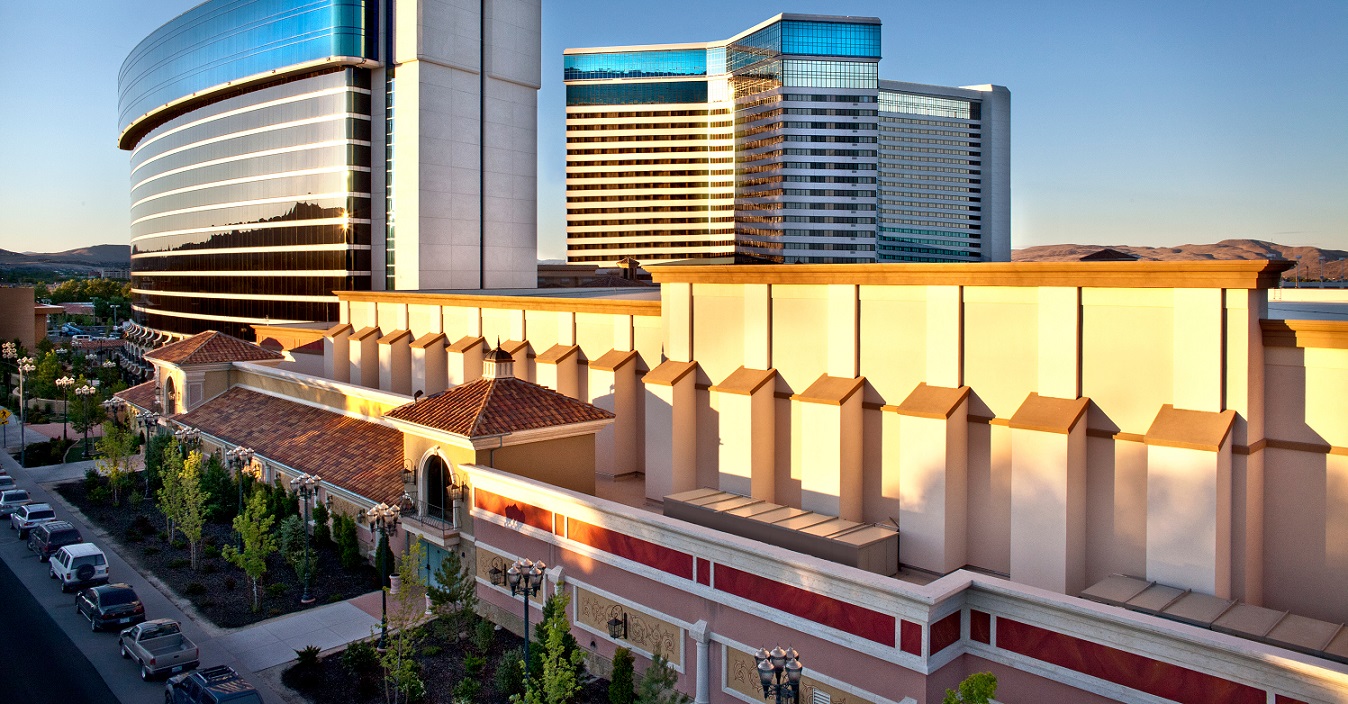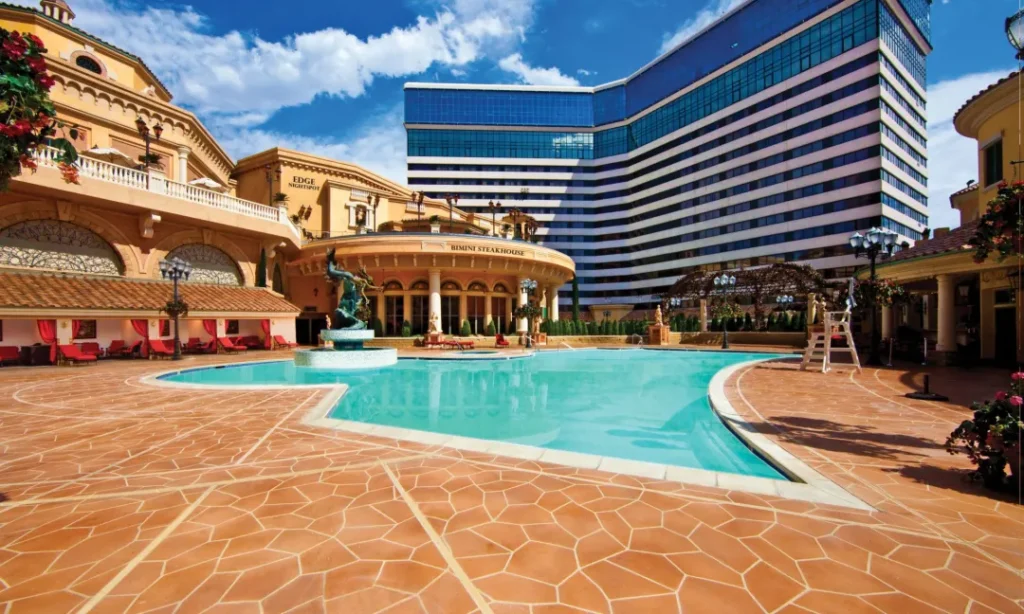 Peppermill Resort Spa and Casino, Reno, Nevada – United States
One of Reno's most dynamic hotels, this superior getaway treats groups, active travelers and gaming enthusiasts alike to upscale services and inviting amenities. Here, award-winning dining options, including a 24-hour coffee shop, will delight your palate; while 24/7 world- class gaming, headliner entertainment, a hip nightclub, appealing bars and lounges, a full-service spa, salon and health club, wedding chapels and a year-round, heated Waterfall Pool ensure unforgettable stays for each and every guest. Just five minutes from the Reno-Tahoe International Airport, this AAA 4-Diamond Reno hotel is a splendid escape from everyday life.
Resort Highlights

Experience the eco-conscious Peppermill Resort Spa Casino, Reno's Premier AAA Four Diamond resort, boasting 1,621 luxurious guest rooms including the 600-room all-suite Tuscany Tower. Embark on a pampered journey at the remarkable three-story, 33,000-square-foot Spa & Salon Toscana featuring 24 treatment rooms, Northern Nevada's only Caldarium with indoor pool, sun deck and full-service salon.

Enjoy slots, table games and poker in the 82,000-square-foot casino and race & sports book. Resort amenities include a posh 9,900-square-foot fitness center; two beautiful pools and three outdoor jetted spas, heated with on-site geothermal energy; designer boutique shopping, free WiFi Internet access for all guests; Reno's hottest nightclub, EDGE; 15 bars and lounges, including the iconic Fireside Lounge; and 10 award-winning restaurants offering authentic Chinese, inspired Italian, steaks and chops, seafood, buffet, deli and café dining.
Resort Amenities

24-hour front desk
24-hour room service†
Accessible facilities
Accessible rooms
ATM/Cash machine†
Baggage hold
Bell staff/porter
Business services†
Children welcome
Concierge desk
Electric car charging stations
Elevators
Exercise gym
Free airport shuttle
Free parking
Game room
Golf, Offsite†
Housekeeping – daily
Internet services

Laundry/Valet service†
Lounges/bars†
Non-smoking rooms available
Outdoor pool
Restaurants†
Room service†
Safe deposit box
Sauna†
Shopping mall†
Spa†
Tour/sightseeing desk
Valet parking
Wake-up service
Water sports†

† Fees may apply
restaurants & bars

Bimini Steakhouse: Savor hardwood grilled steaks, chops and seafood in an unparalleled atmosphere. An elevated steakhouse experience, Bimini offers both classic and contemporary preparations of the finest steaks and seafood. Savory, wood-grilled meats and fresh, delicate fish are accompanied by side dishes only offered by Reno's best steakhouse, along with irresistible small plates and sumptuous desserts. Bimini's exclusive bar boasts craft cocktail mixology and an extensive wine list featuring more than 1,000 bottles to fully provide guests with an indulgent, memorable meal.

---

Chi: At CHI, Master Asian Chef Benny Tsang brings the delicacies of Asia to Reno through traditional and contemporary dishes. The vast menu includes beef, pork, poultry, and seafood preparations, as well as vegetable and noodle specialties. For an even more robust flavor adventure, begin the meal with one of the restaurant's signature cocktails, and end the night with one of many dessert options only offered at CHI. Lavishly decorated with intricate Asian artwork, rich tapestries, and magnificent statues, CHI delivers a warm, intimate atmosphere sure to charm and captivate.

---

Romanza: Home to the finest Italian cuisine Reno has to offer, Romanza is dedicated to the art of handcrafted meals and authentic flavors. Watch as master chefs skillfully prepare each course in the exhibition kitchen, combining locally-sourced ingredients with premium meats and seafood to transport guests straight to old-world Italy. Romanza's pastas are handmade daily from age-old recipes, and the wine list overflows with exclusive options straight from Tuscan wineries. Accompanying the tantalizing menu is an unparalleled atmosphere of Roman opulence. Set under an enchanted dome, Romanza's overhead sky scene drifts from starry twilight to a delicately lit dawn, choreographed to classic Italian music. Classic sculptures and Corinthian columns topped with torches add to the experience, one that is sure to leave a lasting impression.

---

Biscotti's: Serving classic comfort foods with a twist, Biscotti's expansive menu can satisfy any breakfast, lunch, or dinner craving. These tried-and-true dishes offer global flavors alongside home-cooked favorites, accompanied by a large selection of wines, craft beer, and signature cocktails. Biscotti's Sunday Brunch Toscana is often described as Reno's best brunch option, enticing diners with a menu of endless delights and chilled Prosecco served tableside. Brunch is served from Sundays from 10am – 2pm. For those without time for a sit-down meal, Biscotti's Café serves gourmet coffee and fresh-baked pastries, prepared salads and sandwiches, and generous scoops of Peppermill Reno's house-made gelato. Voted Reno's best coffee shop by Casino Player Magazine, it's the perfect stop for grab-and-go treats.

---

Oceano: Featuring an extensive menu with only the freshest seafood, Oceano is a favorite for everything under the sea. Enjoy specialty catches, ever-changing all-you-can-eat sushi, and the best stews and chowders. Waiting to complement any meal are fine wines and premium sakes, both served by the glass. Recently remodeled to reflect the beauty and serenity of the ocean, Oceano now boasts large-format LCD screens that depict gorgeous scenes from all over the world and a private dining room for intimate gatherings. Perfect for everything from a quick, flavorful lunch to an indulgent, leisurely dinner, Oceano is sure to satisfy.

---

Island Buffet: Peppermill's buffet offers an abundant selection of hot entrees, carved meats, savory soups, fresh salads, several made-to-order specialties and home-baked desserts. Island Buffet has been voted Best Buffet in such notable publications as Strictly Slots, Casino Player Magazine, and Nevada Magazine. Additionally, Island Buffet restaurant was chosen Best Champagne Brunch in Casino Player Magazine.

---

Cafe Milano: For Peppermill Reno, Café Milano is where it all began. Opened as the Peppermill Inn Coffee Shop & Lounge in 1971, the resort guests know and love today started as a casual coffee shop dedicated to high-quality food and five-star customer service. Those standards have remained important to Café Milano throughout the years, and are evident in every dish served today. With an extensive menu that covers any appetite hungry for breakfast, lunch, dinner, or dessert, Café Milano prides itself on crafting home-cooked meals made from scratch. Diners can enjoy flavors from the Far East as well, as the café boasts a diverse range of Asian appetizers, entrees, and noodles shaped by Master Chef Benny Tsang. No matter what delicious option grabs your attention, it will be easy to see why Café Milano is a beloved institution in Reno.

---

EDGE Nightclub: EDGE Nightclub celebrates the art of nightlife. Celebrate authentic DJ culture, music and turntablism. They celebrate dancers and choreographers who produce stylish dance vignettes for their guests each weekend. They celebrate the art of great service. A recent redesign bucks the current trend in nightlife of "big room Vegas" with a dramatic, almost theatrical look, creating a more intimate nightlife experience. The resort believes a 1920s style meets 2020 tech in EDGE 2.0. A striking entryway welcomes you into our ultra-lounge and, just beyond, the main nightclub and dance floor. EDGE adheres to a strict dress code policy. No sports hats or attire, oversized or baggy clothing, bandanas, sports shoes, sandals or construction boots. Dress to impress.

---

Terrace Lounge: With craft cocktails, gorgeous views, and live music nightly, Terrace Lounge is the place to be for an upscale, intimate experience. Set in a rotunda with gorgeous views of the pools and gardens, the plush furnishings and grand chandelier are as captivating as they are welcoming. The bar boasts of award-winning wines, seasonal drinks made with locally-sourced ingredients, and exclusive whiskies rarely available to the public. Coupled with small plates from Biscotti's, Terrace Lounge is the perfect escape for a night on the town. Enjoy free performances from top regional acts and local favorites every evening inside Terrace Lounge, with genres ranging from jazz, soul, and funk to acoustic pop, indie-rock, and Latin reggae.

---

Fireside Lounge: Opened more than four decades ago as part of the original Peppermill Inn Coffee Shop & Lounge, the Fireside Lounge is continually voted Reno's best bar and lounge year after year. This storied watering hole is adored for its vintage vibe, which includes plush booths and an iconic fire pit. Each seating area features a state-of-the-art sound system and high-resolution plasma screens, which stream the latest music videos all night long. Combine this one-of-a-kind atmosphere with specialty drinks and complimentary appetizers, and you'll discover why the Fireside Lounge is a beloved institution in Nevada.

---

Sports Bar: Surround yourself with games, matches, and races at the Sports Bar, centrally located right next to the Race and Sportsbook. Dozens of high-definition plasma screens broadcast football, baseball, basketball, horse racing, and more day and night, with plenty of comfortable chairs and private tables available. The bar top boasts video poker in the round with great views of the games no matter where you play. Kick back with a beer or cocktail, grab a hearty sandwich from Sports Deli, and settle in for hours of wall-to-wall sports coverage.

---

Banyan Bar: Nestled next to Island Buffet, Banyan Bar provides a lush, tropical atmosphere perfect for enjoying a quick drink on the edge of a rain forest canopy. Complete with shimmering waterfalls, dramatic thunderstorms, and enchanting South Seas music, Banyan Bar crafts classic cocktails, fine wines, and tropical concoctions sure to please. Take a walk on the wild side and discover everything this exotic jungle has to offer.

---

Casino Lounge: Surround yourself with stunning imagery from around the world at Casino Lounge, found in the heart of Peppermill Reno. Only a few steps away from all the gaming action, this intimate bar boasts a massive 32-foot high-definition screen that showcases nature scenes and cityscapes shot across dozens of exotic lands. While efficient service will have your favorite beer or cocktail ready in mere moments, you may find yourself lingering to see what gorgeous landscape comes to life in true detail next, right before your eyes.

---

Chi Bar: Located next to Chi restaurant, Chi Lounge is the perfect place to relax just steps from the excitement of the casino. Lounge while surrounded by antique Chinese artifacts and statuary and gaze upon modern HD sporting events and landscapes. Featuring Asian-inspired hand-crafted cocktails and a full Chi menu, to dine in or take out.

---

Lobby Lounge: The Lobby Lounge, located right by the Front desk in the Hotel Lobby, is the perfect place to meet friends before heading off for a night in the casino. The Lobby Lounge serves an array of refreshments, including many specialty drinks and wines.

---

Romanza Bar: Nestled in a quiet and intimate corner of Romanza Ristorante Italiano, the Romanza Bar is the perfect place to enjoy a cocktail with friends in a dramatic and romantic Mediterranean setting.

---

Sole Poolside: Complement a day spent soaking up the sun with a refreshing tropical cocktail from Sole Poolside. Open seasonally, this bar is exclusively available for hotel guests and invited players enjoying the gorgeous views and cool waters of Peppermill Reno's pools and spas. Sip specialty margaritas, fresh mojitos, and frozen daiquiris only offered at Sole Poolside, or try something new from the summer drink menu. Those with an appetite can also enjoy convenient grab-and-go dining options from the pool deck or place an order from their extensive Room Service options. Dive into everything Sole Poolside has to offer and truly enhance your fun in the sun.

---

Biscotti's Bar: Tucked inside Biscotti's, a vast selection of brews, bottles, and signature drinks await at Biscotti's Bar. More than 50 premium craft beers are offered here, including multiple IPAs, lagers, sours, Belgians, and ciders, to name a few. Guests can also imbibe local Reno beers for a true taste of Nevada's growing brewery scene, with bottles and pours available from Brasserie Saint James, Great Basin Brewing Company, and Pigeon Head Brewery. Wine enthusiasts benefit from an equally extensive collection of merlots, cabernets, pinots, and chardonnays. Savor a glass or pop a bottle in casual comfort and style.

---

High Limit Slot Lounge: Enjoy high limits and stellar service in the Peppermill's High Limit Slot Lounge. You'll find all your favorite high limit slots in a luxurious atmosphere, featuring a soft leather sofa and chairs, graceful arches of blooming white orchids, personal attendants, a private bar, and marble-lined private restrooms.

---

Oceano Bar: An underwater retreat next to the spectacular Oceano Seafood Restaurant, Sushi and Oyster Bar, serving the finest wines and premium sakes by the glass.

---

Cube Bar: Enjoy your favorite beverage underneath a spectacular, soaring array of television monitors mounted on a giant cube above the casino. Watch vivid images of sporting events and the Windows of the World resort art.

---

Poker Bar: Warm up for your next big poker game in the Peppermill Poker Room, or unwind from the action in the Poker Bar as they serve up drinks.

---

Bimini Bar: Tucked inside Reno's best steakhouse is Bimini Bar, a private escape that boasts craft cocktail mixology and an extensive wine list featuring more than 1,000 bottles. Explore unique flavors and spirits unlikely to be found elsewhere, sip one-of-a-kind beverages prepared with locally sourced ingredients, or savor a glass of world-class vino imported from top wine regions around the globe. With seating for less than a dozen guests, this intimate gathering spot is a popular option for starting or ending a night on the town. Witness the art of the cocktail firsthand with Bimini's tableside drink service. Dedicated mixologists come to you and craft signature drinks, allowing guests to enjoy their evening without leaving their company.
Resort accommodations

Tuscany Tower: From the outside, Peppermill casino hotel's Tuscany Tower is a modern glass structure, reflecting sun and sky. But from the inside, it reflects the classic style of Tuscan luxury. Warm colors evoke rolling green and umber Italian hillsides. Plush hotel room interiors offer peace and comfort. With sweeping views of Reno's cityscape and the breathtaking Sierras, the 600 Tuscany Tower suites combine old-world splendor with sophisticated, contemporary hotel amenities to create an unforgettable experience. Hand-painted Italian art and private foyers provide an elegant, personal space.

---

Peppermill Tower: Being selected Best Reno Hotel Rooms year after year is no easy feat, but Peppermill's Tower Rooms set the standard for hotels in Northern Nevada and offer unparalleled luxury, comfort and style at affordable rates making Peppermill Reno's best hotel value, and Reno's best rooms. Whether you're here for a getaway or a business conference, Peppermill Tower Rooms offer the luxury you'd expect from a suite, in a smaller, more affordable package. In addition to offering the most guest suites of any Reno hotel, Peppermill's suites are the most elegant in Northern Nevada. Their prestigious AAA Four Diamond rating for hospitality ensures that you will enjoy a first-class experience during your stay. Stay in the Peppermill Tower Suites and enjoy modern luxury in each of the eight stunning and spacious hotel room designs featuring creature comforts that set Peppermill apart from all other Reno resorts. From the 390 sq. ft. Spa Suite to the 5,000 sq. ft. Super Suites, when you step into a Peppermill luxury guest suite, you know you're in one of Reno's best hotels.
resort activities

Peppermill Casino in Reno, NV, features the newest, hottest slots and video poker and has been voted "Best in Reno" in several slot machine categories. They offer an exclusive High Limit Table Games area and Reno's biggest and most luxurious High Limit Slot Area and Reno's most luxurious Poker Room. When you're ready for 24/7 gaming action, Peppermill Reno casino is the place to be! With liberal gaming rules, Peppermill Reno is the proud recipient of a wide variety of distinguished casino awards, including Best Casino and Best Place to Gamble in Reno, Nevada.

Peppermill's casino also features single and multi-deck Blackjack, Roulette, Craps, 3-card and 4-card Poker, Let-It-Ride, Pai Gow Tiles, Pai Gow Poker, Baccarrat, Keno, a smoke-free Poker Room, and a high-tech Race & Sports Book with over 100 screens for the best viewing.

Slots and Video Poker
Table Games
Keno

Tournaments and Events
High Limit
Passport Rewards

† Fees may apply

---
Wedding packages

The Weddings at the Peppermill. A perfect fit for your new beginning. Their team of creative wedding professionals can help you choose from one of their signature packages, or design a ceremony and reception that is a reflection of you. Whether you are looking for the romance of vintage appeal, to evoke modern glam or added touches of sophistication, their team will unveil your individual style. The Weddings at the Peppermill can redefine your experience by offering custom menus, signature cocktails and unique venues.

Venues

Pisa is artfully-decorated in warm, neutral colors. Located on the second floor, Pisa makes the perfect reception and lounge location.
The Tuscany Gardens are located on the southwest side of the Tuscany Towers. The gardens are open each spring, and close during the winter months. Specific dates are subject to weather. Seating is available for up to 50 guests wrapping around the fountain, or up to 100 guests set on the north-facing patio.
Panoramic city and mountain views. Our exquisite two story 17th floor suites offer a unique event experience. Each suite features sweeping views and a beautiful spiral staircase. The 17th Floor Suites can accommodate a maximum of 20-50 guests for wedding ceremonies, receptions and other special events.
The Peppermill features three beautiful and customizable ballrooms for you to create your dream wedding or event. Enjoy flexible spaces ranging from 800 to 62,000 square feet.
Please note:
RomanceJourneys.com makes every effort to keep the travel and resort information up to date on this website. However, resorts, wedding packages and laws do change. Because of that, we cannot guarantee that all information on particular resorts or destinations are completely accurate at the time of viewing. Before making wedding and/or travel decisions to a particular destination, it is highly recommended you speak with Shari (972-805-1773) or email Shari (shari@romancejourneys.com) before you book your travel.