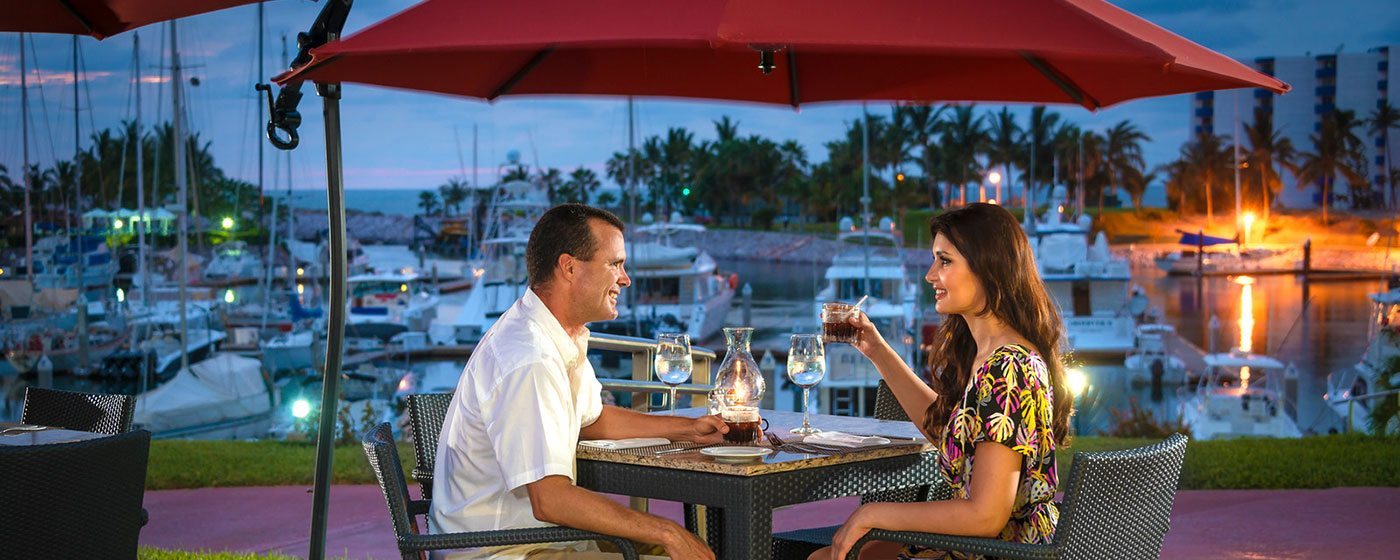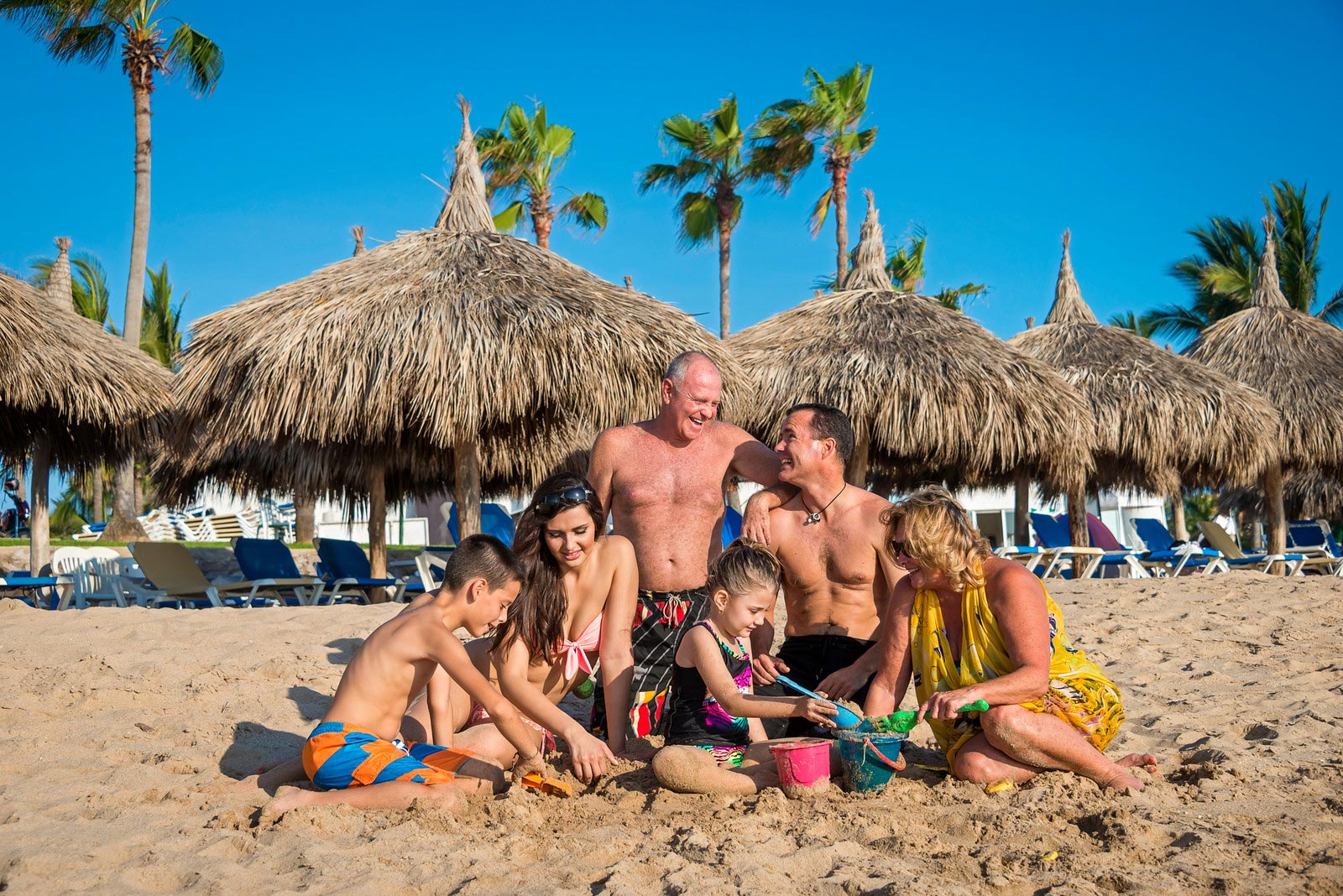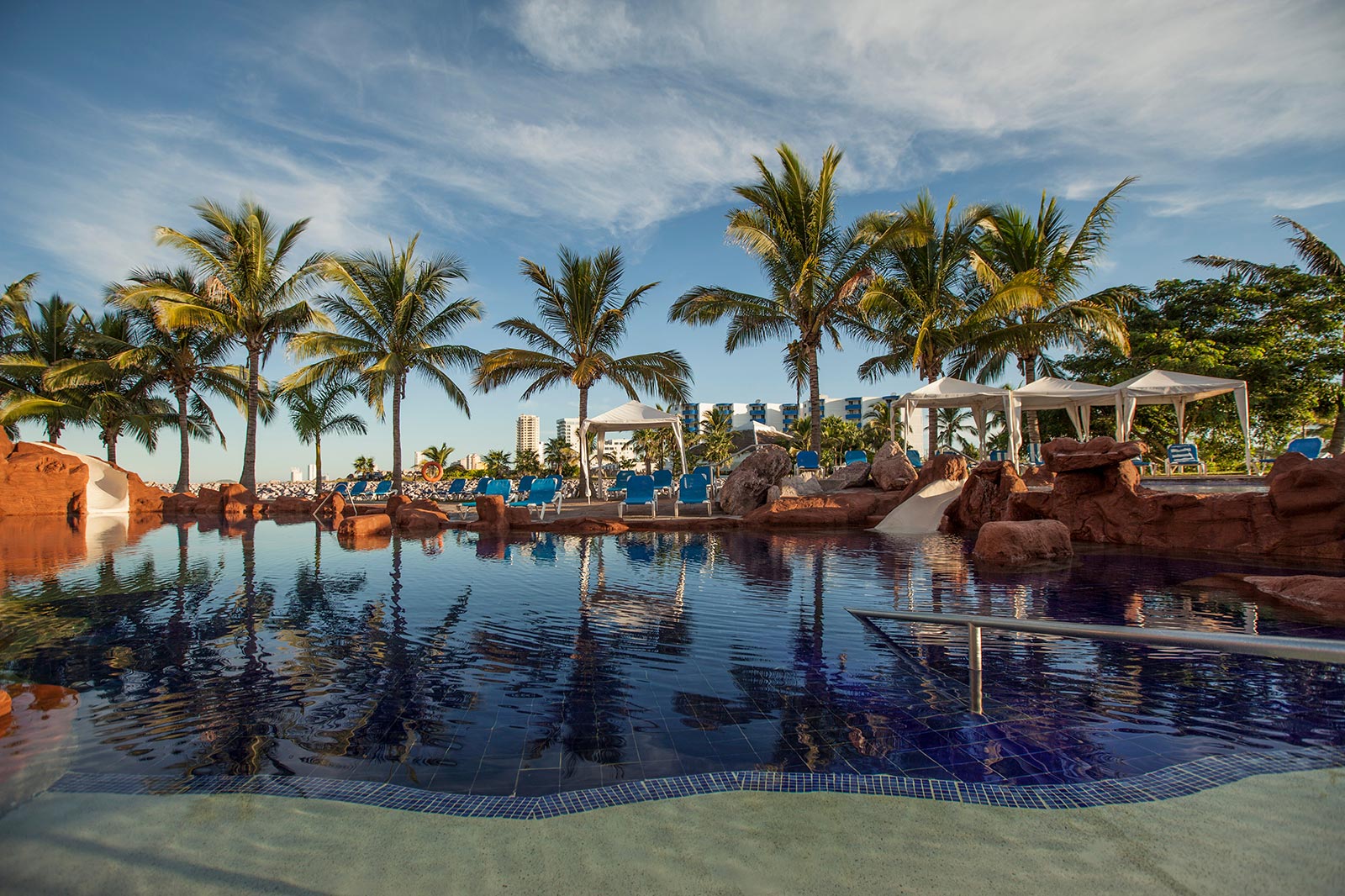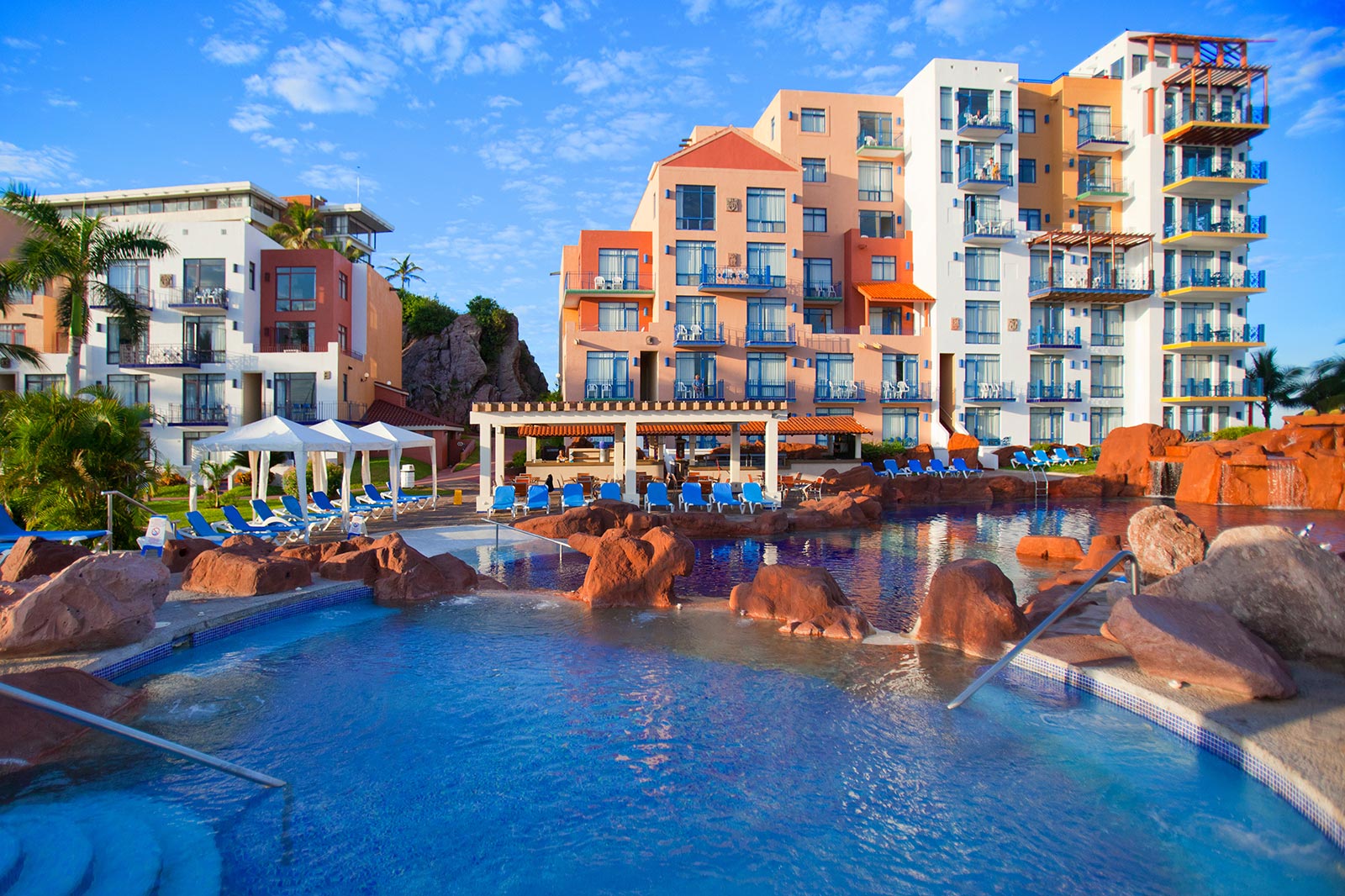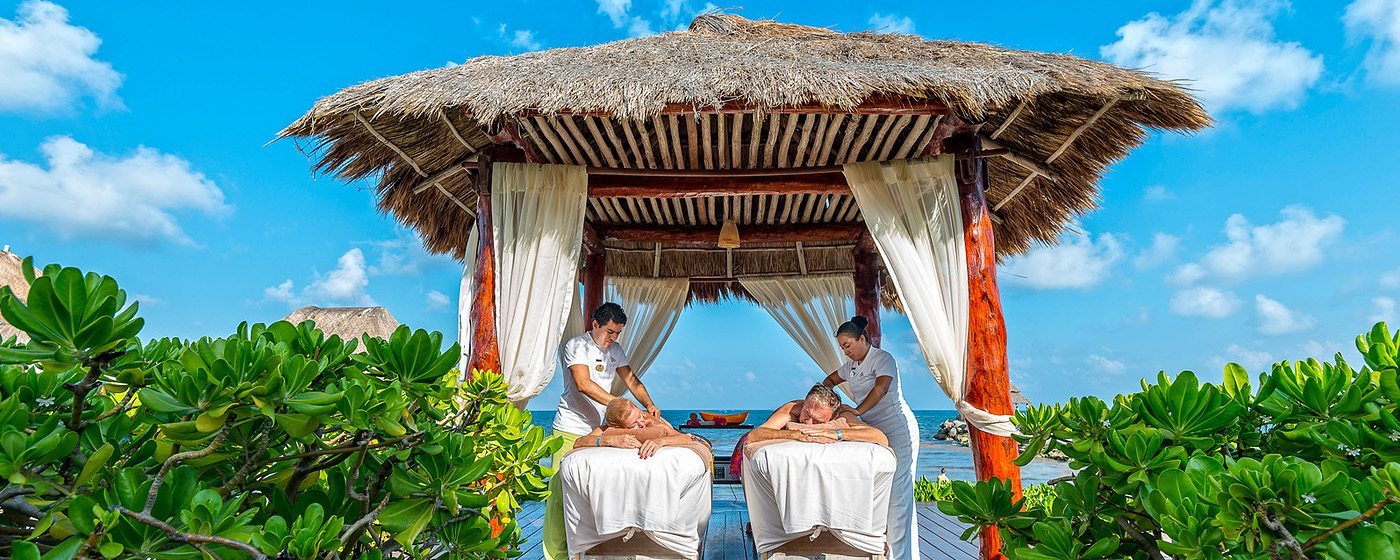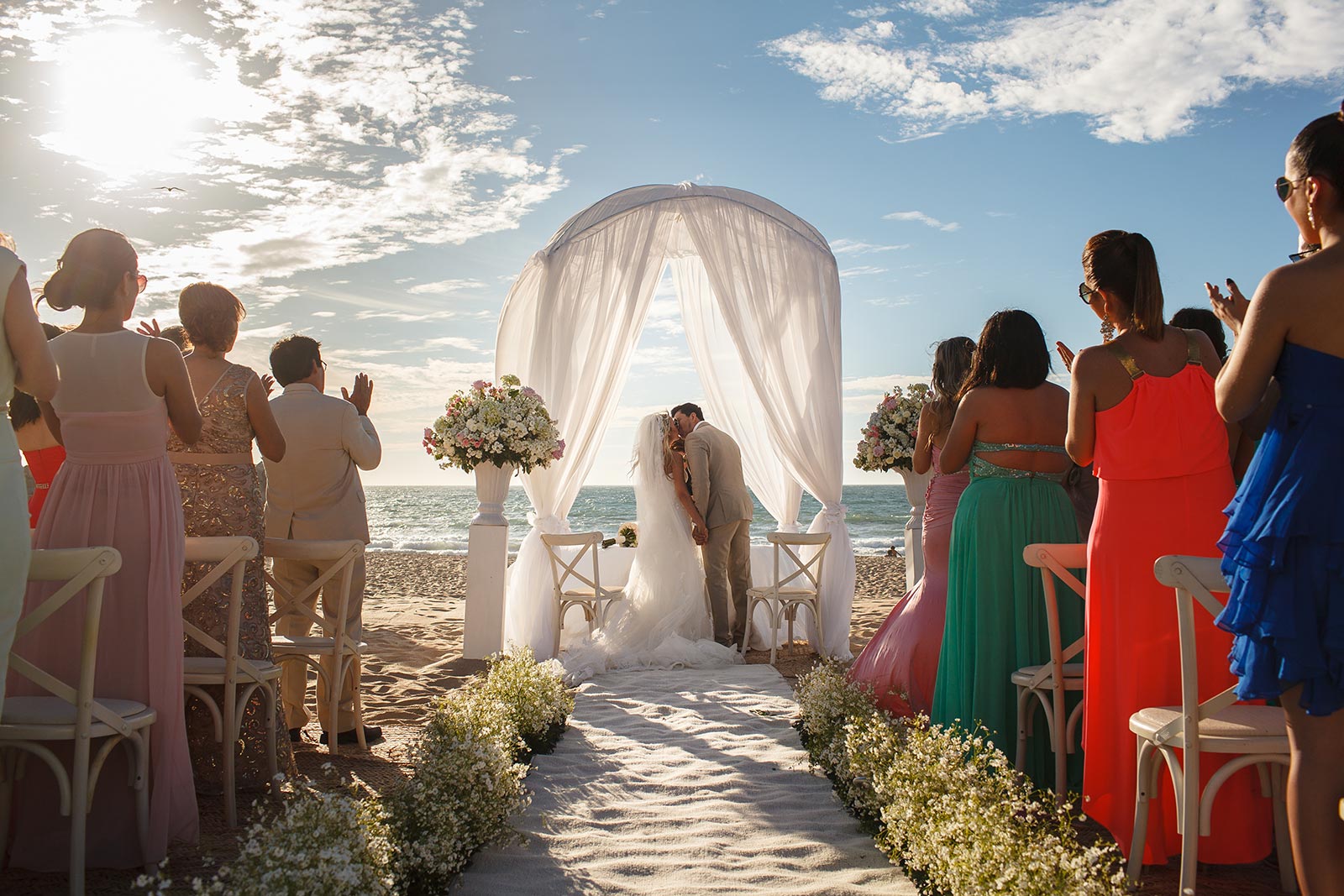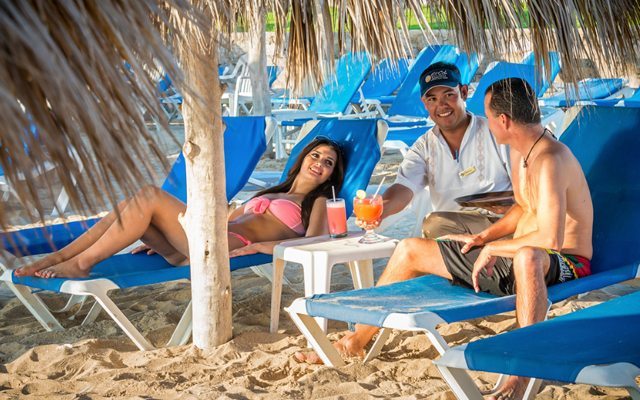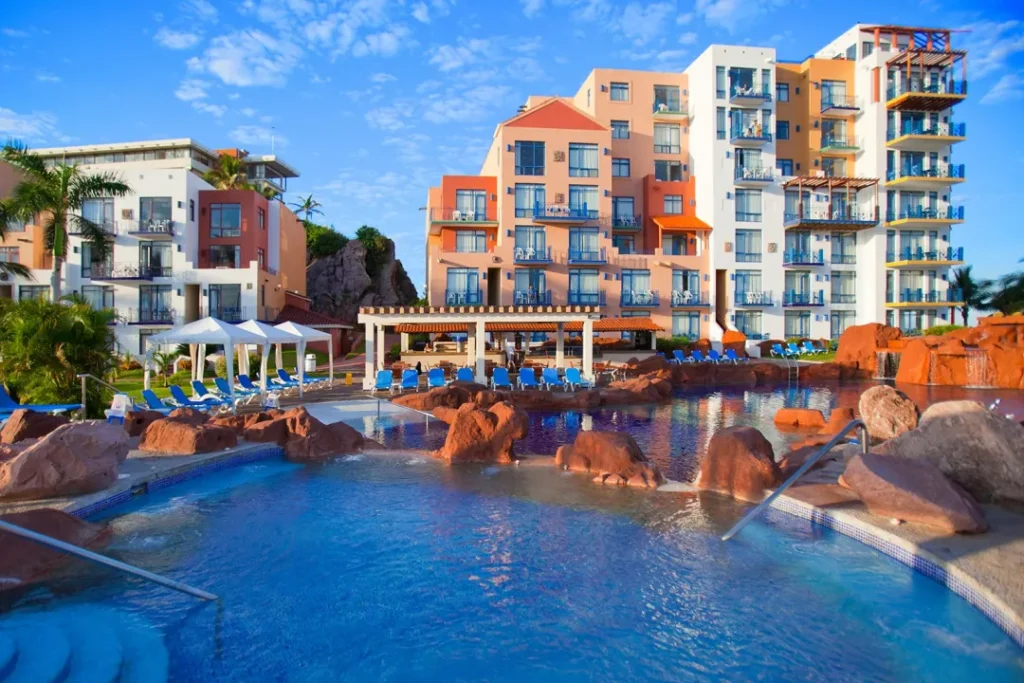 El Cid Marina Beach, Mazatlan, Mexico
Surrounded by sea, sand and style, this oasis is your perfect intimate escape. Discover new activities and thrilling excursions topped off by delicious meals and refreshing drinks by the marina. Continue the adventure in town with lazy strolls down historical cobblestone streets. Shop, dine and explore authentic Mexican culture in this thriving city knowing that the comfort and tranquility of your spacious suite await.
Resort Highlights

Overlooking the deep blue waters of the Pacific Ocean, this picturesque Mediterranean-style resort appeals to families, golf-enthusiasts and spa-lovers seeking unforgettable fun in the Mexican sun. Nestled in the heart of Mazatlan's Golden Zone Marina, the resort's mini- golf course and supervised kid's activities club will keep your little ones entertained throughout your stay, while an appealing seafood restaurant and sparkling swimming pools featuring a swim-up bar, a kid-friendly shallow lagoon and an enthralling labyrinth of underwater caves are sure to please. Just a short shuttle or water taxi ride away from a secluded beach; championship golf, tennis, pampering spa services and dynamic restaurants at El Cid Country Club and the facilities of three nearby El Cid hotels, there is always something new to explore at this gracious retreat.
Resort Amenities

24-hour front desk
Accessible facilities
Accessible rooms
Airport shuttle service†
ATM/Cash machine†
Babysitting†
Baggage hold
Bell staff/porter
Business services†
Car rental†
Children welcome
Children's play area
Housekeeping – daily
Internet services†
Laundry/Valet service†
Lounges/bars†
Meal Plan Type: All Inclusive
Non-smoking rooms available
Outdoor pool

Pool
Restaurants (8)
Room service†
Room service – limited hours†
Safe deposit box
Sauna
Elevators
Exercise gym
Free parking
Game room
Gift/News stand†
Golf, Offsite†
Spa†
Tennis court†
Tour/sightseeing desk
Valet parking
Wake up service
Water sports†
Wi-Fi†

† Fees may apply
restaurants & bars

Enhance your stay with memorable dining experiences right at their Mazatlán, Mexico resort. Enjoy a quick lunch of freshly caught seafood before heading out for on an ocean excursion or a round of golf. Or settle back with an exquisite international dinner menu and cocktails at the restaurant while overlooking the captivating marina. For authentic Mexican cuisine, spicy or mild, you always have plenty of choices, as well as your favorite American dishes served up in a festive, breezy atmosphere. While exploring in town, you'll find a wide selection of beachfront Mazatlán restaurants, bistros and bars while you enjoy the city's sites and culture. As part of the El Cid family resorts, your all-inclusive package welcomes you to try the restaurants at our other nearby locations.

---

La Marina: Whether you're in the mood for delectable lobster dinner or some traditional Mazatlán fare, you'll be in ship-shape at La Marina. Let the marvelous views enhance your romantic seaside dining experience while our chefs prepare catch-of-the-day specialties and international cuisine. La Marina also features a spectacular champagne Sunday brunch. Live music. Breakfast: 7:00 am to 12:00 pm; Lunch: 12:00 pm to 5:00 pm; Dinner: 6:00 pm to 10:30 pm. Reservations are required. Dress: Casual elegant; no beachwear.

---

La Terraza: Enjoy the best marina views and spectacular Mazatlán sunsets from our new, outdoor restaurant, La Terraza. Whether you're in the mood for a tender cut of beef or the best and freshest seafood available, we have a wonderful menu selection with a variety of wines to compliment your meal. Breakfast: 7:00 am ton 12:00 pm; Lunch: 12:00 pm to 5:00 pm; Dinner: 6:00 pm to 11:00 pm. Reservations required. Dress: Casual elegant; no beachwear.

---

La Marina Lobby Bar: What could be better than enjoying the game on the flat-screens while admiring the soft sway of the yachts in the marina? The fun flows on at this nautical themed respite, especially during the daily happy hour. Hours: 7:00 am – 11:00 pm. Dress: Casual elegant; no beachwear.

---

El Calypso Pool Snack Bar: Even the name makes you smile, just thinking about sipping cold drinks over appetizers while relaxing to the casual vibe of this poolside bar. Hours: 10:00 am – 6:00 pm. Dress: Casual, informal.

---

Las Iguanas Snack Bar: Craving some authentic Mexican spice or international snacks? Or maybe seafood appetizers washed down with your favorite cool beverages would hit the spot? You'll find them and a lot more at this rustic poolside bar. Drinks 10:00 am – 7:00 pm. Dress: Casual, informal.

---

Beach Club: Just like the tide, let the light luncheon fare, snacks and beverages come to you while you relax in your lounge chair with your toes in the sand in our quiet stretch of beach. Hours: 10:00 am – 7:00 pm. Dress: Casual, informal.

---

Rendezvous: Lobby bar. Hours: 10 am to 10 pm.

---

Manatees: Beach and pool bar. Hours: 10 am to 5 pm.

---

Barracuda: Swim Up bar. Hours: 10 am to 5 pm.

---

Sugar Reef: Beach and pool bar: 10 am to 1 am.
Resort accommodations

Standard Amenities:

Elegant draperies and bedspreads
Individual climate control air conditioning and ceiling fan
Wireless internet access (for a daily or per-week fee)
Private balcony Iron with ironing board
Purified water
Bottled water*

Coffee maker*
Telephone
In-room safe
Satellite TV
Hair dryer
Radio alarm clock
Bath amenities: Soap, shampoo, conditioner, body cream and shower

*Proceeds from in-room bottled water ($10 pesos) and in-room coffee ($30 pesos) are donated to the El Cid Foundation, a non-profit organization.

---

Junior Suite: Perfect for four, enjoy the extra space to relax in style while admiring the marina view from your own balcony. Share your time at El Cid Marina Beach with friends or family in our 2 queen bed Junior Suite. Room size: 593 sq. ft. Maximum occupancy: 4 guests, including children.

---

One Bedroom Suite: Make your getaway even more memorable in this indulgent suite that offers extra room, style and the convenience of a kitchenette for entertaining and making quick meals. Room size: 731 sq. ft. Maximum occupancy: 2 guests.
resort activities

Beach access
Children's pools (2)
Daily activities
Fitness center
Golf (onsite/nearby)†
Kids Club (4-12 y.o.)
Outdoor Hot Tub
Motorized Water Sports†
Banana boat rides†
Hobie catamarans
Jet skiing†
Boogie boarding
Fishing†

Non-Motorized Water Sports
Nightly Entertainment
On-site entertainment
Pools (2)
Swim up Bars
Sauna
Spa†
Steam bath
Teen's Club (13-17 y.o.)
Tennis court (9)†
Tours and excursions

† Fees may apply
Wedding activities

Host an inspired and unforgettable destination wedding in México by selecting the comprehensive El Cid Elite Wedding Experience. Relax and spend time with your guests, certain that every detail of your special day will be perfect.

Contact us to learn more about our wedding packages.
Please note:
RomanceJourneys.com makes every effort to keep the travel and resort information up to date on this website. However, resorts, wedding packages and laws do change. Because of that, we cannot guarantee that all information on particular resorts or destinations are completely accurate at the time of viewing. Before making wedding and/or travel decisions to a particular destination, it is highly recommended you speak with Shari (972-805-1773) or email Shari (shari@romancejourneys.com) before you book your travel.