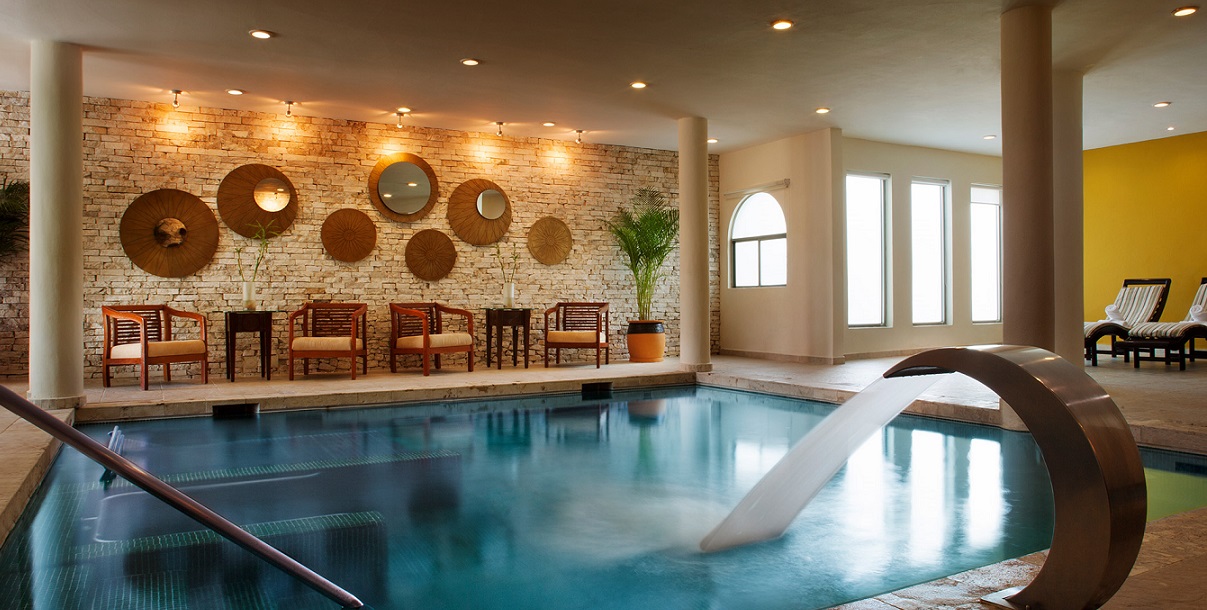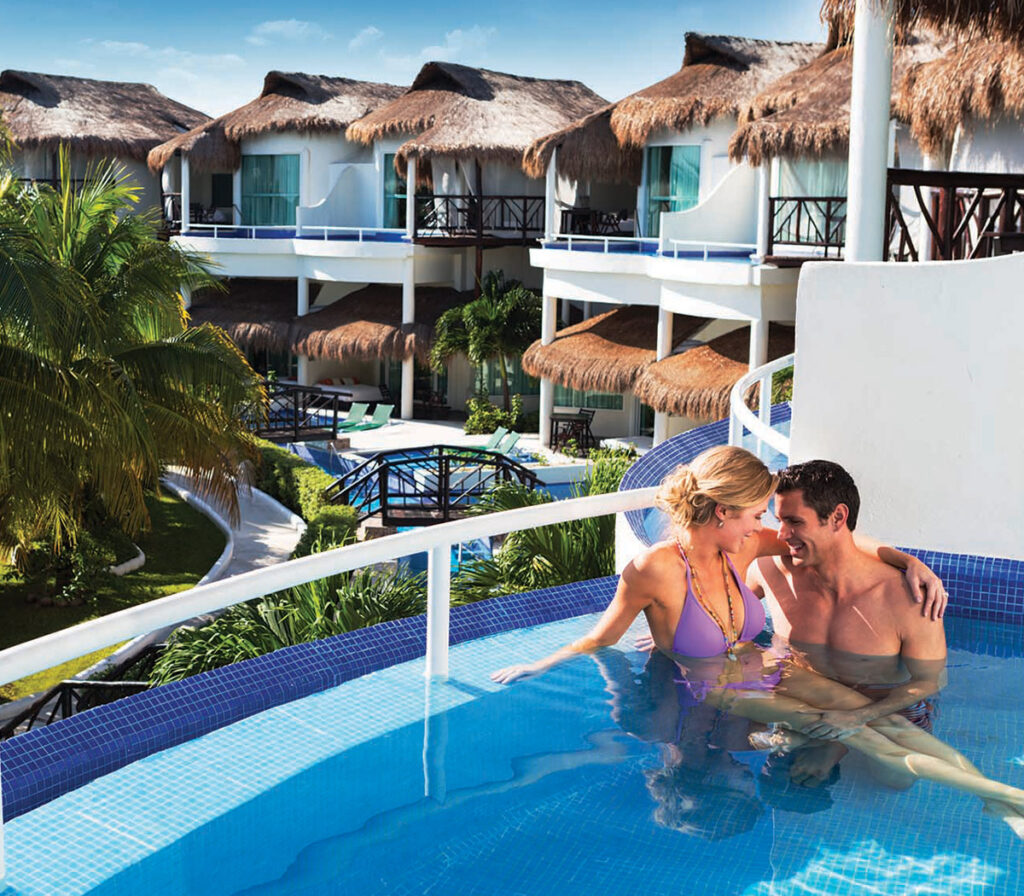 El Drado Casitas Royale, Cabo San Lucas
Slip away into a tropical oasis only conceivable in your dreams. El Dorado Casitas Royale is a beachfront, AAA Four Diamond award-winning resort located on the breathtaking Riviera Maya. Perfect for couples, wedding parties, and honeymooners, this adults-only paradise provides the ultimate escape in romantic luxury. Let yourself be pampered by the immense delights of the Gourmet Inclusive® Experience, including exceptional service at your every request, cuisine crafted into artful masterpieces, premium spirits poured freely, and activities designed to please each and every guest's unique tastes. (To see more photos, click on the image.)
Resort Highlights

Voted one of Conde Nast Traveler's Top 100 Hotels, El Dorado Casitas Royale, by Karisma is a private enclave dedicated to providing an even higher level of luxury and personal attention. You're free to enjoy all of the dazzling amenities, restaurants and activities of neighboring El Dorado Royale and Generations Riviera Maya, but guests of Casitas Royale gain exclusive access to their own private pools and swim-up bars, a host of concierge services, aromatherapy and pillow menus and so much more. This beachfront, adults-only resort has 14 pools, 15 gourmet restaurants, 17 bars, and 2 spas. At El Dorado Casitas Royale, a Spa Resort by Karisma you'll also enjoy a mile of pristine beachfront, 24-hour room service, beach and pool butlers and some of the best-trained chefs, bartenders and servers in the world.

Relax in your private, picturesque casita directly on the beach and enjoy an ultra-luxurious space complete with an in-suite Jacuzzi. Savor gourmet dining at seven different and delectable restaurants. Indulge in rejuvenating spa services, including popular couples massage classes. Splash into 13 swimming pools by day, then join in the exciting nightlife. Experience the heightened pleasures of being together in this Gourmet Inclusive resort.

Nestled along the beach in a separate, secluded area within El Dorado Royale on Mexico's Riviera Maya, El Dorado Casitas Royale by Karisma is an adult's only resort designed for romance. A superb array of amenities and services makes this an unrivaled destination for romantic getaways, weddings, honeymoons, and anniversaries.
Resort Amenities

At El Dorado Casitas Royale, by Karisma guest service has been raised to an art form. From a welcoming champagne toast upon arrival to turn-down service at night, it's their pleasure to make you feel at home.

24-hour front desk
24-hour room service†
Baggage hold
Bells taff/porter
Bicycle rentals
Business services†
Children not allowed
Concierge desk
Elevators Not Available
Fitness Center
Golf, Offsite†
Housekeeping – daily
Laundry/Valet service†
Meal Plan Type: All Inclusive
Medical Services†

Non-smoking rooms available
Pools
Restaurants
Rooms ervice†
Safe depsoit box
Sauna
Shopping mall†
Spa†
Steam Room
Tennis court
Tour/sightseeing desk
Valet parking
Wake-up service
Water sports†
Wedding Services†
WiFi, complimentary

† Fees may apply
restaurants & bars

Every meal at El Dorado Casitas Royale is a celebration of the culinary arts, with a perfect orchestration of ingredients, preparation, presentation and service. It's the very definition of the Gourmet Inclusive® Experience.

DRESS CODE- DINNER
Ladies: Dresses, skirts, long pants, shoes, Capri pants and elegant sandals.
Gentleman: Long pants, collared shirts and casual shoes.
Permitted: Formal bermudas and formal sandals.
Not Permitted: Baseball caps, peaks, tank tops & flip-flops and sport shorts.

DRESS CODE BREAKFAST/ LUNCH
Ladies: Sun dresses, elegant sandals, T-shirts and skirts.
Permitted: Shorts, T-shirts, flip flops.
Gentlemen: Long pants, formal bermudas, polo shirts, sleeved T-shirts, sandals and tennis shoes.
Permitted: Shorts, sleeved T-shirts, flip flops.
Not Permitted: Swimming suites, bikinis, tank tops, sleeveless shirts, baseball caps or any type of hat.

---

Restaurants

24 Hour Room Service
Cocotal Restaurant: International cuisine. Every meal at El Dorado Casitas Royale is a celebration of the culinary arts, with a perfect orchestration of ingredients, preparation, presentation and service. It's the very definition of the Gourmet Inclusive® Experience.
D'Italia Casitas: Contemporary Italian Cuisine. Authentic Italian Cuisine in a Luxury Beachfront setting that offers traditional dishes, along with creations from our International Chefs. Reservations required.
D'Italia Villas: Contemporary Italian Cuisine. Finest Italian cuisine and memorable dining experience by offering three essential must-haves; superior food-quality, an elegantly charming ambiance, and staff- members that make you feel at home.
Fuentes Culinary Theater: International Cuisine. Enjoy one of the world's most avant-garde concepts in culinary entertainment. Open kitchen with full cooking show of iron chef level. A one-of-a-kind Culinary Theater with gourmet performance by our own Chef and Sommelier designed to amuse both, your appetite and your curiosity. Our Creative Chef will take you on a journey filled with exquisite aromas, colors, textures, contrasts and flavors, and the finest selection of ingredients from our greenhouse. Our Sommelier guides you through the magic behind the subtle art of pairing making this journey an absolute memorable Gourmet Inclusive® Experience.* Hours: One daily sitting with a welcome cocktail at 7 pm followed by the dinner and show at 7:30 pm.
Health Bar: Serving fresh fruit, juices, whole wheat sandwiches and smoothies.
JoJo's Caribbean Seaside Grill: Caribbean Cuisine. At Jojo's, guests will be able to enjoy the fresh Seafood Gourmet dishes with a spectacular view of the Caribbean. The perfect place at night to delight yourself with the ocean breeze while savoring dinner.
Kampai Restaurant: Oriental Cuisine. Take in the stunning ocean views as you enjoy the best of authentic Pacific Rim cuisine from India, Vietnam, China and Japan. Don't miss the area's freshest sushi or the authentic spring rolls. Buddha statues highlight the enchanting Thai-inspired décor.
Kick: Ocean front, in a laid-back atmosphere you can enjoy delicious preparations from the grill as well as typical Mexican specialties together with an ice-cold beer or other beverage of your liking.
La Cabana Pizzeria: Wood burning oven pizzas served to order, and a selection of Angus burgers, gourmet bites among other succulent Mexican "botana" preparations.
La Isla Restaurant: International Cuisine. This open-air palapa restaurant features continental breakfast as well as à la carte international breakfast, lunch and dinner, with a special focus on Mediterranean cuisine at dinner.
Las Olas: Las Olas serves up a host of classic delicacies, including gourmet salads and sandwiches made to order.
Rincon Mexicano: Mexican Cuisine. Welcome to the real Mexico, the perfect place to experience during lunch time the authentic Mexican "street food" while you enjoy the relaxed ambiance with stunning garden views. During dinner, delight your senses with "Mexican author Cuisine" in a pleasant and casual atmosphere.
Santa Fe Grill: American Fusion Cuisine. In the midst of décor reminiscent of the old New Mexico missions, Santa Fe Grill is an innovative proposal catering unique flavors on coal oven-cooked dishes and presentations ideal for sharing. It is, no doubt, a memorable experience of our guest, recommended to enjoy at sunset, due to its spectacular view of the sun setting over the surrounding mangrove.
Spot: International Cuisine. Start your day in paradise, merging into the jungle, in a stress-free scene; have a mouthwatering gourmet breakfast & lunch.

---

Bars

Beach Bar: Cold drinks. Soft sand. Endless ocean views. And a swing chair gently swaying in the breeze. No matter when you're here, it's always happy hour at The Beach Bar. Located at the beach with spectacular views of the ocean.
Bellini's Bar: Lounge in style in this relaxed contemporary bar, serving up a variety of invigorating Bellinis.
Gaviotas Seashore Bar: Gaze out into the depths of the Riviera Maya while our skilled bartenders prepare your favorite premium cocktail. Located in front of Kampai restaurant.
Las Guacamayas: Swing by Las Guacamayas for a night to unwind with live music and performances, delectable cuisine, swinging chairs and lounge beds, and a tempting variety of drinks, including cold Mexican beers, cheladas, exotic cocktails, aged tequila, and more.
Martinis Lobby Bar: Step within this sophisticated bar to taste the best martinis in the Riviera Maya, along with an impressive selection of premium drinks. Located in front of Kampai restaurant.
Swim-Up Bars: There are nine swim-up bars which serve gourmet snacks, premium cocktails and other refreshing beverages without you having to leave the pool. All swim-up bars are open from 9:00 a.m. to 5:00 p.m. with the exception of the Beach Bar, which stays open till 2:00 a.m.

---
Resort accommodations

Standard Amenities:

Air conditioning
Alarm clock
Balcony/Lanai/Terrace
Bath tub with spray jets
Bathtub/shower combination
Cable television
Coffee/Tea maker
DVD player

Hairdryer
Iroon
Ironing board
Minibar
Safe
Telephone
TV

CASITA SUITE: The Casita Suite is located in a two-story building, boasting stunning views of the surrounding nature. These romantic suites feature a king-sized bed, modern bathroom with a double sink, exclusive Aguas del Amor™ outdoor shower, and a daily stocked minibar. Step out into the spacious balcony and lay on your private double bed to gaze up into the twinkling stars. Max Occupancy: 2 adults; Size: 708 sq. ft. (66 m2).

---

BEACHFRONT CASITA SUITE: Enjoy direct views of the Caribbean Sea and the largest artificial coral reef in the world. Find yourself captured by the charm of these secluded, intimate suites. The Beachfront Casita Suite is a haven of luxury located in its own independent building, providing an unprecedented level of privacy. Enjoy its many lavish features, including a king-sized bed, spacious balcony, bathroom with luxury double sinks, an elegant shower, bathtub, a private indoor Relaxing Hot Tub, DVD menu, Aguas del Amor™ romantic outdoor shower, and concierge service.

---

SWIM-UP CASITA SUITE: Dive into the lazy river located directly in front of your private balcony from this ground level suite. In addition to all the luxuries of the Casita Suite, the Swim-Up Casita Suites feature an exclusive water-mirror and private access to the resort's lazy river that connects to the main pool and swim-up bar. Max Occupancy: 2 adults; Size: 667 sq. ft. (62 m2).

---

HONEYMOON PRIVATE POOL SWIM UP CASITA SUITE: Indulge in all the lavish features of the Casita Suite, as well as your own private swimming pool with direct access to the lazy river that connects to a swim-up bar. The romantic Infinity Swim-Up Suites include a king-sized bed, exclusive Aguas del Amor™ outdoor shower, contemporary bathroom with a double sink and premium toiletries, in-suite Relaxing Hot Tub for two, concierge services, and an oversized balcony with lounge chairs.

---

PRIVATE POOL CASITA SUITE: Take a dip any time of the day in your exclusive balcony swim-up pool overlooking the blue ocean. The Private Pool Casita Suite blends sophistication with romance. Enjoy all the comforts and luxuries of the Casita Suite, plus your own exclusive infinity pool overlooking the blue ocean. Maximum Occupancy: 2 Guests. Size: 836 Sq. Ft (78 Sq. Meters).

---

PRESIDENTIAL STUDIO SWIM-UP SUITE: The Presidential Studio Suite exudes tasteful elegance in every facet. Delightful décor, modern design, and all the amenities you could ever desire. Take a dip in your private Relaxing Hot Tub or lounge on your plush outdoor daybed. Enjoy a host of added luxuries, including a minibar with a premium selection of spirits, a welcome fruit basket and bottle of champagne, butler service, a selection of upgraded in-room entertainment, and bike rental. Max Occupancy: 2 adults; Size: 836 sq. ft. (78 m2).
resort activities

Aqua Gym
Archery
Beach Volleyball
Bike Rental
Cigar Rolling Lessons
Cooking Classes
Crossfit†
Daily Entertainment
Dance Lessons
Direct access to a Beach
Fitness Center, on-site
Golf†, offsite
Greenhouse Tour
Motorized Water Sports†
Nightly Entertainment
Non-Motorized Water Sports

Outdoor Hot Tubs (2)
Pools
Sauna
Scuba Diving†
Scuba Diving Lessons
Spanish Lessons
Spin Classes†
Daily Activities
Tours and Excursions†
Spa†
Steam bath
Tennis
Tennis Clinic
Water Polo
Water Volleyball
Yoga Classes
Zumba Classes

† Fees may apply
Wedding activities

Explore Karima's breathtaking collections, in which every detail has been carefully curated and infused with Signature Accents™. Select one that is perfectly paired with your taste, or choose to cook up your own by combining individual elements from any collection in Your Day. Your Way.