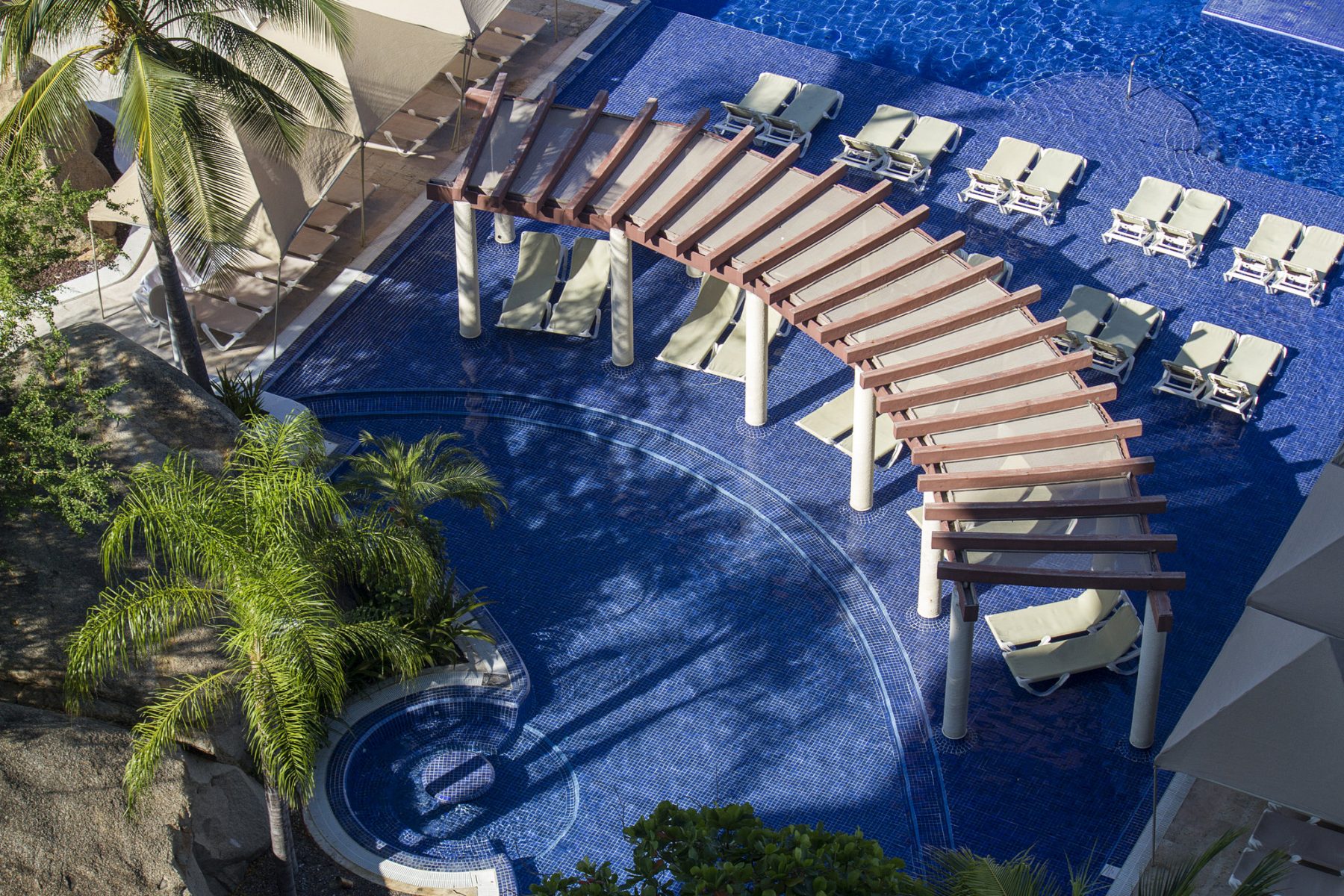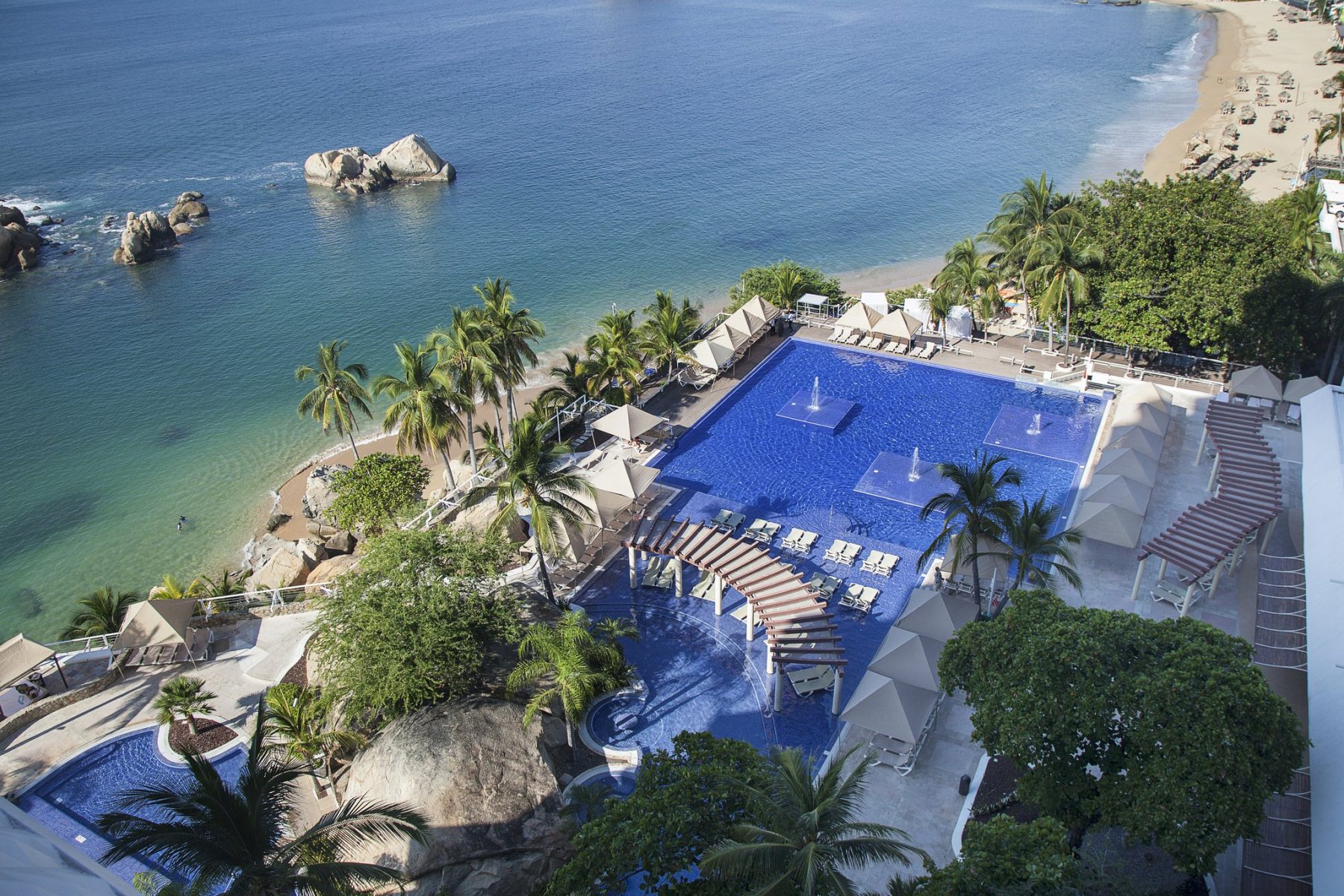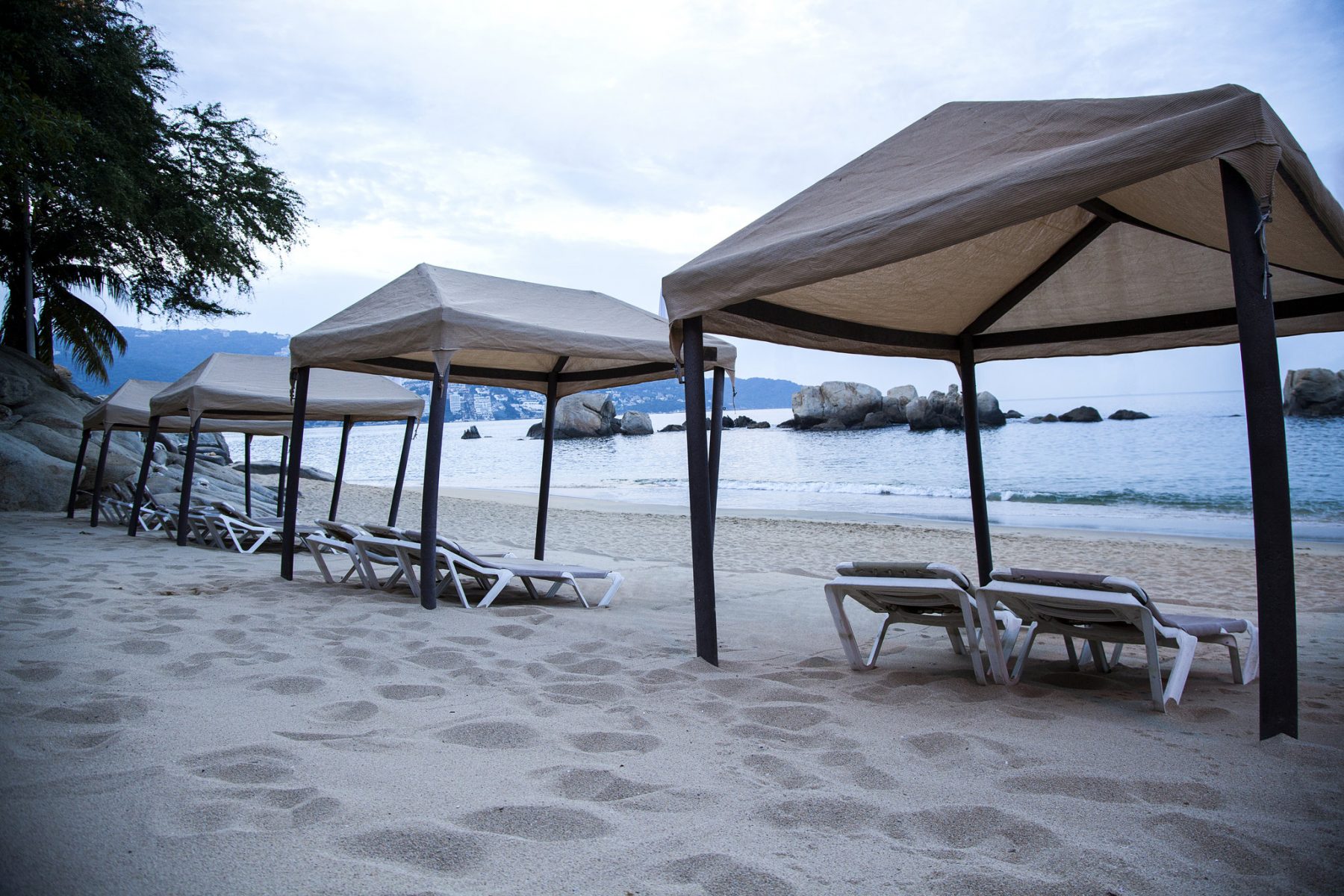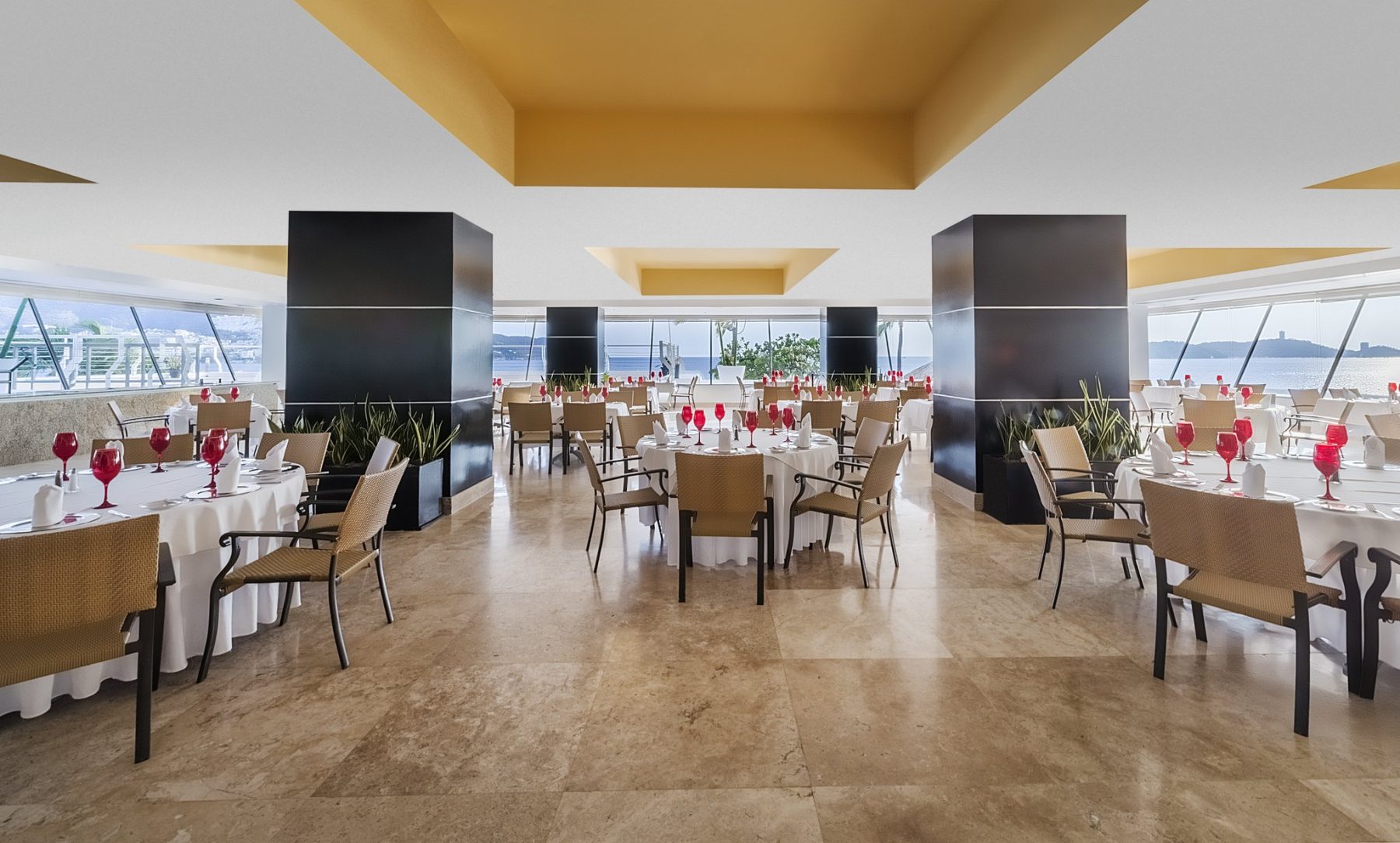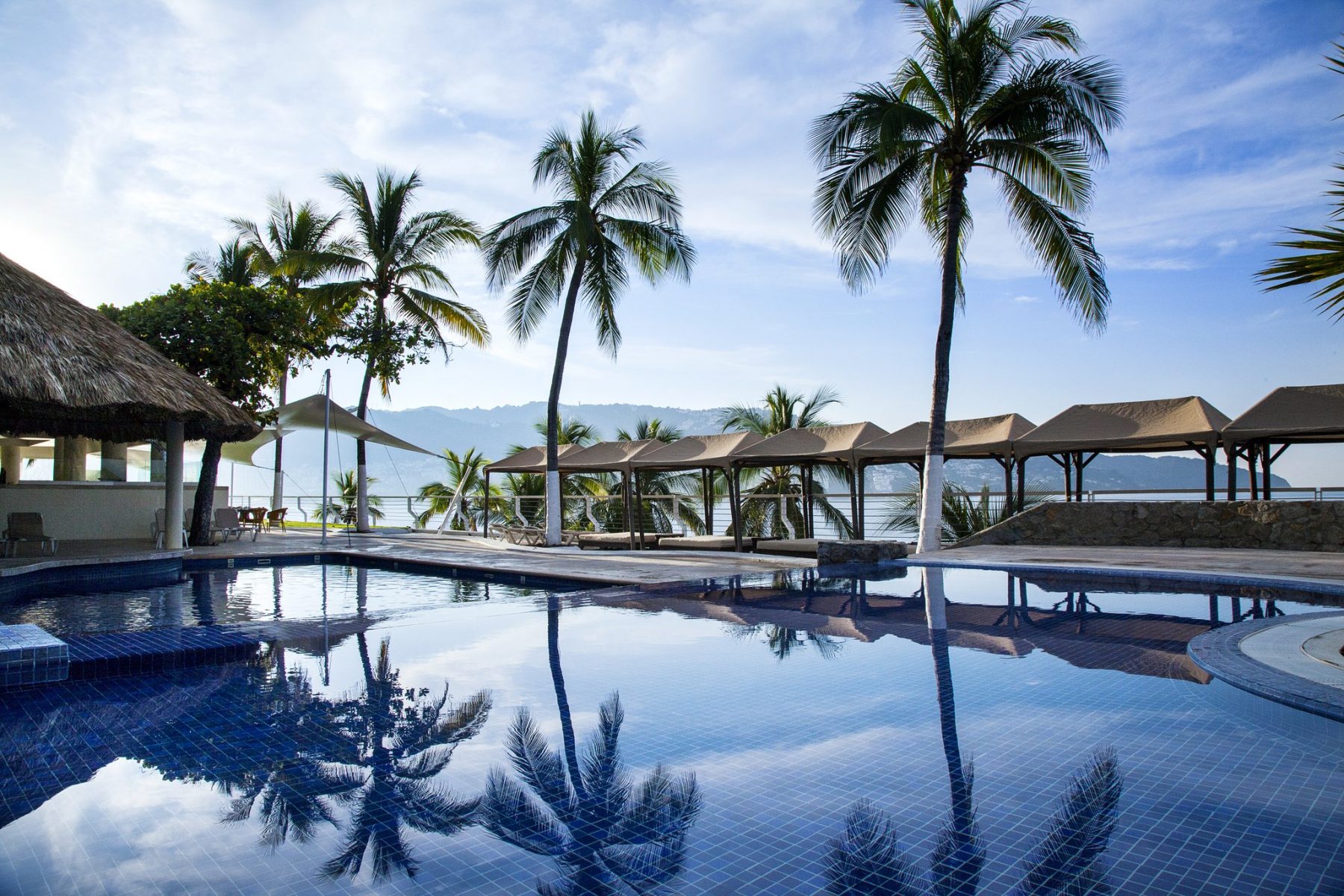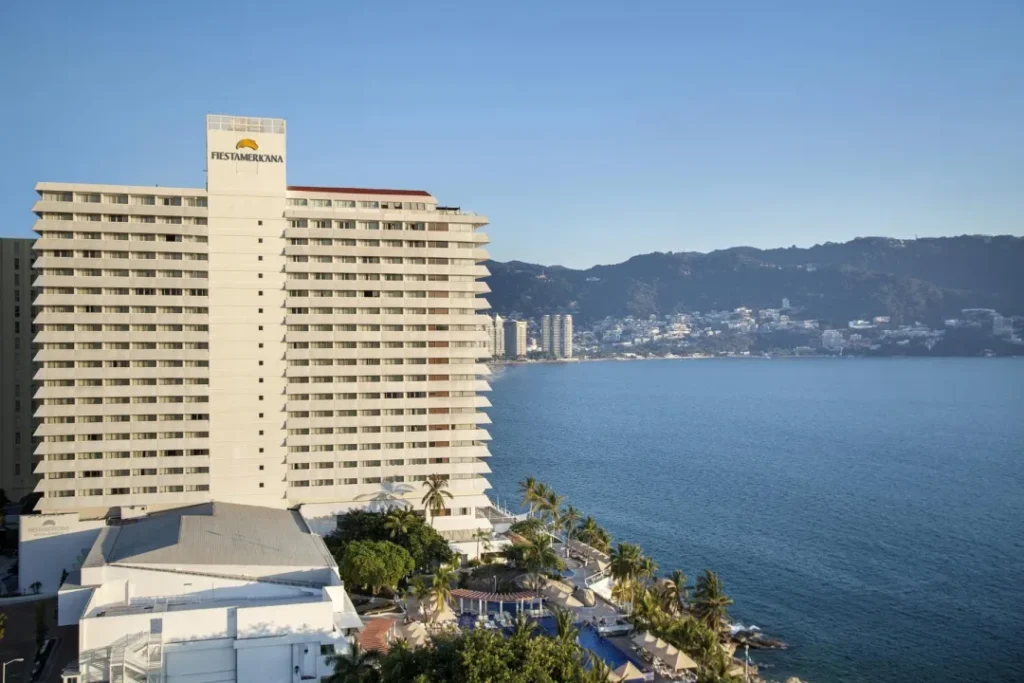 Fiesta Americana Villas – Acapulco, Mexico
The Fiesta Americana Villas Acapulco is an excellent location in the heart of the Condesa and puts you within reach of the city's most interesting sights and places: shopping malls, bars, nightclubs, water parks, crafts markets, beaches and two large lagoons to enjoy all kinds of water sports. In the hotel, you will find many other rest and relaxation options: three swimming pools, a health club, sunbathing areas and activities for the younger guests.
More about this resort
Pueblo Bonito Pacifica Resort and Spa offers world-class inclusions. Wedding and Reception is only one of the personalized services at this phenomenal resort. On top of this, you also have access to meetings and events space, catering, five acclaimed restaurants and ocean-view dining, two swimming pools, and a private beach with beach beds for ultimate touch in pampered sunbathing. The luxurious all-inclusive Resort includes daily wellness activities, wine and tequila tasting, and unlimited food and beverage. (European Meal Plan)
Resort Highlights

Fiesta Americana Villas Acapulco is waiting for you at one of Mexico's most attractive and traditional destinations, a modern hotel in Acapulco that greets its guests with its minimalist style in the lobby and the comfort and amenities of its rooms and villas, ideal for spending family vacations or business trips. A rectangular building housing magical spaces for complete relaxation is in the heart of the Condesa, Acapulco, within easy reach of restaurants, nightclubs, bars and shopping malls.

There are 324 fashionable rooms appointed with free Wi-Fi, TV with satellite channels, a personal safe, a refrigerator and a closet. Many rooms come with a delightful view over the ocean. Guests can also use a microwave, coffee/tea makers and a toaster. In the morning a buffet breakfast is served at the restaurant. The hotel features an air-conditioned restaurant serving Mexican cuisine. The beach bar provides snacks and appetizers along with refreshing drinks. Located in a downtown area, La Mansion and Hard Rock Cafe serve a wide range of meals. (European Meal Plan)
Resort Amenities

Bellman
Cash machine ATM
Childcare
Concierge
Deli Store
Doctor on call
Dry cleaning
European Meal Plan
Garage/Covered parking

Hotel safe deposit box
Housekeeping
Ice machines
Laundry
Luggage store
Parking
Room service
Same day dry cleaning
Valet parking
VIP Services

† Fees may apply
restaurants & bars

Maima Restaurant: Saturdays are special in Maima. We offer the best meats and cuts of your choice prepared on the grill. Enjoy a wide variety of cuts, everything from a Mexican Arrachera to a sirloin. Located in the pool area, Maima Restaurant offers a great variety of snacks and appetizers as well as a delicious menu to enjoy with your family. Open from 12pm to 6pm.

---

La Crespolina: Regional dishes, Italian touches, snacks, BBQ, perfectly-matched drinks and spectacular ocean views are all a part of the experience at La Crespolina Restaurant. Enjoy a spectacular dinner accompanied by beautiful. Delicious Italian cuisine prepared magnificently to please you and your family. On Saturdays this restaurant offers exquisite Italian dishes in a buffet service.

---

Chula Vista Restaurant: Breakfast with a beautiful ocean view in a relaxed and fresh atmosphere while you enjoy your meal and delight at the exquisite dishes.

---

Beach Club: This bar features snacks, Mexican and international drinks, light bites, seafood and Mexican snacks.

---

Lobby Bar: Have fun at the Lobby Bar while you savor your favorite drink accompanied by ambient music.
Resort accommodations

Deluxe Room, King Bed: With a beautiful partial ocean view, this room has a King Size bed, cable TV, air conditioning, a bathroom with a bathtub, a mini bar, DVD player, AM/FM radio, internet access and a coffee maker. Perfect for couples or for staying with the person you love the most.

---

Deluxe Room, Double: For small groups, we offer a room with a balcony and a partial ocean view, comfortably decorated to ensure you the quiet and rest you are looking for. It offers two double beds, a bathroom with bathtub, cable TV, air conditioning, a coffee maker, mini bar, internet access, DVD player and an AM/FM radio.

---

Deluxe Room, Stand Alone: In this room, you will find two double beds, a balcony and partial sea views. Here, you will also enjoy the comfort of a bathroom with bathtub, cable TV, air conditioning, a coffee maker, mini bar, internet access, DVD player, AM/FM radio, a microwave oven and a sink.

---

Deluxe Room, Lock Off: Live this room's size and the surprising comfort where you may have communicated rooms, you will also find a King Size bed, a balcony with delightful partial sea views, living room, dining room with microwave, toaster, blender, dishes, glasses and utensils, cable TV, internet access, DVD player, refrigerator and microwave oven.

---

Junior Suite, 1 Bedroom, Lock Off: Experience the amazing amplitude and comfort of this room, where you will have the option to have adjoining rooms with connecting door. Find a king size bed, a balcony with delightful partial sea views, living room, dining room and kitchenette, cable TV, internet access, DVD player, refrigerator and microwave oven.

---

Junior Suite 1 Bedroom, Stand Alone: Ideal for families or groups of friends thanks to the size of the rooms and the furnishings, the King Size bed and the sofa bed, which provide enough room to accommodate up to 4 people (2 adults, 2 children) comfortably. From the balcony you can enjoy partial sea views or if you prefer, you can spend family time in the lounge. The room boasts cable TV, air conditioning, internet access, a DVD player, Jacuzzi and a microwave oven.

---

Master Suite, 2 Bedroom: The two bedroom room with a magnificent partial ocean view has a king size bed, private bathroom with Jacuzzi and TV. The second room has 2 full size beds, private bathroom with hot tube and TV. Guest are also invited to unwind and make themselves at home with the use of your living room with sofa, fully equipped kitchen and dining room. Views: Sea view. Occupancy: 8.

---

Master Suite, 2 Bedroom Plus: All the comforts for ensuring a really enjoyable stay are included in this finely decorated room in a modern informal style with a beautiful partial ocean view of the sea. Here you will find two bedrooms, a living room, and a dining room with a full kitchen. The living room has a comfortable sofa bed. Views: Sea view. Occupancy: 8.

---

Master Suite, 3 Bedrooms, Plus: Experience the delight of staying in a three-bedroom suite with spectacular ocean views. The main bedroom has a King Size bed and Jacuzzi, the second a King Size bed, while the third bedroom offers two double beds. For your comfort, each bedroom has its own private bathroom. The living area offers a kitchenette, a lounge-dining room for 10 people, a DVD player and sofa.

---

Master Suite 3 Bedrooms, Premier: Three bedroom room at one of the best locations at the first floor in the hotel. Independent bathroom at each room. Master bedroom with a king size bed, the second with two full size beds and the third has a king size bed. Living room with sofa. Full kitchen with electric stove, kitchen utensils, blender, coffeemaker, toaster, microwave oven, refrigerator with freezer and tableware for 10 people.

---

Presidential Suite with Jacuzzi on Terrace: Fiesta Americana Villas Acapulco has thought of all the little things to make a big difference when you stay with us in the Presidential Suite. All-encompassing and truly impressive, the Presidential Suite redefines what it means to stay in style. Guests are treated to three bedrooms, each with their own independent bathroom. Your Master bedroom contains a King Sized bed while the second bedroom has two Full Sized Beds and the third featuring one King Bed. Unwind and take in the views from your full living room and find ultimate convenience in your fully equipped kitchen with electric stove, blender, coffee maker, toaster, microwave, refrigerator and tableware. Occupancy: 10. Views: Sea view.
resort activities

Bars
Beaches
Children's program†, onsite
Crafts markets
Direct access to a beach
Fishing†
Fitness center on-site
Golf†, off site
Motorized Water Sports†
Jet skiing
Motor boating
Parasailing on site
Sailing

Scuba Diving Swimming on site
Water-skiing
Nightclubs
Non-Motorized Water Sports† – Snorkeling
Pools: 2 pools on site.
Sauna†
Shopping malls
Steam bath†
Water parks
Water Sports

† Fees may apply

Fiesta Kids Club: The Fiesta Kids Clubs at Fiesta Americana hotels have been created as fun and entertainment clubs for the younger guests who always want to enjoy themselves and have really fun vacations. The activities program has been designed by a specialist children's entertainment company and offers everything kids look for and love: supervised pool and beach games, competitions, arts and sports skills and pastimes focused on sharing, sometimes with parental participation.
Wedding packages

Contact us about our wedding packages.
Please note:
RomanceJourneys.com makes every effort to keep the travel and resort information up to date on this website. However, resorts, wedding packages and laws do change. Because of that, we cannot guarantee that all information on particular resorts or destinations are completely accurate at the time of viewing. Before making wedding and/or travel decisions to a particular destination, it is highly recommended you speak with Shari (972-805-1773) or email Shari (shari@romancejourneys.com) before you book your travel.