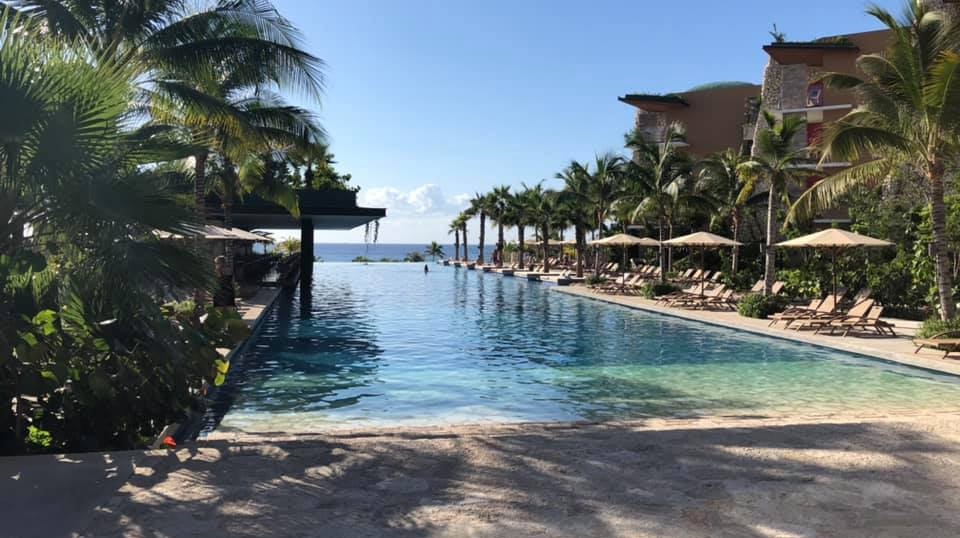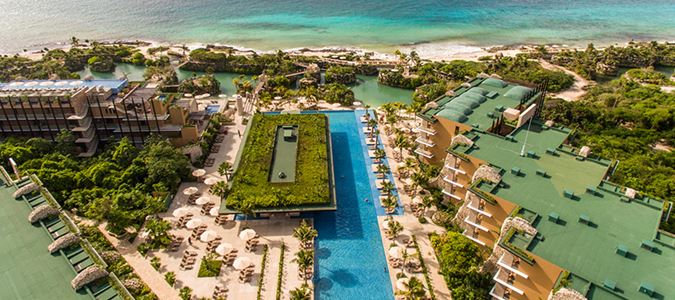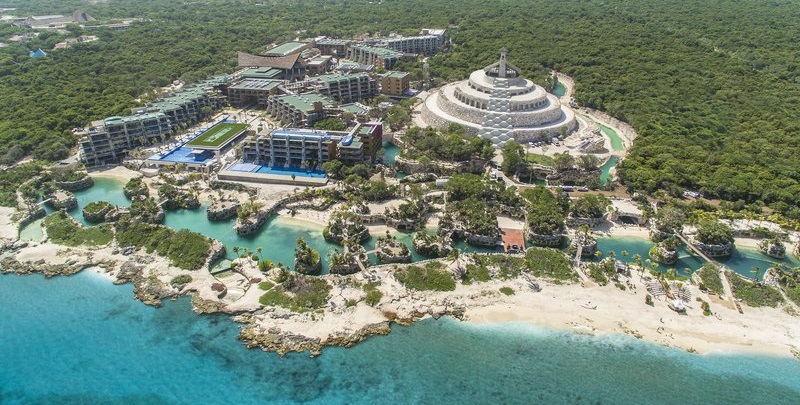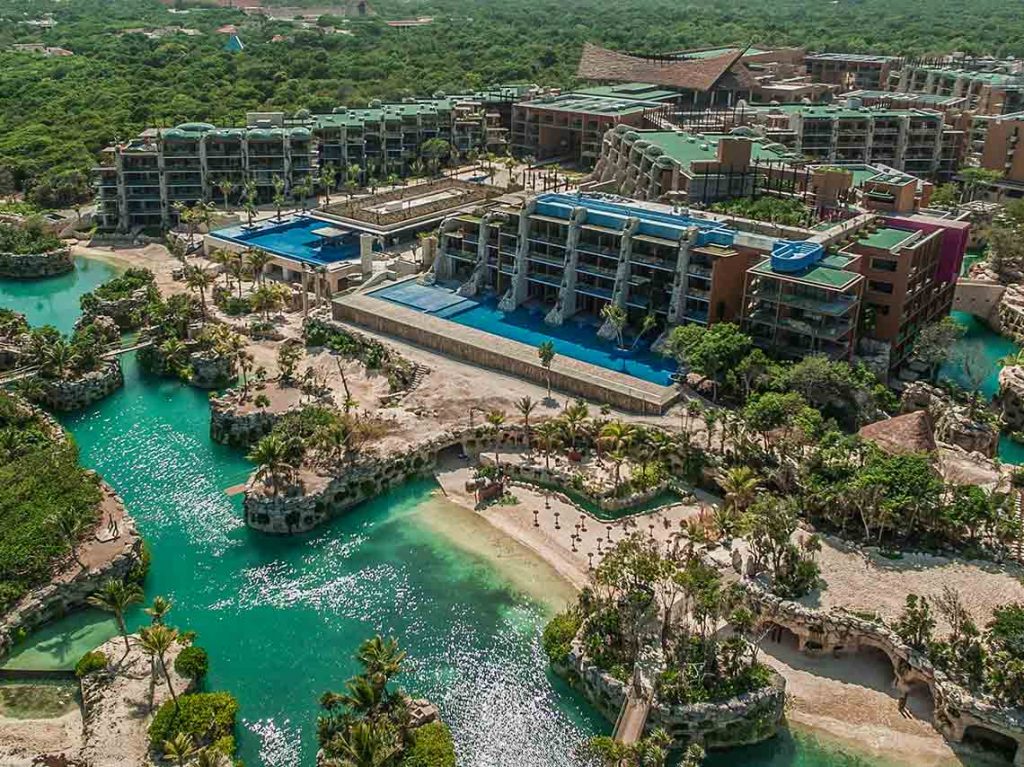 Hotel Xcaret Mexico, Riviera Maya, Mexico
Hotel Xcaret Mexico is a natural haven by the Caribbean Sea and the mystic jungle of Riviera Maya. A unique destination inspired by Mexican traditions, art and culture. Enjoy the luxury of premium accommodations and of being surrounded by nature. Live an authentic experience that redefines and refines the concept of an all-inclusive resort. A one of a kind All-Fun Inclusive® vacation will open your imagination to new ways of connecting with nature, yourself and your loved ones.
Hotel Xcaret Mexico is more than just a resort, it's a destination rich in history, art and entertainment. The impressive ecosystem full of colors and textures, sets a perfect communion between man and nature, where the jungle, caves and rivers are the principal ingredient of a luxe and eclectic scenery.
Live an authentic experience that redefines the concept of an all-inclusive resort, and enjoy a unique and outstanding ALL-FUN INCLUSIVE® vacation. The luxury of premium accommodations, combined with a one of a kind experience, that gives you unlimited access to the parks Xcaret, Xel-Ha, Xplor, Xplor Fuego, Xavage, Xoximilco and Xenses, as well as tours to Xenotes and Xichen. (Please click on the image to the left to see more photos.)
Resort Highlights

Hotel Xcaret Mexico is an exclusive resort especially designed with charming and luxurious spaces. Free your senses as you merge with the majesty of the Mexican Caribbean and the tropical jungle. Their All-Fun Inclusive® program transforms and outmatches the traditional All-Inclusive concept, as we offer unlimited access to our Parks: Xcaret, Xel-Ha, Xplor, Xplor Fuego, Xoximilco and Xenses, as well as deluxe Tours to Xenotes and Xichen, with round-trip transportation included. With their EVERYTHING FLOWS® service your experience will become magical, let the concierge team gets in charge of everything, just kick-back and enjoy.

In the heart of the Riviera Maya, a new hotel concept is born: Hotel Xcaret Mexico, a natural haven by the Caribbean Sea and the mystic jungle, at 5 miles from Playa del Carmen and 40 miles from Cancun International Airport (CUN). A new destination inspired by the warmth of the Mexican hospitality, full of tradition and modernity in every detail. With 900 suites, with the concept of ALL VIEW SUITES, Hotel Xcaret's guests will be connected with all the environment from any point of the suite and will be able to appreciate the beautiful views of the ocean, rivers, pools or jungle.

With 900 rooms distributed in different buildings called "Casas", Hotel Xcaret Mexico pays special tribute to the Mayan region. Each 'Casa' is represented by a universal element, basis of the Mayan culture: Spiral, Wind, Water, Earth and Fire. Immerse yourself in sophisticated spaces, with unique amenities and services. An experience that will keep you in direct contact with nature, framed by the sumptuous views of the Riviera Maya.

The hotel offers a unique ALL-FUN INCLUSIVE® experience, you can enjoy unlimited access to their parks: Xcaret, Xel-Ha, Xplor, Xplor Fuego, Xavage, Xoximilco and Xenses, as well as Xenotes and Xichen tours, food and beverages, transportation between parks and airport shuttle.
Resort Amenities

24-hour front desk
24-hour room service
Airport shuttle service
Babysitting†
Business services†
Children programs†
Complimentary WiFi
Concierge desk
Conference facilities
Exercise gym

Kids Club
Parking
Pools (6)
Restaurants
Spa†
Teens Club
Tennis court†
Tour/sightseeing desk
Valet parking
WiFi in public areas

† Fees may apply

EVERYTHING FLOWS® is their service culture. We strive to anticipate your needs with the best of Mexican hospitality supported by avant-garde technology. Just lay back and enjoy this experience.

Scheduled airport shuttle*
Semi-private and private transportation available*
24 h room service
Wi-Fi included
Schedule transportation to Experiencias Xcaret's Parks and Tours
Babysitting*
Guest Service Manager to coordinate your activities*
Concierge
Pool Concierge and Butler Service in Casa Fuego, Casa Tierra and Casa Agua

*Charges and/or restrictions may apply, upon the booked experience accommodation
restaurants & bars

The ten restaurants and eight bars at Hotel Xcaret México will take you on a journey through the flavors of the world, where Mexican cuisine of course, declared a World Heritage by UNESCO, is the star. Enjoy a culinary voyage in cozy and comfortable spaces, with remarkable service. All our menus have been designed with exquisite specialties that will meet your dietary lifestyle. Cozy ambiances and the dedicated attention of our staff will guide you through this exciting culinary trip. All our menus are designed to surprise your palate as well as to accommodate any dietary preferences your lifestyle might require.

---

La Trajinera: Centuries ago, the canals of the Xochimilco Lake region, in the original Mexico City, were sailed by boats known as "Trajineras". This tradition continues today and is one of the most colorful and lively activity of the city. In a Trajinera inspired setting, we recall this experience by bringing the best land and sea products enhanced by a Caribbean fumée flair. Buffet: Breakfast 07:00 to 11:30 h / Lunch 12:30 to 17:00 h / Dinner 18:00 to 23:00 h.

---

La Cantina Mexican Steak House: A Cantina is to Mexico what a Bistro is to France: a place to meet and eat with friends' and family. Here we recreate a traditional cantina environment and cuisine with the addition of steaks as center stage. On the ground floor, you can try traditional seasonings, reinterpreted with the today's freshness, including meat cuts cooked to your liking. In the evening, an atmosphere of festivity revolves in the mezzanine area, with music, a snacks' menu, original cocktails, as well as a variety of Tequila and Mezcal waiting to be discovered. Open for dinner from 18:00 to 23:00 h / After Party from 00:00 to 02:00 h. Reservation required.

---

Ha': The Chef's signature brings the concept of the Mexican gastronomy as a personal experience. Discover the contemporary Mexican cuisine in an intimate and chic atmosphere, where, with each dish, the Chef tells a story. A contemporary design showcasing a water vortex, a unique cocktail bar and a private cava and dining room. Open for dinner from 18:00 to 00:00 h. Reservation required. Additional charge applies for this restaurant. Included for guests staying at junior and master suites.

---

Mercado 17: A 360-degree sensory tour will transport you through different endless flavors of Mexico. Fresh products, colors and vibrant textures will highlight each of the 10 stations representing a unique style from a different region. Rejoice your visual and hearing senses with dishes boosted with aromas and authentic flavors. Continental Breakfast 06:00 to 06:30 h / Breakfast 07:00 to 11:30 h / Lunch 12:30 to 17:00 h / Dinner 18:00 to 23:00 h / Late Night 00:30 to 05:00 h.

---

Chibali: Mexican family gatherings around the table are a long-standing tradition in our culture. Delight with your friends and family in a buffet style restaurant through themed tidbit stations and snack bars, ideal for the children to dine and be entertained. Open from 11:00 to 23:00 h.

---

Teatro del Rio: A recreation the classic dinner-show lounges, considered the epicenter of the artistic and social life of Mexico in the 1950s. Enjoy this special time with your spouse, friends or family along a tasting menu, as the show takes place in an impressive riverfront stage. Open for dinner from 19:00 to 23:00 h. Tasting Menu. Reservations required.

---

Xin-Gao: Indulge in a journey of flavors of the Asian cuisine through traditional and contemporary proposition in a breathtaking setting. From a dynamic teppanyaki, the fire of the robata grill, a Western tatami, a luscious sushi bar. The Mixology Bar is the perfect complement for this dining experience. Open for dinner from 18:00 to 23:00 h. Reservations required.

---

Fuego: An intimate restaurant, a relaxing atmosphere around the table, among friends. Tasty flavors of yesterday are renewed into soft courses, prepared with spotless artistry. The dinner specials may include lamb, pasta with mussels, gourmet morsels, vegetarian croquettes and fondues. Allow Fuego to bedazzle you. A la carte: Breakfast 07:00 to 11:30 h / Lunch 12:30 to 17:00 h / Dinner 18:00 to 23:00 h. Exclusive for Casa Fuego guests. Reservation required for dinner.

---

Las Playas: Barefoot sand chill, the sound of the waves on the background, the fumée accents from the grill mixing with the breeze. Right in front of you, countless shades of blue decorate the ocean that drape upon the coves . A fresh cuisine in the afternoon and a fusion of spices in the evening. Culinary creations that will take you over the shores of the Mediterranean up to mountains in India, and back to the Caribbean. Open from 11:00 to 23:00 h. Exclusive for guests at Casa Fuego. Reservation required for dinner.

---

Las Cuevas: A unique culinary delight in Riviera Maya has been created especially for you. Explore Mexican specialties, blending with international trends, in a gallery of caves carved out of the peninsula rock. For dinner, the menu will take you to discover the Mexican wine through the perfect pairing with each dish. If you are in the chilling mood, just sip a glass of wine or smoke a Cuban cigar, you are cordially welcome to the Wine and the Cigar Bars. Open seasonally. Reservation required.

---

Bars

Hotel Xcaret Mexico defines its mixology proposition as creative, fresh, cosmopolitan and unique in Riviera Maya. A complete and fun experience fills the atmosphere, going from the bars, music and fine glassware. The sommelier team has designed pairings, suggestions and tastings for you to venture and discover intriguing new trends, originating in the Old World, the New World, including of course, Mexican wines. We aim for you to enjoy unique experiences and live up a different world, where all the flavors, colors and aromas of Mexico become one. Prepare for a total immersion into the elixirs of the gods brought down to earth just for you!

Lobby Bar: To begin or end your stay at Hotel Xcaret México in the best way possible, we offer you an array of concepts and cocktail styles, wines, martinis, gin tonics and beers thus providing you with a custom-made experience. The bar's Jazz and Rock performances are not to be missed. Hours: 22:00 to 2:00 h.
Pool Bars: Enjoy the refreshing array of drinks at the pool bar, a very pleasant bar experience without getting out of the pool. Here you can find a wide variety of drinks where Caribbean cocktails had to be present. This is the perfect place to enjoy good music and refreshing mixed drinks with the Hotel Xcaret flair. Hours: Viento Pool Bar: 10:00 to 18:00 h; Espiral Pool Bar: 10:00 to 18:00 h; Central Pool Bar: 9:00 to 18:00 h.
Trajinera Swim Up Bar: Enjoy the magic of our fusion of liqueurs and spirits, immersed in the pool with an astounding view of the Caribbean. A refreshing experience with unique drinks with a pleasant taste and a look that captivates the eye. Using citrus fruits, fruits of the season and spices, we will delight you with fresh and exotic flavors. Hours: Breakfast 7:00 to 11:30 h; Lunch 12:30 to 17:00 h; Dinner 18:00 to 23:00 h.
Cantina los Faroles: Travel back in time through the recovery of deeply-rooted Mexican traditions. Hotel Xcaret introduces its Gastro-Cantina which will leave you with a taste of long ago through its mezcal and tequila tastings. It is the perfect setting for after dinner drinks to be enjoyed to the tune of live Mexican folk music. Hours: Dinner 18:00 to 23:00 h; Bar 23:00 to 2:00 h; Adults only on the top floor.
Ha' Bar: Carlos Gaytán, the first Mexican Chef to receive a Michelin Star, presents HA', his sophisticated restaurant recently opened. Discover its 7-course tasting menu, paired with the best Mexican wines, at Hotel Xcaret Mexico.a cocktail even before you take the first sip. We use technology and science to improve our mixology through authentic ingredients such as fusions, syrups, macerations with spices, plants, fruits, flowers and cutting edge tools, thus preparing your palate for a culinary voyage. Hours: 6:00 pm to midnight. Adults Only.
Xin-Gao Bar: Experience Asian cocktails with a Mexican touch. The aromas will seduce you if you love novelty and uniqueness and have a passion for the exotic; fresh and creative essences that will awake your senses. Sake, the most aromatic whiskies and delicate teas are mixed into unique creations that will take you on a journey to the other side of the world. Hours: 18:00 to 23:00 h.
Rooftop Bar Fuego: Featuring a private swimming pool, it's an intimate, relaxed and sophisticated gathering spot. Stunning Caribbean sunset views accompanied by the rhythm of Chill-out music and signature mixology. Grill cuisine restaurant, gourmet burgers, wraps and salads; fresh dishes and finger food. A fulfilling experience accompanied with sparkling wine, Brut or Demi Sec, an acid taste that will cause an explosion of flavors in your papillas and with digestive properties that will prepare you to continue this pleasant and fizzy journey. Hours: 10:00 to 18:00 h. Adults Only.
Wellness/Spa Bar: A space that offers the experience of treatments, relaxation alternatives and therapies complemented by relaxing drinks like teas, tisanes and fresh seasonal fruit infusions with spices and roots; fresh drinks that will bring you back to life. Hours: 9:00 to 21:00 h. Adults Only. Open seasonally.
Resort accommodations

Standard Room Amenities:

Ocean, garden, river or pool. The all-view rooms at Hotel Xcaret Mexico have been designed to bring in nature to you, wherever you are in your room. The combination of comfort, art and contemporary design in its interiors fully enhances the essence of the Mexican experience.

Minibar
Cable/Satellite TV
Deluxe amenities
Espresso coffee machine featuring authentic Mexican Coffee
Mexican style hammocks in balcony
Vanity mirror
Robes and slippers (only for guests at Casa Tierra, Casa Fuego and Casa Agua)

Hair dryer
Iron and ironing board
Security box
WiFi included
Work desk
In room amenities
Air conditioning
Jacuzzi
Rain shower
55" flat screen TV

---

Room Types

Inspired by Mexican hospitality and the saying "Mi casa es tu casa" (My place is your place), their accommodation experiences are beyond suitable to meet your relaxation needs on your vacation. The All-View Suites at Hotel Xcaret México are wide and luxurious, and are distributed throughout five buildings. Each suite features a contemporary design, as well as unique artwork, handmade by Mexican artisans, in addition to exclusive amenities and services. Start your day with mesmerizing views of the Caribbean Sea, the rivers, or the mystic jungle, an experience that will accompany you during your stay.

Suite Garden: Enjoy the comfort of staying in a splendid suite surrounded by magnificent views of the jungle. This room has all the necessary benefits for an unforgettable stay. Balcony or terrace with traditional Mexican hammocks. Garden view. Size: 575 sq. ft.
Suite River: Overlooking the river, this room envelops you in a setting of harmony perfect for the vacation you have always dreamed of. River View. Size: 575 sq. ft.
Suite Ocean View: The perfect suite from where you can enjoy views of both the turquoise sea and the jungle, a natural setting that will accompany you as you live an extraordinary vacation. Ocean view. Size: 575 sq. ft.
Suite Ocean Front Family: Enjoy a fun family vacation in a cozy ambiance, featuring impressive ocean views. On your stay at this family suite you will live up a memory life experience with your loved ones, surrounded by luxurious spots and incredible activities. Ocean view. Size: 575 sq. ft.
Suite Ocean Front Adult: Submerge into a tranquility atmosphere, where the Mexican Caribbean will take you on a journey through new relaxation horizons. Rest quietly in this wide ocean front suite, equipped with exclusive amenities and a fine Mexican décor. Ocean view. Size: 575 sq. ft.
Family Master Suite: A suite that has enough space to enjoy an unforgettable family vacation, including special amenities and a terrace with direct access to the pool. Ocean and jungle panoramic views. Size: 575 sq. ft.
Junior Suite: With a terrace built to welcome the sunset, and views towards the garden and the river, this room allows your vacation to flow to perfection. Garden View. Size: 1,356 sq. ft.
Junior Suite Ocean Front: Enjoy incredible natural settings in this suite that invites you to venture on a journey towards relaxation and fun, with two lounge terraces to spend pleasant evenings in the best company. Ocean front view. Size: 1,356 sq. ft.
Swim Up Garden: Enjoy a room that gives you direct access to a pool. Here you will be only a step away from nature, rest and entertainment. Garden view. Size: 575 sq. ft.
Swim Up Ocean Front: From your suite to the water. With direct access to the pool from your terrace, in this room you will find everything you need to relax and enjoy the beauty of the Caribbean. Ocean View. Size: 575 sq. ft.
Master Suite Ocean Front: A spacious suite in which you can enjoy the best vacations with your friends and loved ones. With direct access to the pool from your terrace, this room grants you an incredible vacation with impressive views. Ocean front view. Size: 2,476 sq. ft.
Master Suite Ocean Front Family: Relax in this lavish family master suite, featuring an exquisite Mexican décor, as well as exclusive amenities and services that will enhance your stay, including deluxe private transportation. Ocean front view. Size: 2,476 sq. ft.
resort activities

† Fees may apply

Kids Club: At the Kids Club, the little ones will have a blast learning about the Mexican culture as they enjoy a wide array of activities that have been especially designed to let their imagination and creativity run free. It is time to create unforgettable memories with new friends!

Teens Club: The Teens Club Xiipaal , which in Mayan means "teenager", is a space specially designed for young people, the force and nature of the future of the world. The Club offers several art, sustainability and adventure workshops and activities surrounded by the incredible natural environment of Hotel Xcaret Mexico.

Xel-Há: A natural park of incomparable beauty that provides everything from fun, snorkeling, food, relaxation, nature, breathtaking scenery and world-class service. Walk or bike through the trails of the jungle of this natural wonder of Mexico. Enjoy a whole day snorkeling in the cove and in the river, and enjoy the view from the Scenic Lighthouse before descending into a natural pool. Children and adults will be able to do zip-line activities, swim among different species of fish, and cross a fun floating bridge.
Wedding activities

Imagine the most beautiful moment of your life with your loved one in a secluded scene with breathtaking sunrises and sunsets nestled by the lush tropical jungle. At Hotel Xcaret Mexico you will find the perfect settings among our outdoor and private venues, including white sand beaches, gardens, coves, and rivers filled with magic and romanticism like no other place in the Riviera Maya.

Connect with your loved one in a traditional celebration at our Catholic chapel and wrap up this bonding in a deeper way with the promise of eternal love. This charming precinct features a unique décor, making it a special place as love itself. Conveniently located atop of our pyramidal-shaped hill, discover the panoramic jaw-dropping views of the Mexican Caribbean.

Start this romantic adventure at our Xpiral Hall which features a Mexican atmosphere, the ideal spot to share your joyfulness with your guests. At Muluk Spa, they will make you feel how special this day can be. Let their team prepare you for this life journey in an exclusive cabin where you will enjoy specialized services, including hairdressing, make-up, manicure and pedicure.

With their innovative ALL-FUN INCLUSIVE® program, you and your guests will have experiences that will last in their hearts forever. Enjoy together unlimited access to Hotel Xcarets Mexico's Parks: Xcaret, Xel-Ha, Xplor, Xplor Fuego, Xoximilco and Xenses, as well as our deluxe Tours to Xenotes and Xichen, with round-trip transportation included. Let them be part of your celebration and help you to make your dream wedding come true.