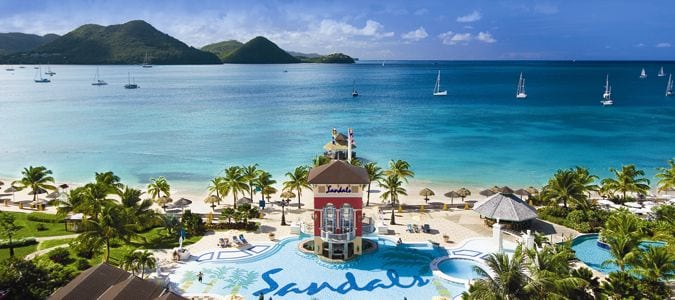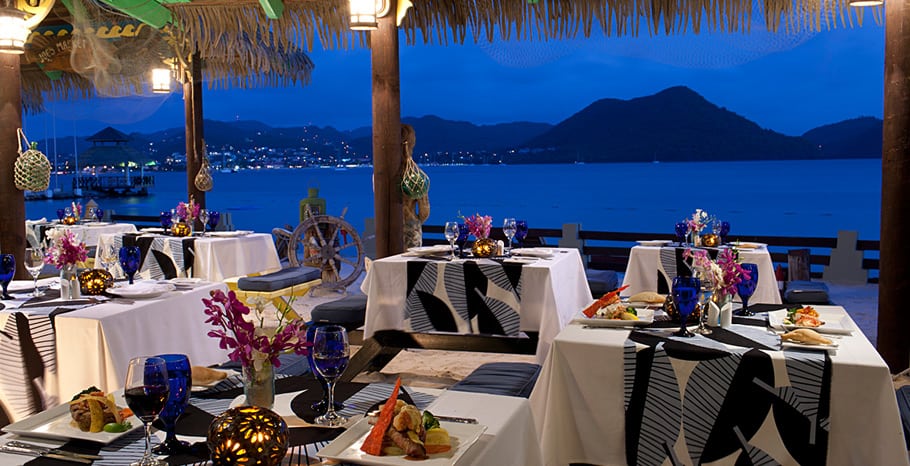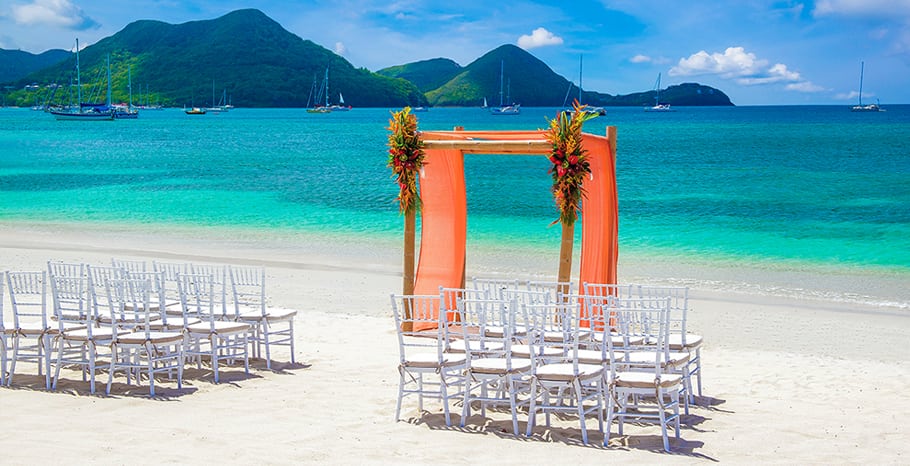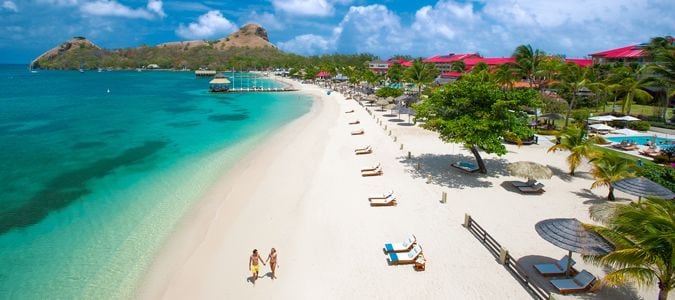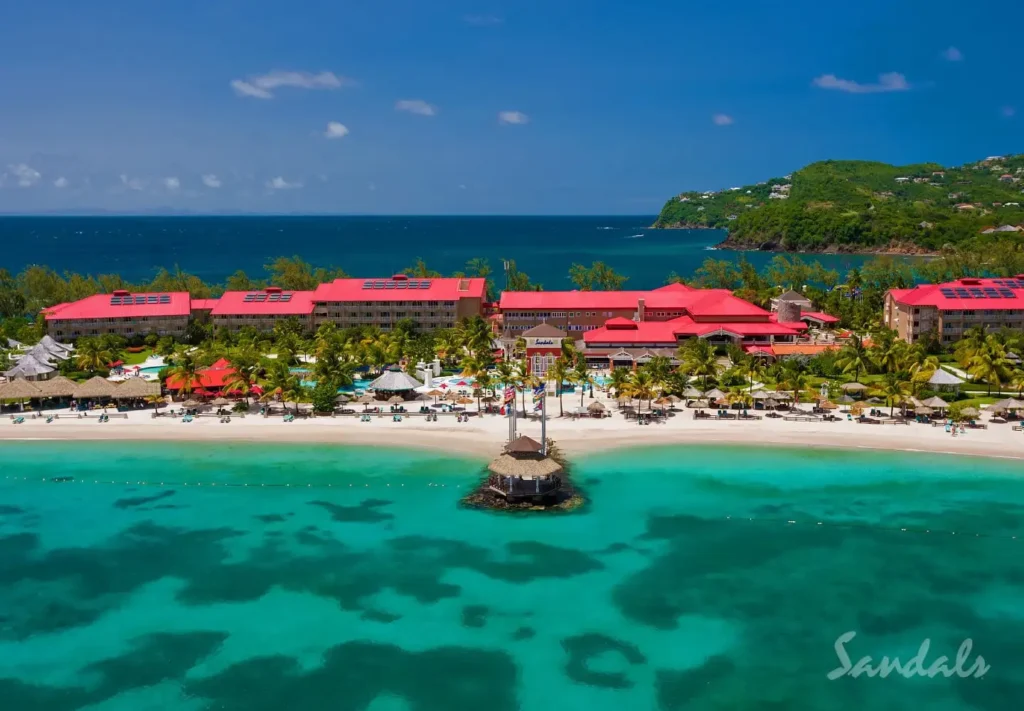 Sandals Grande St. Lucian, St. Lucia
Ideally located on its very own peninsula, Sandals Grande St. Lucian is often described as the "closest vacation to a picture-perfect postcard." Cradled to the west by Rodney Bay – boasting the calmest waters in all of Saint Lucia – and to the east by the majestic Atlantic Ocean, this magnificent resort showcases awe-inspiring panoramic views that will linger in your heart forever. Volcanic mountains draped in blankets of green rise majestically from an impossibly clear blue sea. A sheltered mile-long beach extends an open invitation for days of endless water play. This is paradise as it was meant to be, full of natural beauty, rich in history, and resplendent in pure romance.
To book your romantic getaway or destination wedding, click here.
Resort Highlights

The new Over-The-Water Bungalows at Sandals Grande St. Lucian deliver an immersive journey of the Caribbean's finest turquoise waters. Featuring a Tranquility Soaking Tub™ for two, an over-the-water hammock, sun deck with swim-up platform, and "sea-through" glass floors, these innovative suites marry modern luxury with exotic palapa-style architecture. Best of all, guests can indulge in Sandals Butler Elite service and 24-hour room service.

Set on a spectacular peninsula, Sandals Grande St. Lucian sits between the Caribbean Sea and Rodney Bay – Saint Lucia's most beautiful bay and home to the calmest waters on the island. At the tip of the peninsula is Fort Rodney, a bluff-top holdout during Britain's 150-year war with the French. You can embark on a culinary journey around the world, where sumptuous cuisine is the perfect prelude to romance. There are twelve scintillating gourmet restaurants to choose from, each waiting to delight and surprise you. It's a global culinary extravaganza – and you'll never even have to leave the resort to enjoy it all.

Set on a spectacular peninsula, Sandals Grande St. Lucian sits between the Caribbean Sea and Rodney Bay – Saint Lucia's most beautiful bay and home to the calmest waters on the island. At the tip of the peninsula is Fort Rodney, a bluff-top holdout during Britain's 150-year war with the French. You can embark on a culinary journey around the world, where sumptuous cuisine is the perfect prelude to romance. There are twelve scintillating gourmet restaurants to choose from, each waiting to delight and surprise you. It's a global culinary extravaganza – and you'll never even have to leave the resort to enjoy it all.
Resort Amenities

24-hour front desk
Baggage hold
Bell staff/porter
Children not allowed
Concierge desk
Currency exchange†
Elevators Not Available
Exercise gym
Free airport shuttle
Game room
Golf, Offsite†
Housekeeping – daily
Internet services
Laundry/Valet service†

† Fees may apply

Resort Facts

Only a 20 minute transfer ride from George F.L. Charles Airport (SLU)
1 Hour and 45 minute transfer ride from Hewanorra International Airport (UVF)
The resort is approximately 6 miles northwest of the city of Castries, on a causeway between Pigeon Island National Landmark and Rodney Bay
The resort has 311 Rooms and Suites, in 17 Categories and it's spread out on 17 acres
The resort is on a gorgeous peninsula setting, which is surrounded by water on three sides
That there are 12 dining options at this resort and 15 other dining options available at the nearby Sandals Halcyon Beach (6 dining options) and Sandals Regency La Toc (9 dining options).
There are 6 Bars on this resort.
That Over-the-Water Bungalows, Rondovals, Swim-up Rooms, Outdoor Grotto Showers and Private Pools are available at this resort
There is an Over-the-Water Wedding Chapel at this resort
There's over 5,000 square feet of banquet and meeting space at this resort
Stay at 1 and Play at 3 – Exchange privileges with the nearby Sandals Halcyon Beach and Sandals Regency La Toc. Complimentary transfers are included.

---
restaurants & bars

Bayside Restaurant: No matter what time of day, Bayside is the place to indulge your palate with international delicacies including seafood favorites like Surf & Turf and Grilled Snapper, and a variety of international favorites such as Oven-Roasted Chicken Pesto-Glazed Rack of Lamb, Green Thai Curry, and Pan-Crusted Pizza baked in a clay pizza oven! Savor the flavors of this enchanting restaurant and toast to the distinct character of a lively eatery, nestled just a short distance from the sparkling, Caribbean Sea. Breakfast: 7:30 am – 11:00 am (Buffet Style with made to order items) 10:00am – 11:00am Continental Breakfast served with Sparkling Wine; Lunch: 12:30 pm – 2:15 pm (Buffet Style with daily entrees cooked to order); Dinner: 6:00 pm – 9:30 pm Closed on Mondays. A la carte dining. Resort Evening Attire.

---

Toscanini's Restaurant: You'll find exquisite wines that pair perfectly with the succulent specialties of the Emilia-Romagna region of Italy, including the signature dish Spannochi con Gamberetti-angel hair pasta with jumbo shrimp and parmesan cream sauce-along with other Italian favorites. With all the wine you can drink, scrumptious desserts, and a beautiful, down-home setting, Toscanini's is full of comfort, romance, style, and of course, delicious Italian cuisine. Breakfast: 8:00am – 11:00am – A la carte breakfast menu; Dinner: 6:00 pm – 9:00 pm.

---

Josephine's Restaurant: Quaint blue-and-white tiles and an enchanting country French décor welcome you to this divine crêperie, specializing in all things sweet, which takes its name from St. Lucia's most famous scion, Napoleon's wife, the Empress Josephine. Delicate desserts tantalize your taste buds and carry you straight to nirvana, from 11 a.m. to 7 p.m., all within steps of the pool and in the grand culinary tradition of Paris.

---

Barefoot By The Sea Restaurant: A beach bistro by day, serving up all of the grilled comfort foods you know and love, this spot transforms at night into an enchanting fine-dining venue. Sink your toes in the powdery sand as you savor delectable Caribbean dishes in this colorful, nautically-inspired, open-air restaurant, with the lights of nearby Rodney Bay glinting in the distance, the waves serenading you and the scent of night-blooming blossoms wafting in on the delicious sea breezes. Lunch: 11:00 am – 4:30 pm (Lunch offers various snacks, burgers & sandwiches); Dinner: 6:30 pm – 9:30 pm. (Closed on Mondays)

---

Olde London Pub: Inviting, with cozy seating, flat screen TVs, a welcoming bar and lounge areas, it's hard to leave Olde London Pub. It was, after all, the pub that first introduced the concept of the bar counter being used to serve beer. This pub however, brings a whole new meaning to pub life by offering a wide selection of refreshing ales including Guinness and Newcastle Brown ale, along with gastro pub fare and delectable desserts all within the beautiful enchanting backdrop of Saint Lucia. Dinner: 5:00 pm – 10:00 pm. Lighter fare served from 10:15 pm – 2:00 am.

---

Gordon's on the Pier Restaurant: Included for those staying in Butler Suites and available, at an additional rate, for all of the cherished guests, Gordon's regales your palate with refined repasts, pampers you with superb service and gives you a star-kissed evening brimming with exquisite moments. A once-in-a-lifetime, truly gourmet dining experience, Gordon's sits at the very end of a pier jutting straight out into the Caribbean and offering an unprecedented view of the sparkling lights of Rodney Bay and of the resort, itself. Dinner: 6:00 pm – 9:00pm. Reservations are required.

---

Mariner Seaside Bar and Grill: Casual beachfront grill. A place where guests come for delicious, grilled food and a cold one, this beachside bar and grill doesn't disappoint. With traditional grilled delights such as grilled fish and beef burgers, guests enjoy the mouthwatering, flavorful food, followed by a peaceful walk along the beach. Lunch: 11:00 am – 4:30 pm.

---

Dino's Pizzeria: Hand-tossed made-to-order pizza cooked in a wood-fired oven. Lunch: 11:00am – 6:00pm.

---

The Jerk Shack – For generations, jerk has been a cherished culinary art of Jamaica, and now, jerk's pungent flavor and irresistible aroma have made it a worldwide favorite. With open-air seating and a rustic vibe, the Jerk Shack serves up authentic jerk with all the traditional accompaniments. A Caribbean experience is not complete until you've tasted this Jerk hut's luscious offerings. Lunch: 11:00 am – 5:00 pm.

---

Bombay Club Restaurant: In like manner, the sweet smells of fragrant herbs and the vibrancy of a bustling market are inextricably linked with Bombay Club.Enjoy the intriguing ambiance while savoring piquant favorites, including Chicken Tikka, Poppadums, Butter Chicken, Lamb Samosas and more. Dinner: 6:00pm – 10:00pm. (Closed Wednesdays) Reservations are required.

---

Kimonos Restaurant: Awaken your senses with the mouthwatering scents of steaming seasoned meats and veggies fresh off the iron grill. Whether your chef juggles cooking utensils, flips a shrimp tail into his shirt pocket, or catches a shitake mushroom in his hat, it's clear to see that Kimono's eating is only half the fun. Dinner: 6:00pm – 10:00pm. (Closed Mondays) Reservations are required.

---

Soy Sushi Bar: When it comes to sushi, Soy has plenty of answers. Sample signature delicacies and hang out in the intimate booths, the perfect spot for a romantic evening for two. With a style that is just as diversified as the inspiring sushi palate, chefs of Soy are eager to present guests with varying flavors of the Far East and share the essence of a consistent house style that is elegantly balanced. Dinner: 6:00 pm – 10:00 pm. (Closed Tuesdays)
Resort accommodations

Caribbean Deluxe: Settle into the tranquil calm of gracious island style in a grand deluxe room that is fresh and welcoming. Contemporary luxury defines these ground floor rooms located amid the enchanting gardens adorned with birdhouses and swinging benches. With stately linens draped over exquisite Farmhouse beds, elegant island décor abounds with framed fine art and mahogany crown molding and furnishings. Sliding glass doors opening to a private patio set you directly amidst the gardens, the perfect backdrop for enjoying a nightcap, midnight snack, or candlelight dinner for two.

---

Caribbean Honeymoon One Bedroom Butler Suite: These sumptuously designed suites offer a multitude of indoor and outdoor space where the living room includes a work desk and the patio or balcony offer a charming invitation to relax with wicker chaise lounges and patio dining set for two. The magnificence of these dream suites present a world of idyllic, garden views and surreal beauty. Relax on the patio or balcony overlooking the lush gardens, explore the modern amenities and indulge in the comfort of a spacious enclave that perfectly captures the beauty and essence of St. Lucia.

---

Swim Up Lover's Lagoon Honeymoon Club Level Room: A truly sublime retreat, these stunning rooms dazzle with refreshing and expedient allure. With comfort, beauty, and convenience at the forefront, including suitable access to the refreshing lagoon pool just steps away from the mahogany-accented bedroom, opulence is within reach at every turn. A hotspot for lovers and sharing special moments amid the quiet calm of the lagoon pool, beautiful living awaits, if only just for a little while, just beyond the front door. Relax by the sparkling pool, explore the nearby gardens, or simply slip into plush his and hers robes for an evening enjoying the beauty and comfort of these impeccably designed suites together.

---

Caribbean Honeymoon Beach View Penthouse Club Level Room: Expansive views and awe-inspiring décor from all over the world, including hand woven wool rugs from India, welcome you to beachfront magnificence with the warmth and grace of a bygone era. Mosaic marble tables and direct views from the comfort of your King Size mahogany bed add to the warm ambience of these concierge level rooms. Close to Toscanini's Italian restaurant, these superb rooms are also situated overlooking the beachfront, Pigeon Island, and the bustling Rodney Bay. Relax and enjoy yourself in these sanctuaries devoted to comfort.

---

Caribbean Ocean-View Penthouse Club Level Room: For those seeking utter relaxation and unrivaled northern views, look no further than the splendor of a penthouse oceanfront suite. Unwind with serene vistas looking beyond a vast waterscape to the island of Martinique. Just a stone's throw away from your room, experience complete bliss and serenity with the pampering touch of Red Lane Spa or a quiet stroll through the picture-perfect gardens below. Enjoy the majestic hill views and the incredible glow of the sunrise each morning. The radiance and beauty of these oceanfront suites assure that your stay will be restful and rejuvenating-the perfect escape.

---

Caribbean Honeymoon Beach View Grande Luxe: Simple elegance abounds in these beachfront rooms that overlook Rodney Bay and the picturesque gardens. There's a feeling here of warmth and serenity as rich, European décor is combined with the spirit of the islands and all the amenities of a 21st century luxury resort. Explore the nearby garden hammocks and gazebos or lounge on your patio or balcony for an intimate evening together enjoying the kind of vistas you'll never forget.

---

Caribbean Honeymoon Ocean-View Luxury: The décor of these luxury oceanfront suites is inspirited by the stunning views of the Atlantic Ocean waterscape. Discover the possibilities of the type of luxury living that provides you with every convenience for your romantic, island getaway. Here, you'll find your passport to world-class extravagance with mahogany furnishings, tile flooring, and spacious lounge areas, both indoor and outdoor. For a truly intimate experience with your significant other, watch the sunrise from the comfort of your bed or enjoy a swing on the lover's bench in the nearby gardens.

---

Caribbean Luxury Ocean-View: Take in beautiful views of the Atlantic from any one of these stylish suites and unveil true luxury. Relax in the magnetism of your suite, or in the quaint gardens just below where you're invited to take a stroll or simply linger for a while. These suites deliver an elegantly relaxed flair where you can enjoy modern amenities as you explore every inch of these grand rooms, including the romantic sitting area and large balcony offering stunning ocean views.

---

Caribbean Honeymoon Walkout Room: This room category provides you with direct access to the beautiful grounds and gardens, and Upper Cascade pools from your private patio. Room furnishings include a four poster "Planters" king size mahogany bed, a 37″ flat screen Television, tiled floors, love seat and armchair. Take in the amazing vista on your patio furnished with a two-piece patio set.

---

Lover's Lagoon Honeymoon Premium: Enjoy the refreshing elegance of a well-appointed suite. Ideally situated with easy access to a refreshing midnight swim or a quiet stroll along the winding pathways of a charming garden, these premium rooms offer direct views of the sparkling lagoon pool and encompass a blend of stylish and inviting décor. Delight in the beauty of the mahogany accents and modern amenities or laze on a spacious balcony, an ideal spot for taking in the stillness of the night or tranquility of the bird-serenaded mornings.

---

Rodney Bay Honeymoon Deluxe: Relax in casual elegance where everything you need is just within reach. Enjoy the comforts of a splendid room featuring garden views, mahogany furnishings, tiled floors, flat screen TV and more, or venture out to the nearby Red Lane Spa for the ultimate pampering. Take in the beautiful scenery from any one of these stylish rooms and uncover sheer luxury.

---

Caribbean Beachfront One Bedroom Butler Suite: Stone mosaic tiling at the entryways lead to a magnificent living room with picture windows framing the stunning Rodney Bay. Spacious living areas and soothing island décor add drama and warmth to these exceptional beachfront suites. Offering modern, in-room amenities with the cheek and style of an 18th century Caribbean Great House, you'll enjoy the timeless island charm of hardwood floors, mahogany furniture, wicker ceiling fans, and doors that lead out to a large terrace, all against the backdrop of an exquisite, sprawling paradise.

---

Beachfront Grande Rondoval Butler Suite with Private Pool Sanctuary: For a secluded, tranquil hideaway with unparalleled proximity to the beach, immerse yourself in the luxury of a beachfront Rondoval suite. Comprised of spacious, exquisite interiors with natural stone flooring and Roman soaking bathtubs perfect for two, these circular suites also offer unique outdoor opportunities on a private veranda, including alfresco dining, sunbathing and stargazing from your very own hammock, outdoor showers, and access to a private, refreshing pool and whirlpool. Secluded by lush, tropical greenery, these clandestine suites are the ultimate in luxury with extraordinary vistas of the famous Rodney Bay.

---

Grande Rondoval Butler Suite with Private Pool Sanctuary: Take pleasure in the comfort and elegance of a well-appointed Rondoval suite. Featuring high ceilings, spacious verandas, and nearly 800 square feet of charming interiors, these incredible suites boast a wealth of chic design elements including Brazilian hardwood flooring and hand woven banana tree and wood tables. The outdoor area delights with romance and warmth where a soothing waterfall, refreshing pool and whirlpool, hammock, and outdoor shower provide for a truly indulgent getaway. Savor every moment of the idyllic, garden scenery and personalized butler service.

---

President Clinton Oceanfront Penthouse Two Story Butler Suite: Savor every moment in the splendor of the Presidential Suite, the only one of its kind in the Sandals Resorts collection. You'll find comfort in knowing that your every expectation will be met with imperial distinction. Take time to relax and indulge in the beauty of the panoramic ocean and Rodney Bay vistas, airy Great Room with picturesque views, and superior butler service. This 2100 sq ft paradise for lovers features old-world charm with mahogany furnishings, stately ceilings, and unique island accents throughout, all comparable to the beauty of the Caribbean Great Houses of days past. From the regal rooms and terraces, to the exquisite bathrooms and soaking tubs, every inch of this suite is a unique oasis devoted to your personal comfort. In addition to its interior, split-level decadence, this suite also boasts versatile exteriors with three outdoor verandas, including one with an outdoor shower. Discover sheer opulence as you lounge on one of the terraces listening to the soothing waves of the ocean lapping ashore or unwind in the Great Room, enjoying the unparalleled views and impeccable service of your personal butler.
resort activities

Canoes/Kayaks
Hydrobikes †
Windsurfing †
4 Pools, 4 Whirlpools
Snorkeling
Scuba Pool
Scuba Diving †
Hobie Cats
Table Tennis
Billiards
Fitness Center
Basketball
Board Games
Beach Volleyball
Giant Outdoor Chess
Bocce Ball

Day/Night Tennis
Spa Facilities †
Golf †
Night Club
Live Shows
Live Bands
Piano Bar
Karaoke
Talent Shows
Beach Party Night
Lover's Night
Charity Casino Night
Street Party Night
Talent Night
Fashion Shows

† Fees may apply
Wedding activities

Your Wedding. Your Style. Weddings at the resorts made for love. When it comes to destination weddings, Sandals has what you need for an elegant and fun celebration. We know you want an experience that is stress-free and filled with personalized details that reflect your style.

Contact us to learn more about our wedding packages.
Please note:
RomanceJourneys.com makes every effort to keep the travel and resort information up to date on this website. However, resorts, wedding packages and laws do change. Because of that, we cannot guarantee that all information on particular resorts or destinations are completely accurate at the time of viewing. Before making wedding and/or travel decisions to a particular destination, it is highly recommended you speak with Shari (972-805-1773) or email Shari (shari@romancejourneys.com) before you book your travel.