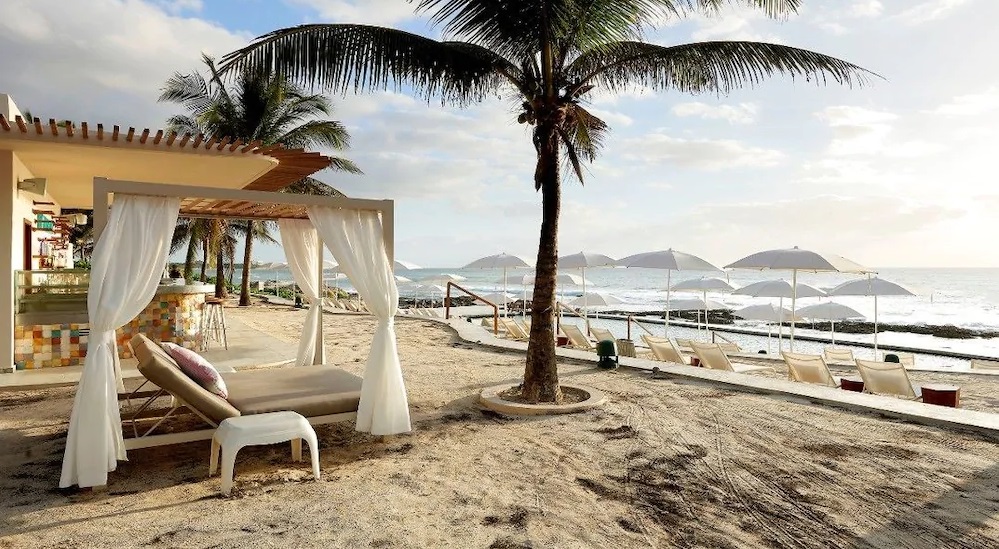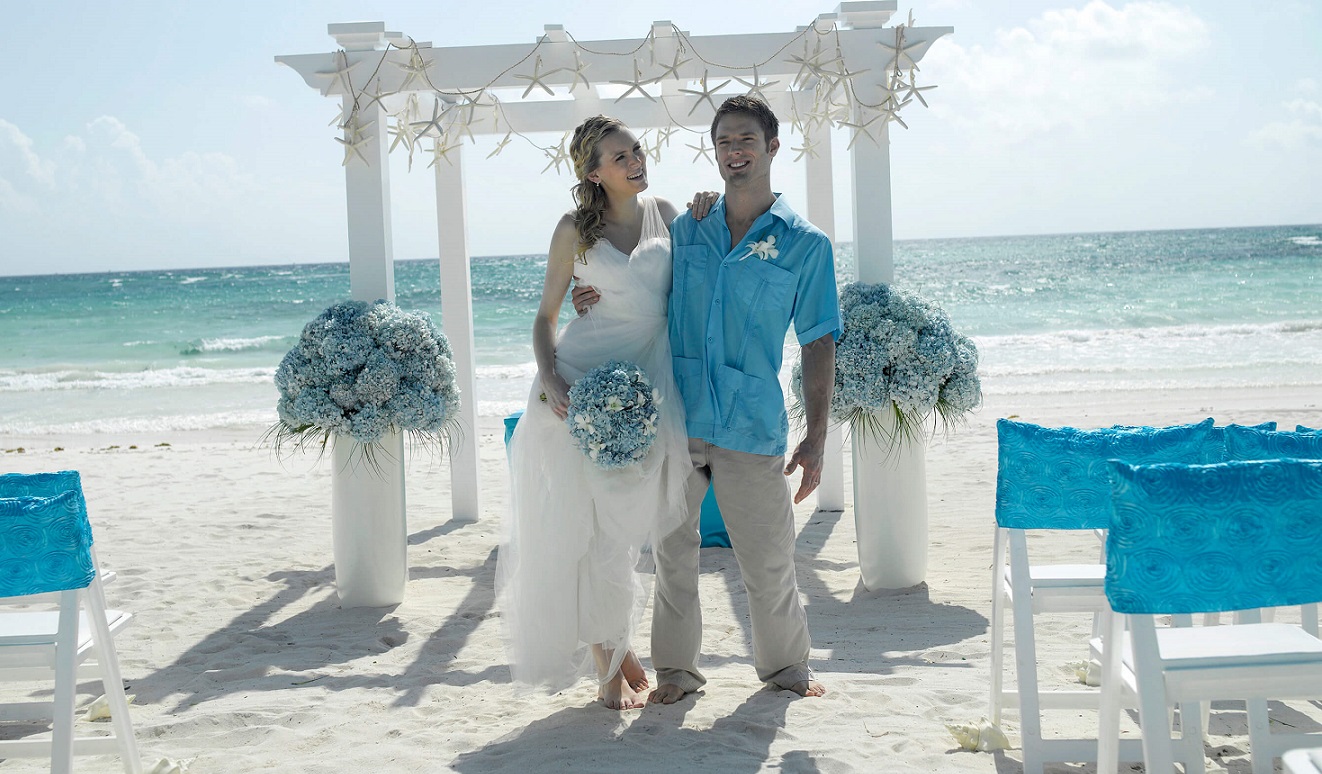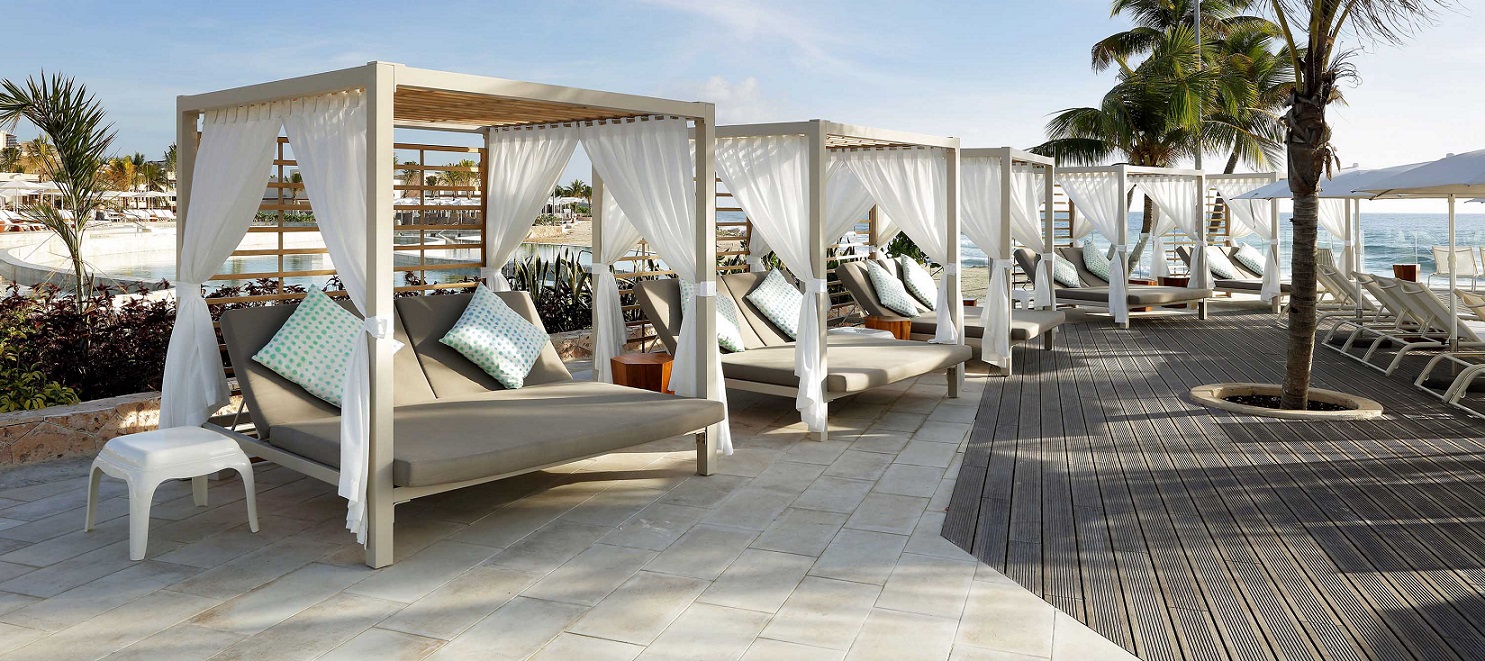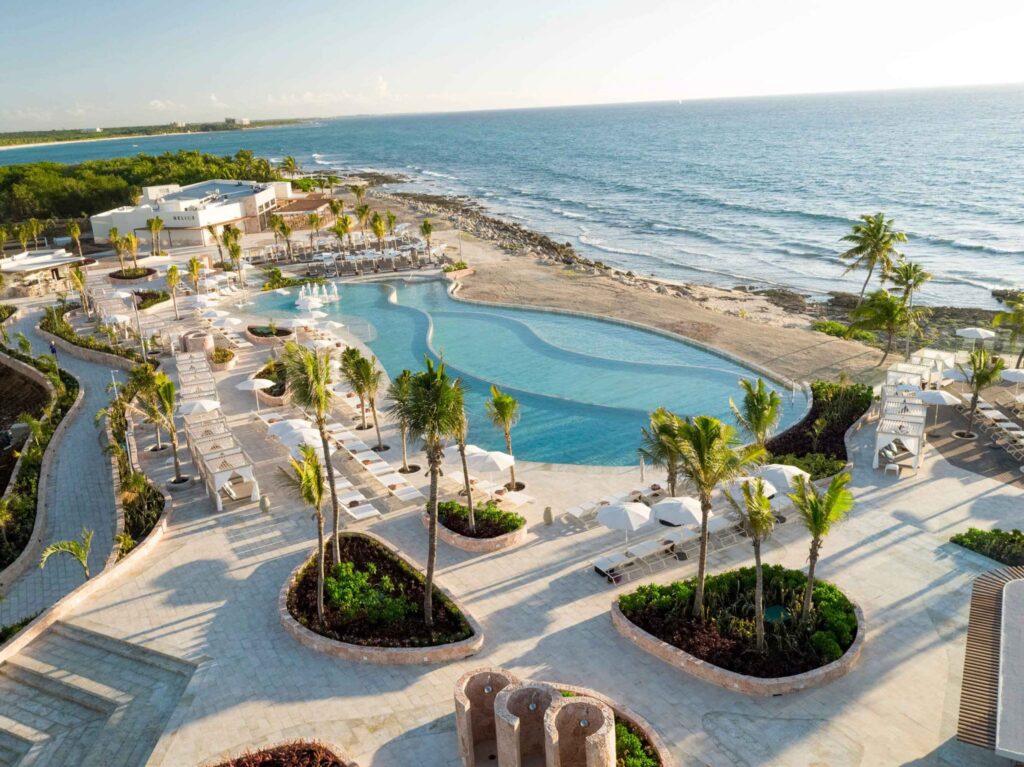 TRS Yucatan Hotel, Riviera Maya – Mexico
---
TRS Yucatan Hotel is located in an exclusive area within the Grand Palladium Resorts of the Mayan Riviera. Designed exclusively for adult travelers and with an emphasis on preserving the lush gardens and rich natural beauty of the Riviera Maya, guests experience a world of distinctive service, polished facilities and alluring amenities during their stay. Tucked amidst the Riviera Maya's natural flora and fauna, the sprawling TRS Yucatan Hotel caters to couples, spa enthusiasts and active travelers with a diverse selection of restaurants and lounges, sparkling freshwater swimming pools and personalized hospitality.
TRS Yucatan Hotel – adults only – is located on Mexico's renowned Riviera Maya, 30 minutes away from Playa del Carmen. This adults-only hotel emits sophistication and luxury, well-suited for getaways with couples or groups of friends. With its stunning sea views, a private beach club and a soul-soothing sense of calm, the hotel embodies the perfect 5-star escape. (To see more photos click on the image.)
Resort Highlights

TRS Yucatan Hotel is a 5-star luxury hotel that offers a calming retreat within the lively Riviera Maya. It is the perfect choice for couples and adults who want to enjoy privacy and personalized service whilst also offering unlimited access to a wide array of top quality services. The hotel pays homage to the indigenous flora and fauna, and the immaculate grounds are complemented by the elegant architecture and decor. From the moment guests check in, they get lost in the magic of TRS Yucatan Hotel, where worries disappear faster than the ebbing tide.From the luxurious modern suites, it's just a few steps to the exclusive adults-only pool; and from there, a couple of strokes to the swim-up bar. Enjoy the cool, clear water as you sip exotic cocktails and soak up the bright Mexican sunshine.

TRS Yucatan Hotel prides itself on letting guests put their feet up and bask in the relaxation they deserve. With a 24-hour butler service to cater to your every need, your stay can be exactly what you dreamed it would be, and there is an array of bars and restaurants within a stone's throw of the suites. Golf carts are available to whisk you away to any of the 5-star facilities or activities you wish to enjoy, including snorkeling, kayaking and paddle surfing.

Visit the infinity pool with Balinese beds, overlooking the azure Caribbean waters and white sands, head to the adults-only beach club, Helios, for a day of fun in the sun or sunbathe on the pristine VIP beach. As dusk falls, enjoy dining at the Chic Cabaret & Restaurant – one of the à la carte restaurants – which offers dinner and a show, or head to the El Gaucho for some traditional Argentine cuisine. The hotel's exquisite 4 pool bars, including La Terraza bar, are perfect for sipping classic cocktails or a glass of bubbly. Never worry about a booking, as the Grand Palladium Hotel Group smartphone app allows you to reserve your spot in a few taps of your finger. After dinner, try the nightly canoe tour to truly soak up the silence and tranquility.

Before heading back to reality, allow some time for the Zentropia Spa & Wellness center, where guests can enjoy the hydrotherapy zone or try a refreshing fruit drink prepared in the spa's healthy juice zone.

Premium adults-only hotel.
454 fully-fitted suites with 24-hour room service.
6 à la carte restaurants and 6 bars exclusively for guests staying at TRS Yucatan Hotel.
Premium VIP beach area with loungers and waiter service, as well as a first-class Spa & Wellness center.
3 private pools with built-in Jacuzzi and waiter services, including an infinity pool with sea views.
An array of activities including yoga and aerobics, as well as kayaking, diving and windsurfing.
Resort Amenities

24-hour front desk
24-hour room service
Adults only
All-inclusive meal plan
Bell staff/porter
Butler service
Children not allowed
Concierge desk

Luxury hotel
Sauna
Spa†
Whirlpool
WiFi in public areas

† Fees may apply

All Inclusive Details

Buffet Breakfast and Lunch
Buffet Dinner or in One of the Specialties Restaurants, with À La Carte Service, Previous and Limited Reservations (in the specialties restaurants, dinners are limited to three dinners for One week stays and four dinners for two weeks stays)
Room Service 24 Hours
Butler Service
Dinner and Show CHIC Cabaret
Domestic and International Drinks With or Without Alcohol, Wine of the House With Lunch and Dinner
Specialties Restaurants With Reservation
Cocktails and a Selection of International Drinks of Superior Quality in the Desván Bar
Snacks 24-Hours a Day
Free Access to the Gym
Non-Motorized Water Sports and Other Different Sport Activities
Free Wi-Fi
All Gratuities Included
restaurants & bars

If it's gastronomy you love, our TRS Yucatan Hotel offers an endless array of options and menus. During your stay you can enjoy different show cooking restaurants for each meal (breakfast, lunch and dinner) and for dinner you can enjoy up to 9 different à la carte restaurants with a variety of cuisines that will take you from Italy, passing through Mexico, then to Brazil and finally finishing with the best Steak House of the United States. A wide variety to satisfy every palate, impeccable service and the best atmosphere that will make your stay a dream come true.

---

La Adelita Restaurant: How could you visit Mexico and not try their authentic northern-style burritos or Margarita shrimp? That's why La Adelita, our à la carte Mexican restaurant, is a must during your vacation at our Riviera Maya Complex. Here you'll enjoy anything from Mexican cuisine's most popular dishes to our most special dishes prepared following our chef's own recipes, also full of authentic Mexican flavor.

---

La Bohème Restaurant: From the refined interior decoration to each elaborate plate on the menu, the dedication found here makes this place a masterpiece. Inspired by the romantic French brasseries, La Bohème tempts guests with an irresistible welcome appetizer, á la carte specialties, and delicious cocktails. Oh, là là!

---

Capricho Restaurant: From breakfast to lunch, indulge yourself in your favorite flavors. Imagine accompanying them with a natural fruit smoothie, a freshly brewed coffee, or a mimosa. In Capricho, you´ll discover fabulous á la carte dishes, as well as buffets and show cooking. A feast to satisfy your appetite.

---

Chang Thai Restaurant: Chang Thai, our newest restaurant in Riviera Maya, includes a beautiful terrace along with a buffet area which offers a wide variety of local Thai cuisine and flavors which is one of the most sophisticated from the Southeast Asian area. Chang Thai includes a healthy, natural and diverse menu which combines vegetables, chicken, meats and shrimp with sweet and sour, peanut and curry sauces. These dishes will delight you with exquisite balancing flavors of sweet, salty, sour and spicy. Be ready to be taken on a culinary journey through the beaches of Phuket or the upbeat streets of Bangkok without leaving the beautiful resort.

---

Chic Cabaret and Restaurant†: The best things are always saved for when the sun goes down. Prepare your senses for this gastronomic and sensory experience, it's time for Chic Cabaret & Restaurant. Dim lights, laughter, flirting and sensuality. Some things are shown, while others are known intuitively. A musical spectacle bursting with light, color and energy, where you will become part of the show and it will be a part of you forever. Travel through history and experience the shows of yesterday, where feathers, glitter and sensual choreographies will transport you from the Moulin Rouge in Paris to the old cabarets in Berlin. Enjoy a taste of pure excitement and a performance that will become an authentic experience, accompanying an exquisite cuisine in an evocative atmosphere that invades all 5 senses. Open: Monday, Wednesday and Friday. Pre-show cocktail at 7:30 p.m. Dinner show at 8:15 p.m. to 11 p.m. Post-show cocktail of 11 p.m. at 1:30 a.m. Reservations: contact Guest Service. *Dinner adults only. Limited availability. Includes pre and post-show cocktails with unlimited premium beverages and dinner-show. An experience so exclusive, simply attending it is a privilege. Therefore, to guarantee the quality of a show with the prestige of Chic Cabaret & Restaurant, from January 1st. 2020 a reservation fee of $20 per person will be required.

---

La Dalia Restaurant: Located at Grand Palladium White Sand, this restaurant serves breakfast, lunch and dinner. You can enjoy a wide variety of dishes, as well as a salad and dessert bar. Every night the selection is changed and our guests can enjoy dishes created by our excellent, professional kitchen.

---

El Dorado Restaurant: The resort's à la carte steak house, paradise for meat lovers. Only the best cuts, grilled and combined with the most flavorful and varied side dishes. And always, in addition to the menu, the salad bar lets you complement your dinner with whatever you like best. What better way to regain strength after a day of sun, beach, culture and fun?

---

El Gaucho Restaurant: From countryside of Argentina to the shores of the Caribbean, all in one bite. Enjoy the best cuts accompanied by traditional side dishes, as well as other Argentinian specialties, in a restaurant that takes pride in a passion for good food and sharing special moments with your loved ones at the dinner table.

---

El Gran Azul Restaurant: Located at the Grand Palladium Colonial and Grand Palladium Kantenah hotels, this restaurant offers food service with the primary attraction of outdoor dining. An outstanding place for group dinners, incentives, weddings or any event you'd like to hold at the hotel.

---

La Hacienda Restaurant: Enjoy the convenience of a buffet without sacrificing quality and service at this restaurant. Perfectly located at the Grand Palladium Colonial, it's always a convenient option for enjoying breakfast, lunch and dinner. The freshness, great variety and high quality of its dishes always make this show cooking restaurant a safe, convenient choice.

---

Helios Restaurant: Inspired by the famous beach clubs of Ibiza, Helios offers a unique and relaxed atmosphere, ideal for enjoying the fresh air and good music during breakfast, lunch or dinner. In addition to an extensive menu, the restaurant also boasts a delicious buffet, live shows, as well as many more surprises.

---

Hemingway Bar: Non-smoking. International "Premium" Beverages and selection of board games and books.

---

La Jarra Bar: La Jarra bar is located on the beach at the Kantenah Hotel, the perfect place to enjoy some sunshine, the sea breeze and the beautiful views over the Caribbean Sea.

---

La Laguna Bar: La Jarra bar is located on the beach at the Kantenah Hotel, the perfect place to enjoy some sunshine, the sea breeze and the beautiful views over the Caribbean Sea.

---

La Laguna Restaurant: Located at the Grand Palladium White Sand, enjoy the outdoors while sampling your favorite delicacies.

---

La Lola Restaurant: La Lola offers you a wide range of gastronomic choices; we combine traditional Spanish cuisine with the latest culinary trends, giving as a result a large selection of signature tapas and pinchos. No-one will be left indifferent by the best hot and cold Spanish specialties and as for the sweets…!

---

Las Olas Bar: The resort includes magnificent beach bars, the perfect place to enjoy an unforgettable experience overlooking the sea at the Riviera Maya. Make your way to the gorgeous beach in front of the Grand Palladium Colonial Resort & Spa, and let the soft white sand caress your feet while you enjoy a refreshing drink or a cold beer at Las Olas Bar with snacks, what else could you ask for? Best of all, the Las Olas Bar offers music and delicious drinks 24 hours a day. Enjoy the best tropical cocktails and mixed drinks, while listening to the relaxing sound of the sea and gazing at the starry night sky of the Riviera Maya. In this magnificent Grand Palladium Riviera resort bar, you'll also find a wide variety of snacks to enjoy during a day at the beach, with every detail taken care of. Rest and relax in an ideal environment.

---

Portofino Restaurant: The Portofino Restaurant stands out not only for its amazing and traditional pasta dishes and pizza but also for its abundant aromas and flavors of the Mediterranean. Here Parmesan cheese, tomatoes and olive oil are the star ingredients and the service and decor are the perfect complements to an unforgettable meal.

---

Poseidon Restaurant: Located at a spectacular rocky spot bathed in the sea and fresh air, this lovely restaurant is the perfect place to enjoy the best fish and rice in one that you'll never forget. *Reservation required.

---

Ribs & More Restaurant: This large American restaurant offers an incredible variety of meats, ribs, hamburgers and much more! A spectacular variety of wines to pair with the different flavors you'll find in this restaurant where you can enjoy authentic American cuisine for an outstanding evening.

---

Sumptuori Restaurant: For lovers of Japanese cuisine. À la carte restaurant with the most popular pieces from one of the most international types of cuisine: Japanese. The restaurant has a teppanyaki from which you'll enjoy front row seats to a true culinary show. The restaurant's decor will transport you from Mexico to the most traditional Japan from the moment you step foot in the restaurant. *Reservation required for teppanyaki.

---

Swim Up Bars: Take a dip in the main pool of the Colonial & Kantenah Hotel and swim your way to the Swim Up bar to try the variety of drinks and cocktails that the barman can make for you.

---

Tentazione Restaurant: If a world renowned culinary culture exists, it is that of the Italians. Indulge in our exquisite menu and wine selection in an intimate and elegant ambiance. To top off the night, allow yourself to be seduced by our irresistible desserts. It will be, without a doubt, an offer you can´t refuse.

---

Tikal Restaurant: Buffet restaurant with a wide variety of dishes and stations, all guests will find a culinary option to their liking. This restaurant is a quick, convenient and safe option if you want to always make the right choice when choosing your menu.

---

Xtra Time Sports Bar: All the excitement and speed of sport come to life as never before in the new Sports Bar. Enjoy the snack service, an extensive menu of beverages, table games and sporting events broadcast live on their large main screen. You will not be allowed to enter the Sports Bar if you are wet or you are not wearing shoes.
Resort accommodations

Junior Suites: Specially designed to provide exclusivity and luxury, the new Junior Suites for adults only offer the highest level of comfort. Light and elegantly decorated, they include a king-size bed or two double beds, both options with memory foam mattresses. Large, modern 60 m2 Junior Suites equipped with the latest technology and set in tropical gardens. Let yourself be pampered and enjoy the highest quality service and a relaxing experience in your hydro massage bath. Enjoy superior service with your own butler. Convenience and comfort with 24 room service. Design and modernity in an unbeatable setting.

---

Junior Suite Private Pool: Get seduced by the Junior Suites Private Pool and lounge around their private 8 m2 swimming pool, surrounded by tropical gardens. This exclusive adult only room is elegantly furnished, provides king-size bed or Two twin beds with memory foam. Classy and comfy, Junior Suite Private Pool fulfills all the needs for a complete rest. This suite offers wide and ample swimming pool, sophistication in design and a well-furnished Minibar.

---

Wellness Junior Suite: Room specially designed for those who like a healthy life in three disciplines: Body, Mind and Soul. It Includes Jacuzzi, relaxing and anti-stress kit sounds. A personalized fitness program. Access to the Spa wet areas and a couples massage. In addition to a menu designed exclusively for the couple during their stay and a romantic dinner.

---

Suite: Experience paradise from this outstanding suite immersed in beautiful Mayan Riviera. The balcony is a real privilege, the perfect place to relax while taking profit from the exclusive view over the garden. The suite features an independent living room, sofa bed and has also two television sets as well as a selection of premium beverages. This junior suite offers a spacious and separate living room and personalized, exclusive treatment.

---

Suite Private Pool: The modern and sophisticated Private Pool Suites offer you ample spaces reflecting the ultimate in luxury and excellence. Prepare to be enchanted by their private 18 m2 swimming pool landscaping. Private Pool Suites' guests also benefit from the exceptional privilege of personal butler service, separate living room and more. This suite offers consistent level of luxury, a swimming pool and separate and comfortable living room.

---

Romance Bungalow: What's really unique about this room is that it will captivate you with its private room entrance, its large terrace complete with wood furniture, and its outdoor shower. Surrounded by gorgeous natural views, the Romance Bungalow is designed to seduce you. Fall in love with the stunning views the hotel offers from the room's wooden terrace with kayak landing over the lake and wooden hammocks. The suite exceeds all of the other services, together with a feeling of exclusivity that everyone should experience at least once in their romantic getaway. This bungalow offers an exterior Mayan shower, privacy, exclusivity, and a wooden terrace.

---

Ambassador Suite: Let yourself be spoiled by the new Ambassador Suite. Only 9 suites available to convert your stay into a unique and luxurious experience set in tropical gardens. With their exclusive hydro massage bath and a swimming pool, these suites are the place to refresh yourself, rest and recover wellbeing. All provide king size bed, separate living room, separate shower cubicle and a second toilet. This suite offers exclusive hydro massage bath in the room, maximized coziness thanks to its ample spaces, and a unique experience in an exceptional place.
resort activities

Aqua Excursions†
Beach volleyball
Catamaran†
Daily entertainment
Direct access to a beach
Fishing†
Nightly entertainment
Non-Motorized Water Sports

† Fees may apply

Aqua Excursions†: TRS Yucatan Hotel and Aqua Excursions bring you the best in water activities inside and outside of the hotel! Visit the aquatic activities & dive center located on the hotel's beach in the Grand Palladium Colonial section right next to the 24-hour restaurant. There you will find the following activities (at an additional cost):

Diving (local reef, in the cenotes and in Cozumel)
Snorkel (with wild turtles, in the cenotes and in Cozumel)
PADI, NAUI, SSI y IANTD Diving Courses
Technical Diving Courses
Sport fishing
Luxury Yacht and Catamaran Rental (private)

All these activities are for adventurous couples no matter what level of experience you might have. Diving courses are for people who have never dived before as well as for experienced divers looking to expand their diving skills.

At the dive center you can also borrow snorkeling equipment (mask and snorkel) single and double kayaks, paddle surf boards, paddle boats, catamarans (14 ft hobbie cats) and windsurf boards at no extra cost. * These activities however require the signature by an adult for the responsibility and proper care of the equipment and you must leave your room key and a valid ID (passport, identity card or driver's license) and are returned at the end of your activity.
Wedding activities

Contact us to learn more about wedding packages.