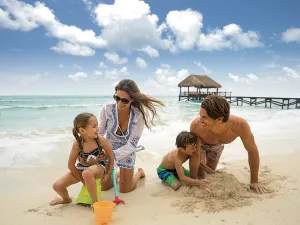 Imagine creating an entirely new genre of luxury beachfront family resorts – from scratch. You'd start with the most unspoiled white-sand beaches in Mexico and Jamaica. You'd cater to families, but welcome couples, brides, grooms and groups.
Accommodations would be luxurious, from beachfront Jacuzzi® swim-up suites to rooftop Sky Suites to private oceanfront villas. Here you'd discover personal concierge, 24-hour room service, baby amenities and toys. You'd offer supervised daytime activities and clubs for teens, tweens and toddlers, allowing parents to enjoy luxuries such as cozy beach beds with beach butler service, adult pools, swim-up bars and Zen-inspired spas. Then you'd make the entire experience Gourmet Inclusive®, with superb international à la carte cuisine and other gourmet delights.
What would you call these enchanting Caribbean beach escapes under brilliant indigo skies? You'd call them Azul.
Overlooking the turquoise waters of the Mexican Caribbean, Azul Beach Hotel by Karisma offers the ideal spot for luxurious family getaways in an intimate setting. Where swaying palm trees and manicured gardens await you at every turn, the Azul Beach boutique resort is the perfect blend of service and sunshine. Here families with small children can relax with gourmet inclusive dining options, daily and nightly activities programs customized for every member of the family, a kid's activities center and sensational guestrooms and suites with family-friendly amenities like strollers, cribs, baby milk heaters, refrigerators for milk and medicines, toys and coloring books. Personalized, innovative and unforgettably upscale, Azul Beach Hotel by Karisma brings a touch of Gourmet Inclusive luxury to Cancun, Mexico.
Azul Fives by Karisma All-inclusive Resort is set beachfront in the beautiful Riviera Maya offering luxury accommodations perfect for that family vacation or couples getaway.
A seamless combination of Gourmet accommodations and laid back Caribbean charm, just minutes from Playa del Carmen.
Activities and special experiences foster togetherness for families, couples and groups of friends. The hotel offers the renowned Gourmet Inclusive® concept, as well as flexible meal plan options to suit all agendas. Private barbecues highlight family activities, the exclusive Family & Friends Vacation Planner coordinates family reunions, and the Kid's Club sponsored by Fisher-Price® caters to children. Rooftop Weddings inspire soon-to-be-married couples. The 24-hour room service and full-service concierge ensure memorable vacations.
An oasis of sunny days, sparkling waters and endless white-sand beach, this inspired resort blends contemporary architecture with traditional service. Families, couples and honeymooners alike will enjoy chic Gourmet Inclusive® dining options at a selection of refined restaurants, dynamic bars including a Mojito lounge, nightly entertainment, an indulgent menu of services at the spa, kid's and teen's activities programs, beach butler service with ample beach beds and opulent guest suites with the finest of amenities. With so much to do and see, there is something for everyone at this lavish Mexican getaway.
Jamaica's very first AZUL Hotel on the world famous 7 Mile Beach of Negril, Azul Sensatori Jamaica features the renowned Gourmet Inclusive® concept by Karisma. The 136 Ocean View room AZUL Sensatori Hotel brings together spacious facilities with unlimited activities and services. The AZUL Sensatori is designed to allow couples, groups, wedding parties, families and friends from all generations to re-connect under the sun. One of the many highlights of the hotel is the Adults Only section with romantic Honeymoon suites. The property also features a separate area with accommodations for families up to 2 Adults and 3 Children.